Here are the Complete Results of the 2017 DOE-Petron Eco Run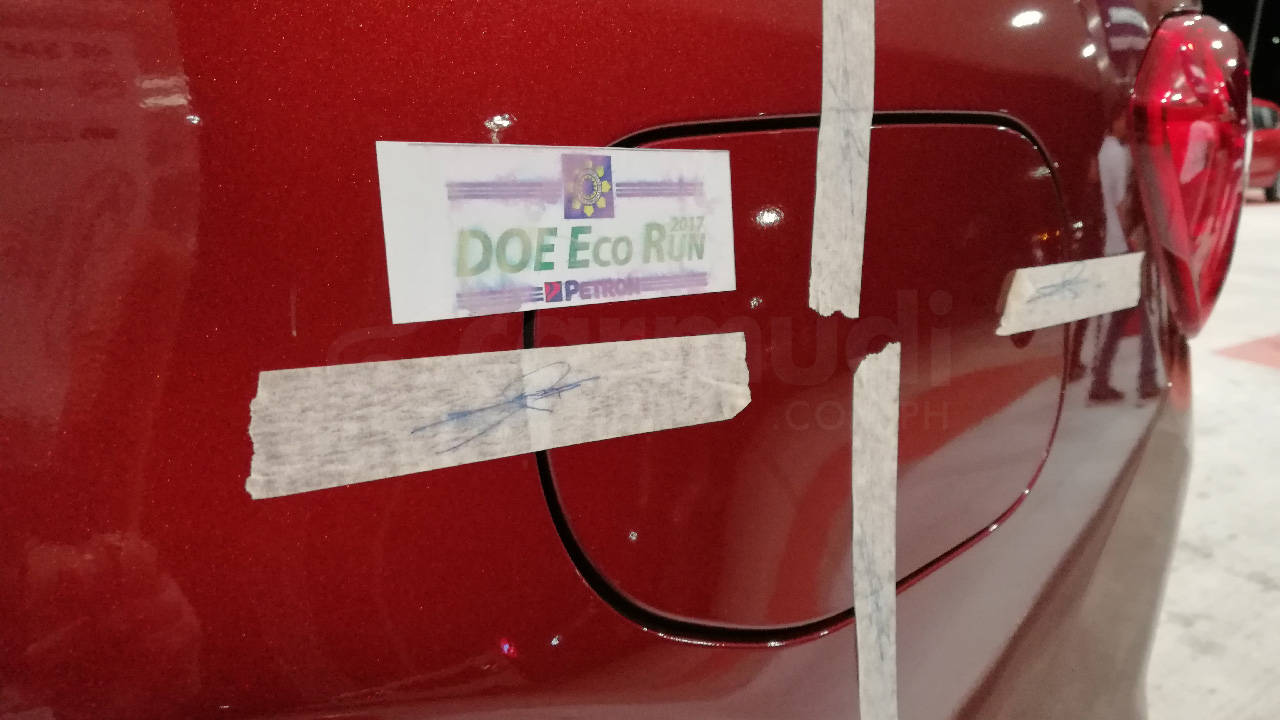 A few days ago, we released the initial results of the 2017 Department of Energy (DOE)-Petron Eco Run, in which 52 vehicles--equally split between the diesel- and gasoline-powered ones--participated in, with the 2.0-liter SsangYong Rodius topping the former at 33.12 kilometers/liter (km/L) and the 1.3-liter Kia Picanto leading the latter at 29.23 km/L. We also mentioned that the DOE will release a complete list of all the cars that participated in the Eco Run along with their respective fuel consumption ratings which we will publish as soon as we receive it. Well, the DOE has finally released it and here are the results as written by the agency.

"For the diesel entries, the Volkswagen Golf GTS was the most fuel-efficient vehicle in the sedan category with a fuel economy rating of 27.91 kilometers/liter (km/L). In the SUV category, the Ssangyong Rodius topped the list with a rating of 33.12 km/L. 
Toyota Innova had the highest rating of 21.60 km/L for the MPV category, while Mahindra Supro ranked the most fuel-efficient vehicle in the pickup category with a rating of 22.52 km/L.
For the gasoline entries, Kia Picanto posted the highest rating of 29.23 km/L for the sedan category, while the Honda BR-V with a rating of 22.22 km/L emerged the best in the SUV category. 
The Chevrolet Trax led the MPV category with a rating of 17.98 km/L, while the BAIC Freedom ranked the most fuel-efficient in the pickup category with a rating of 15.10 km/L."

Perhaps as a matter of simplification, the DOE classified hatchback entries like the Kia Picanto and Chevrolet Spark as 'sedans,' but what we find slightly disconcerting is that it classified the SsangYong Rodius as an SUV when it is clearly an MPV. Is it because that's what SsangYong Philippines calls it whereas everyone else, like SsangYong Ireland and SsangYong Germany and even local automotive sites, calls it an MPV? Also,  as you'll find later at the bottom, what's with the 'Guest Vehicle Entries' list?Did these vehicles join the Eco Run but their fuel efficiency rating isn't to be taken seriously, or in the local parlance, saling-pusa, hence the blank spaces under the Engine Displacement column?

Anyway, you'll find the complete results of the Eco Run below, arranged by the vehicles' fuel economy rating and starting with the most fuel-efficient vehicle in its fuel-type on top. Perhaps you can base your future vehicle purchase here, what with the looming excise tax adjustment taking place next year.





















DIESEL ENTRIES




















NO


BRAND


MODEL


VEHICLE TYPE


ENGINE DISPLACEMENT (CC)


TRANSMISSION


FUEL ECONOMY RATING (km/L)




1


Ssangyong


Rodius


SUV


1998


Automatic


33.12




2


Mini


Countryman


SUV


1998


Automatic


30.64




3


Volkswagen


Golf GTS


Sedan


1968


Automatic


27.91




4


Hyundai


Accent


Sedan


1591


Automatic


27.8




5


Peugeot


3008


SUV


1997


Automatic


25.39




6


Volkswagen


Jetta


Sedan


1968


Automatic


24.75




7


Honda


CR-V


SUV


1597


Automatic


23.96




8


Mahindra


Supro


Pickup


909


Manual


22.52




9


Ssangyong


Tivoli XLV


SUV


1597


Automatic


22.35




10


Toyota


Innova


MPV


2755


Automatic


21.6




11


Volvo


V90 Cross Country  D4


SUV


1969


Automatic


21.4




12


Volvo


S90 D4


Sedan


1969


Automatic


21.13




13


Mitsubishi


Montero Sport


SUV


2442


Manual


20.43




14


Suzuki


Super Carry


Pickup


793


Manual


19.19




15


Mitsubishi


Strada


Pickup


2442


Automatic


18.9




16


Isuzu


MU-X


SUV


2999


Automatic


18.23




17


Nissan


Navara


Pickup


2488


Automatic


17.8




18


Ford


Everest


SUV


2200


Automatic


17.62




19


Mitsubishi


Montero Sport


SUV


2442


Automatic


17.4




20


Ford


Ranger


Pickup


2200


Automatic


17.19




21


Isuzu


D-Max


Pickup


2999


Automatic


16.33




22


Ford


Everest


SUV


3200


Automatic


14.86




23


Foton


Toplander EX/AT


SUV


2800


Automatic


14.25




24


BAIC


H5 Bayanihan


MPV


1809


Manual


13.89




25


Nissan


Urvan


MPV


2488


Automatic


13.53




26


Hyundai


Grand Starex Super Express


MPV


2476


Manual


13.52




















GASOLINE ENTRIES




















NO


BRAND


MODEL


VEHICLE TYPE


ENGINE DISPLACEMENT (CC)


TRANSMISSION


FUEL ECONOMY RATING (km/L)




1


KIA


Picanto


Sedan


1248


Automatic


29.23




2


Toyota


Vios


Sedan


1496


Automatic


25.88




3


Toyota


Wigo


Sedan


998


Automatic


25.19




4


Suzuki


Alto 800


Sedan


796


Manual


24.81




5


Honda


City


Sedan


1500


Automatic


23.91




6


Suzuki


Swift


Sedan


1197


Manual


23.27




7


Mazda


Mazda 2


Sedan


1496


Automatic


22.82




8


Honda


BR-V


SUV


1500


Automatic


22.22




9


Suzuki


Vitara


SUV


1586


Automatic


20.57




10


Mazda


CX5


SUV


1998


Automatic


20.22




11


Peugeot


2008


SUV


1199


Automatic


20.19




12


Subaru


XV


SUV


1995


Automatic


19.76




13


Hyundai


Elantra


Sedan


1591


Manual


19.69




14


Subaru


Impreza


Sedan


1995


Automatic


19.58




15


Nissan


Almera


Sedan


1498


Automatic


19.13




16


KIA


Rio


Sedan


1368


Automatic


19.02




17


Peugeot


5008


SUV


1199


Automatic


18.54




18


Chevrolet


Trax


MPV


1.4L


Automatic


17.98




19


Ford


Ecosport


SUV


1500


Automatic


17.58




20


Peugeot


3008


SUV


1598


Automatic


16.84




21


Mazda


CX9


SUV


2488


Automatic


12.92




22


BAIC


H6


MPV


1794


Manual


12.86




23


Chevrolet


Spark


Sedan


1.4L


Automatic


12.15




24


Hyundai


Creta


SUV


1591


Automatic


11.52




25


BAIC


H6


MPV


1498


Manual


12.4




26


BAIC


Freedom


Pickup


1372


Manual


15.1




















GUEST VEHICLE ENTRIES




 


 


 


 


 


 


 




NO


BRAND


MODEL


VEHICLE TYPE


ENGINE DISPLACEMENT (CC)


TRANSMISSION


FUEL ECONOMY RATING (km/L)




1


BMW


318D


Sedan


 


AT


26.94




2


Toyota


Prius 2017


Hybrid Sedan




Automatic


26.13




3


BMW


X1


Sedan




AT


23.88