Ferrari Unveils Its 2020 F1 Car, the SF1000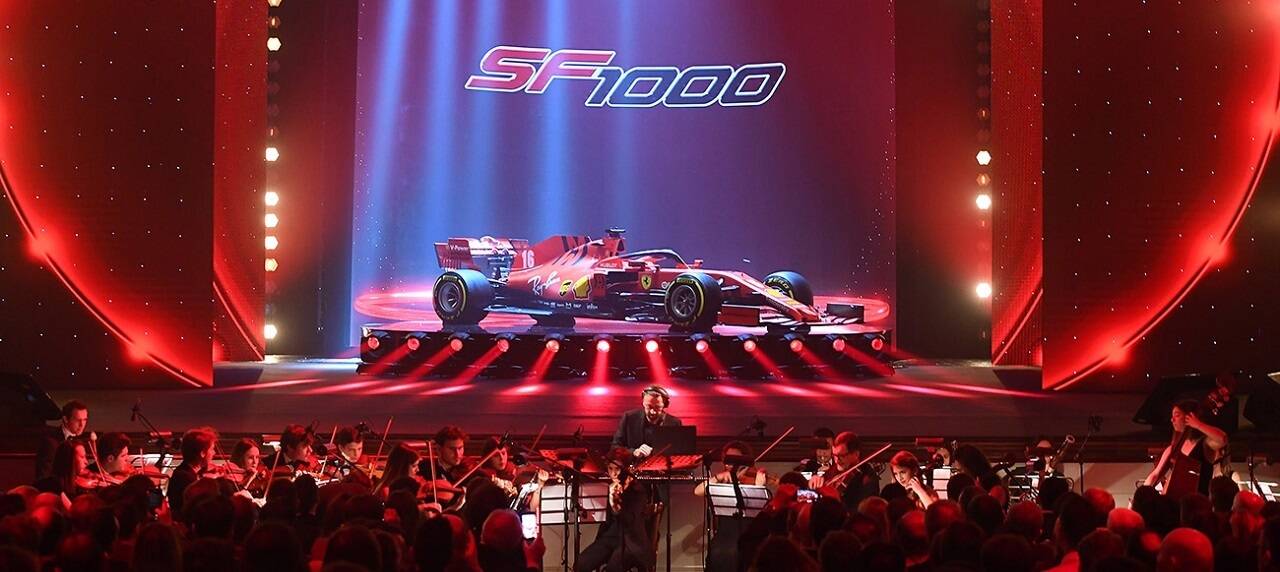 Ferrari's challenger for the 2020 F1 season has arrived, and the Italian supercar maker has christened it the SF1000. The 66th single-seater built by the Scuderia team to race in F1 marks the 1000th time Ferari wil take part in the F1 Grand Prix.
ferrari.com
The SF1000, built entirely at Ferrari's plant in Maranello, was unveiled at the Romolo Valli Municipal Theatre in the town of Reggio Emilia, some 30 kms from Ferrari's Maranello homebase.
ferrari.com
The introduction of the F1 car—design code 371—featured a spectacular preshow that included choir and ballet dancers, as well as an orchestra. During the unveiling, Ferrari CEO Louis Camilleri and Team Principal Mattia Binotto also gave their speeches.
ferrari.com
Binotto, who presided over the car's unveiling, recalled the words of the founder, Enzo Ferrari in his speech.
ferrari.com
"Give a child a piece of paper and some crayons and ask them to draw a car and it will definitely be red," Binotto said. "Passion of course, but also innovation, research, team spirit and a will to compete; the qualities that are at the root of #essereFerrari, the hashtag coined last year that highlights the values of those who work for the Scuderia."
Ferrari drivers Sebastian Vettel and Charles Leclerc helped Binotto unveil the SF1000. Once the covers were off, both drivers said they couldn't wait to get behind the wheel of the Ferrari team's latest challenger.
ferrari.com
The German Vettel and the Monegasque Leclerc will not have to wait long as the first day of official pre-season testing takes place at the Barcelona-Catalunya circuit, on February 19, Wednesday next week.
Ferrari will use the 065 power unit for the 2020 season, which features a new design and new fuel. Additionally, a new Turbocharger and Energy Recovery System have been developed in order to maximize the overall Power Unit (PU) performance. As part of the overall concept of the 671 car, the PU layout design has focused on being as compact as possible, while also rationalizing the weight and size of the Energy Store.
The SF1000 marks the Prancing Horse's seventh car in the hybrid era, which began in 2014. Ferrari made its Formula 1 debut on 21 May 1950, in Monaco, in the second ever championship Grand Prix. The Maranello team is the most successful in the sport with 16 Constructors' titles, 15 Drivers' and 238 Grand Prix victories.
ferrari.com
Technical Data
Carbon fiber and honeycomb composite chassis, with halo fitted to the cockpit
Ferrari longitudinal gearbox, with 8 forward and 1 reverse gear
Electronic high-speed sequential semi-automatic gear change
Hydraulically controlled limited slip differential
Front and rear Brembo self-ventilating carbon disc brakes, with electronic control on rear brakes
Push-rod front suspension, pull-rod rear suspension
Front and rear 13-inch wheels
Engine
Cubic capacity: 1600cc
Maximum rpm: 15000
Forced induction: one Turbocharger
Fuel flow rate: 100 kg/hr max
Fuel limit per race: 110 kg
Configuration: V6 90°
Bore: 80 mm
Stroke: 53 mm
Valves: 4 per cylinder
Injection: Direct, max 500 bar
ERS system
Battery energy: 4 MJ
MGU-K power: 120 kW
MGU-K maximum rpm: 50,000
MGU-H maximum rpm: 125,000
Read All
Featured Articles