Hyundai Xcient Fuel Cell trucks drive over 1-M kilometers in Switzerland
Hyundai Hydrogen Mobility boasted that its fleet of Xcient Fuel Cell trucks has collectively exceeded one million kilometers of driving, which was done in only 11 months of service in Switzerland.
During that time, the fleet reduced CO2 emissions by over an estimated 630 tons, compared to diesel-powered vehicles. Since hitting Swiss roads last October, 46 hydrogen fuel cell trucks have been able to reach this milestone in the service of 25 Swiss companies in logistics, distribution, and supermarket fulfillment.
Hyundai shared this achievement with customers who have used the "world's first mass-provided heavy-duty fuel cell trucks" in their business operations, replacing regular diesel trucks.
Customers in Switzerland have expressed their satisfaction with the performance of the Xcient Fuel Cell trucks so far, noting eco-friendliness, short refueling times, and a long range as the top benefits, Hyundai said.
After launching the model in 2019, Hyundai revealed the Xcient Fuel Cell truck last month. The truck was given a "bold" grille design as well as updates to improve its performance. The new trucks come available in a 4x2 or 6x2 rigid body configuration.
A total of 140 units of the 2021 model will be shipped to Switzerland by the end of this year. Taking this eco-friendly shift even further, the fleet will grow to 1,600 hydrogen-electric trucks by 2025, Hyundai added.
In 2019, Hyundai started a joint venture with Swiss company H2 Energy to create Hyundai Hydrogen Mobility (HHM). Based in Switzerland, HHM leases Xcient trucks to commercial truck operators on a pay-per-use basis which includes the hydrogen supply as well.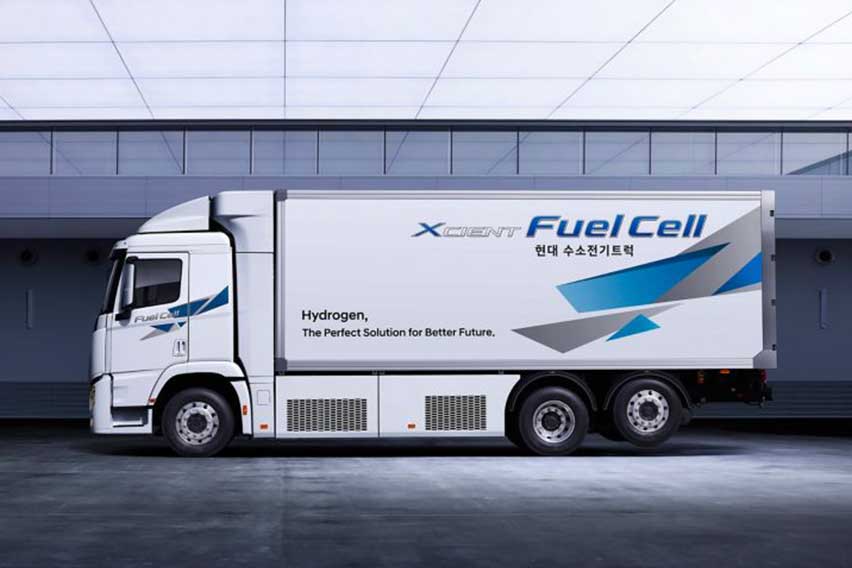 All of this is part of Hyundai's goal of having 110,000 fuel cell electric vehicles worldwide by 2025, under its Strategy 2025 plan. Meanwhile, the company also plans to ramp up production capacity for hydrogen-powered vehicles to 500,000 units by 2030.
Hyundai has also announced plans to expand into truck tractors. The company is considering North America as the first market in which the products will be tested and launched. With a hold in two of the world's strongest industrial markets, Hyundai aims to set an example with its hydrogen-powered trucks.
Photos from Hyundai
Also read:
Hyundai delivers world's first fuel cell heavy-duty truck to Switzerland
Hyundai fuel cell generator to make motorsports debut in Pure ETCR