Now, Volkswagen Wants to Charge Your Car with Robots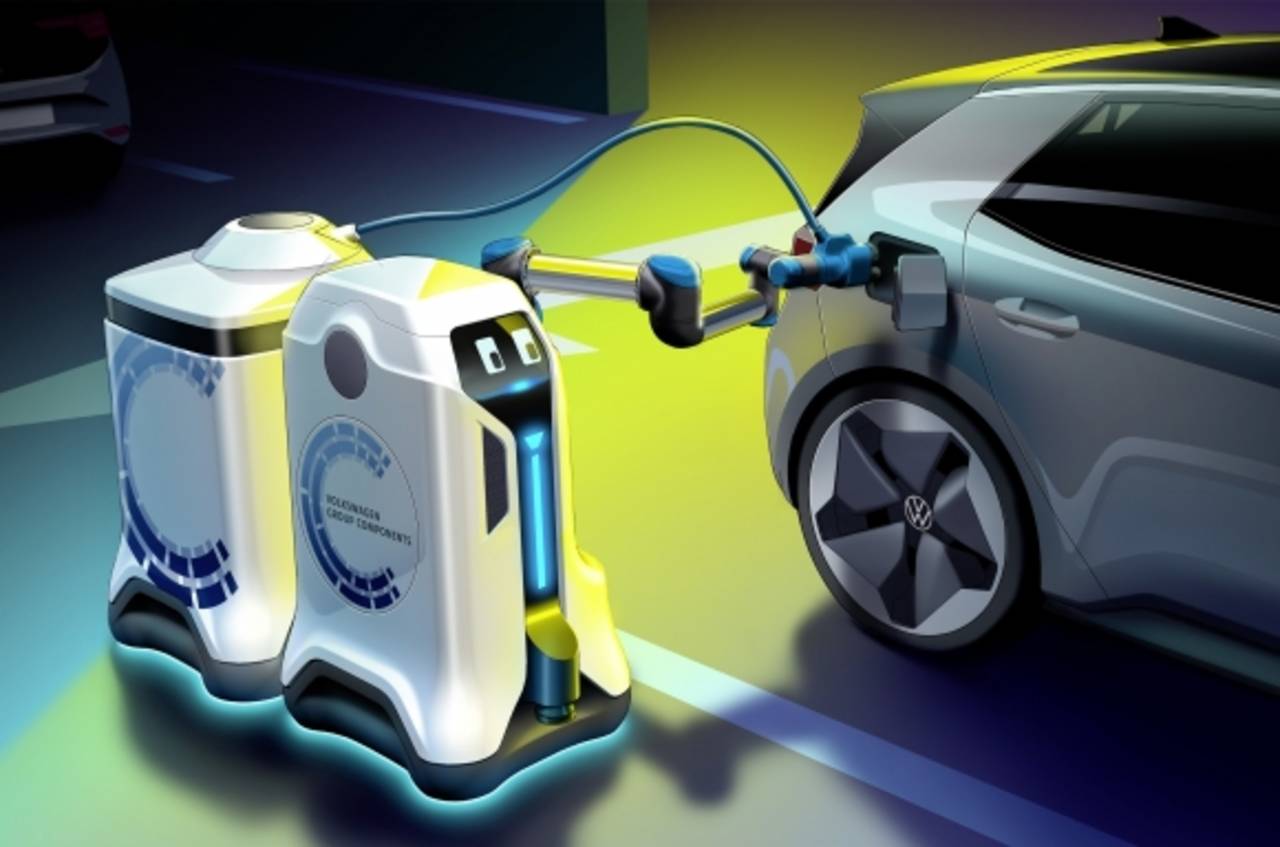 Volkswagen is revolutionizing the way we charge electric vehicles. Unlike the traditional charging stations, Volkswagen is using an app that controls a mobile robot "charger". What it does is communicate with the vehicle--from opening the charging socket flap to connecting the plug--to even decoupling. Yes, the entire charging process occurs without any human interaction at all--unless you decide to help the robot (that doesn't need it).
https://media.vw.com/
Here's how it does it: a Volkswagen app (or V2X communication) is started to "power on" the self-driving robot. This robot is fitted with cameras, laser scanners and ultrasonic sensors, and allows the robot to carry out the charging process autonomously but also to move around freely in the parking area. It also allows the robot to recognize possible obstacles and to react to these.
Then, the mobile robot brings a trailer using a mobile energy storage device (called a battery wagon) to the vehicle and connects them. This storage device has an energy content of around 25 kWh each. With its integrated charging electronics, the energy storage device allows for DC quick charging with up to 50 kW on the vehicle.
It then uses this energy storage device to charge the battery of the electric vehicle, and stays with the vehicle during the whole charging process. Meanwhile, the robot charges the other electric vehicles. Once the charging service is complete, the robot collects the energy storage device and brings it back to the charging station.
It Will "Spark a Revolution"
https://media.vw.com/
"The mobile charging robot will spark a revolution when it comes to charging in different parking facilities, such as multistorey car parks, parking spaces and underground car parks because we bring the charging infrastructure to the car and not the other way around. With this, we are making almost every car park electric, without any complex individual infrastructural measures", said Mark Möller, Head of Development at Volkswagen Group Components.
The mobile charging robot is a prototype developed by Volkswagen Group Components. It shows the company's vision into the future of charging infrastructure. A possible date for the market launch of the charging robot has not been set yet.