TEST DRIVE: 2018 Kia Grand Carnival - Big Oppa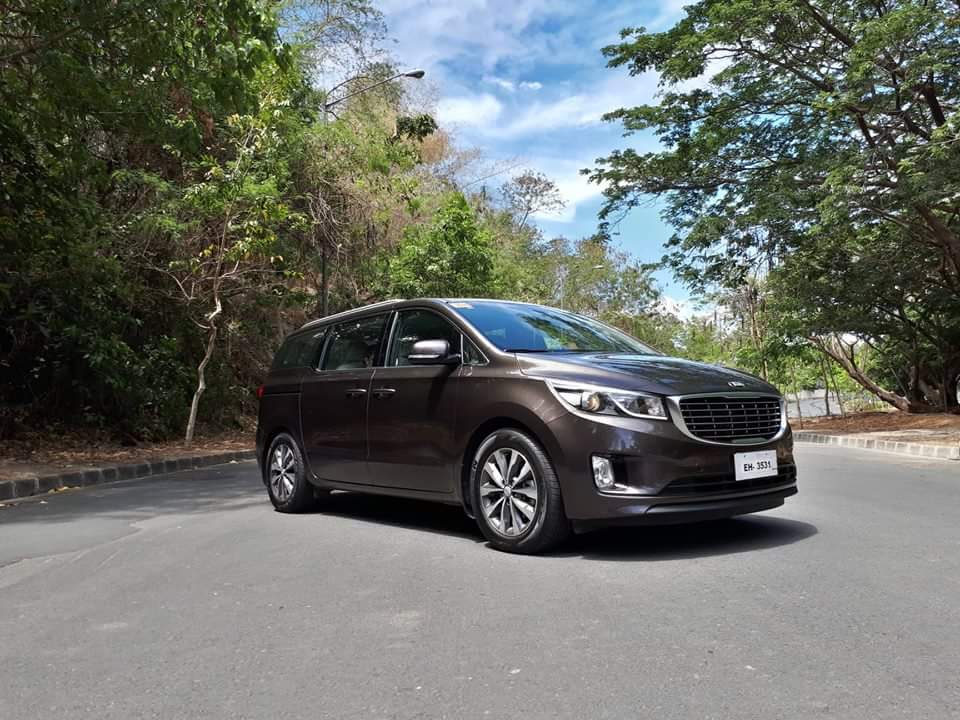 Most people value personal space. Many would get into a fight if their personal life was not kept private. Road rage, for one, simply emanates from the simple cutting into someone's lane if they did not permit it (admit it, you've experienced it more than once too). In many ways, happiness emanates from freedom. Being free means ample room for one to move freely: for one to know its limitations during his own time. Kia's seven-seater Kia Grand Carnival shows that it values personal space. And even more. Read more to see what this Big Oppa is offering.
SPACE AGE
The mid variant Grand Carnival offers
seven seating capacity
, enough to give every passenger breathing room, leg- and headroom, ensuring that you keep your peace in your place. Also, when taking a long drive out of the metro (or even just getting stuck in the middle of traffic), it's easy to get cabin fever. Getting confined in the four corners of a vehicle might end up in a shouting match with one, some, or all of your passengers. One way to battle out this challenge is to simply to have a vehicle big enough that even if others are busy with their respective businesses, each has enough space to become snug in. Korea's Kia Grand Carnival has a lot of that and more than a handful of features to offer, specially to those who value personal space.
POWER TO THE PEOPLE
All that space would simply translate to more downforce meaning, the heavier it is, the more it needs guzzle fuel, but the Kia Carnival begs to differ. Upon testing, the seven-seater Grand Carnival, powered by a
2.2-liter Euro 4-compliant 2.2 Turbocharged intercooler VGT diesel engine
, did a
15.6 liter per kilometer consumption
upon covering
129.1 kilometers
of highway and provincial roads without using its eco-mode feature. Driven in the metro on eco mode and covering
at least 174 kilometers
at an average
26.6 kph run
, it was able to reach
10.6 liter per kilometer
reading, meaning that despite the size, it only sips very little fuel. Speeding up is also easy as the engine is mated to a FWD
six-speed automatic transmission with Sports Mode
.
SAFE AND SOUND
While I did not try to push its (and my) speed limits, since I carry my family when I go on long drives, it's good to know the Kia Grand Carnival put its safety and features across all three variants. All three (the Grand Carnival LS, this variant, and the 11-seater) have the usual dual airbags, ABS, and the ISOFIX child anchor. For its infotainment features, the Grand Carnival has an AM/FM Radio, CD, MP3, Aux-in, USB Ports, iPod Ready, Bluetooth, Touch Screen with six speakers, 2-din infotainment system, which could be improved if it had a larger screen. Noise insulation was a-okay since I saw every passenger in the conversation mirror doing a night-night after the long trip. Since this pen-pusher is not a fan of a steering wheel with too many buttons (believing it could contribute to not keeping the driver's eyes on the road), the Grand Carnival only had audio control and cruise control in it, which has become standard on most vehicles.
REALLY GRANDIOSE
It's not named GRAND Carnival for nothing. It is there for several reasons: its nifty features. The Kia Grand Carnival made sure that every trip would be made pleasurable as its rear passengers can have control of the air condition, so that they would have the correct temperature at the back, power outlet, and USB ports at the center front and rear area. Seats are made of comfortable cloth, though not advisable to eat in the vehicle despite the dark hue since it would be hard to clean. But one could easily spot the numerous cup holders but lack of foldable tables, where one could place their food atop of. Overall, the Kia Grand Carnival really stand up to its name for being "grand," space-wise. This Big Oppa is priced well along with others in the market (within grandiose level) but one could easily get away with all those features that could be found in its competitors.
PROS:
seven- seater space comfort, aircon control in the rear, cup holders, compartments, deep dish rear compartment, illuminated door handles, more than enough cup holders, push start button, keyless entry, comfortable 7-seater capacity. Sufficient turning radius for long frame.
CONS:
river seat still manually adjusted, blind spots in the front and rear, relatively small infotainment