Volkswagen Changes Logo, Image to Make it Look 'Friendlier'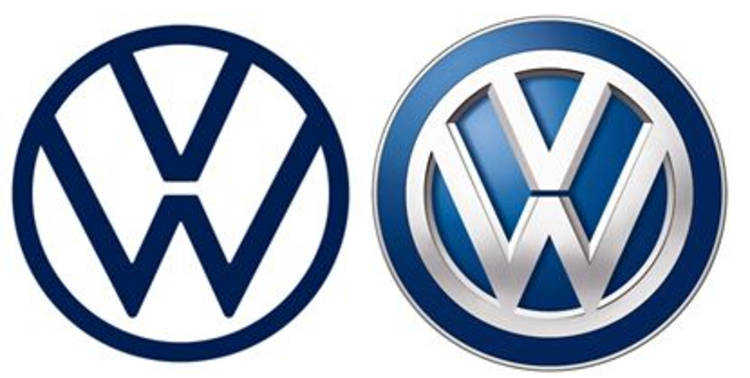 Prince did it: he changed his name to a symbol (imagine that). Some weren't as drastic--they just changed their names to make them sound more celebrity names. Some examples are Elton John (Reginald Kenneth Dwight), Vin Diesel (Mark Sinclair Vincent), Bruno Mars (Peter Gene Hernandez), Natalie Portman (Natalie Hershtlag), and Miley Cyrus (Destiny Hope Cyrus).
Now, if they can do it, so do car companies. Case in point: The Volkswagen Group. The German company has recently unveiled its new logo together with its newest electric car model, the ID.3, at the Frankfurt Motor Show this week.
Simpler, cleaner, and yes, flatter--the logo went a step back in time, ditching the 3D design with a more simple 2D logo that it used way back in the '70s. It still uses the stacked V and W letters inside a circle. What's different, however, is that the newer version uses a simpler design in its circular image. The colors are more flexible--they've already used black and blue in their designs. A red logo is also in the works for the future GTI models. Here's a side-by-side comparison of the two:
From Facebook.com/Volkswagen
New Marketing Plans for Volkswagen
Unknown to many, Volkswagen's newest logo has already been making its presence felt for some months now. For instance, it was shown during the last scene of Volkswagen's "Hello Light" commercial last June:

https://www.youtube.com/watch?v=qEvNL6oEr0U

According to the company, this move is part of its plan to rebrand the company by 2025. The goal is to make the company look 'friendlier' and more approachable. So aside from the change in logo, it also plans to use a new sound logo that will be synonymous with the VW brand. Moreover, it wants to use female voiceovers for its advertisements and presentations from now on.

Personally, we like the design--it's simple and clean. It does a good job of looking friendly without going overboard. How about you? Do you like it better than the previous version? Let us know what you think.