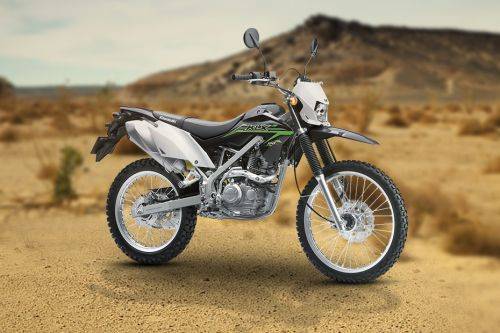 Key specifications & features of the Kawasaki KLX 150L. View engine specs, dimensions, safety and technology features in detail below
Kawasaki KLX 150L Price List
Kawasaki KLX 150L price starts at ₱122,500 . Checkout KLX 150L price list below to see the SRP prices and promos available
Kawasaki KLX 150L Price List in Philippines
I am looking for Kawasaki KLX 150L price in
Kawasaki KLX 150L Latest Updates
The Kawasaki KLX 150L is a dual-purpose bike meant for both city riding and off-road adventures. The Kawasaki KLX 150L has a sharp, sporty styling to appeal more to adventure enthusiasts. The bike is equipped with a single-cylinder, 4-stroke, air-cooled 144cc engine which produces 12 PS maximum power and 11.3 Nm peak torque at 6,500 rpm and 8,000 rpm respectively. The engine is paired with a 6-speed transmission. Major features of the motorcycle include antilock braking, pass switch, off-road riding mode, and front and rear disc brakes. Available in a single version and one color option, the Kawasaki KLX 150L is priced at ₱112,500.
Read Less
Kawasaki KLX 150L Pros & Cons
Get the better insights of Kawasaki KLX 150L, Read our expert opinion and helps to buy or not
Things We Like in Kawasaki KLX 150L
User-friendly and high capacity engine
Perfect as an entry-level motorcycle
Suspension travel is great
Read Less
Things We Don't Like in Kawasaki KLX 150L
A bit high pricey
Version is a bit outdated in comparison to its adversaries
Read Less
Kawasaki KLX 150L Colors and Images
Kawasaki KLX 150L Overview

The Kawasaki KLX 150L is the best in the range of dual-sport category motorcycles. It is an ideal Off-roader motorcycle and comes equipped with the exact amount of off-roading performance without making any sort of compromise with its expediency. The Kawasaki has gone through a lot of changes in terms of renovation from previous model equipment to the addition of new ones in its recent updates. 

Kawasaki KLX 150L has been there in the market for a long time now and is a user-friendly and affordable off-roading bike it is a standard competitor for Honda CRF 150L. The lineup that has been maintained by Kawasaki has made great improvements that cater to the needs of all kinds of riders.

Kawasaki KLX 150L Design

The Kawasaki KLX has been counted among the most attractive off-roading bikes in the Philippine market. The Kawasaki KLX 150L is not different from any other sports bike and has taken inspiration from its elder sibling that is KLX 250. In terms of design and styling, the bike has been styled with minimum work on its chassis along with some angular panels extending towards the front and all around the fuel tank.

The lighting features include a compact size headlight that has been placed on the high riding front fender just next to the set of bulbous indicators. The riding stance has been placed perfectly between the two ends of a slender seat perfect for one rider. As an Off-roader, the ground clearance of 250mm would be enough to ride comfortably.

Kawasaki KLX 150L Ride & Handling

In terms of ride and handling, the Kawasaki KLX 150L is completely dependent on both the rear and front suspension. The 33 mm telescopic fork on the front side and the Unitrack mono-shock on the rear side perform very well and absorb all the shocks and bumps that come their way. Moreover, the lightweight of the bike has contributed to its off-roading stance and its compact nature offers a convenient off-roading riding experience. 

The bike is very easy to handle even at difficult turns and higher speed limits all because of its flexibility. The rubber-mounted footpegs can be easily removed within seconds to get a better grip while off-roading.

Kawasaki KLX 150L Engine & Fuel Consumption

The Kawasaki KLX 150L has been offered an air-cooled, carbonated four-stroke 144cc engine that churns out a maximum power output of 11.52 hp at 8000 rpm and 11.3 Nm torque at 6500 rpm. The engine transmission duties have been mated with a five-speed gearbox that supports beginner-friendly power delivery. Though the performance ability at 5th gear is limited on the highway as it can only be utilized over there. 

The power delivery and gear shifting are smooth like any other Kawasaki motorcycle but the clutch is light and that is most suitable for off-roading. Moreover, the engine offers a good fuel economy with the number exceeding above 30kmpl and that is pretty decent.

Kawasaki KLX 150L Braking & Safety

The Kawasaki KLX 150L comes equipped with disc brakes on both sides that are front and rear. The front one comes equipped with a 240mm single disc and a double piston caliper while the rear one has turned a bit smaller to a 190mm single disc with a single-piston setup. Moreover, the brakes of this motorcycle are stronger than they appear to be and provide enough stoppage power to the vehicle while off-roading.

The off-roading modes are just another safety feature that the Kawasaki KLX comes equipped with in terms of braking and safety.

Kawasaki KLX 150L Verdict

The Kawasaki KLX 150L as is a great option for any beginner rider and is highly capable of some serious fun riding experiences. Kawasaki KLX 150L is perfect as an Off-roader regardless of the uneven surfaces and muddy trails or climbing rocks. The bike ensures a better riding experience with its gentle touch that offers the rider the most comfortable experience even on bumpy surfaces. The motorcycle is a bit high pricey and might not be economical for every rider. The competition just got stronger and Kawasaki might have a tough time dealing with these and continuing to hold its firm position in the market of the Philippines.
Entry-level dirt bike
In the present generation, Dirt bikes have become really popular in comparison to last year when there were very few owners of th... Aquilino Sunday Jun 6, 2021 17:09:04
Dirt bike at its best
I have always known Kawasaki as an all-rounder in terms of motorcycles. I already had the Ninja 400 since 18 months and now I hav... Liam Thursday Feb 11, 2021 05:11:45
Kawasaki KLX 150L Alternatives
Compare Kawasaki KLX 150L with Alternatives
FAQs on Kawasaki KLX 150L
Answers to most common frequently asked questions (FAQs) on Kawasaki KLX 150L
What is the Kawasaki KLX 150L Price in Philippines?

The Kawasaki KLX 150L price Philippines starts from ₱122,500 and goes upto ₱122,500.

What is the Lowest Monthly Installment for Kawasaki KLX 150L in Philippines?

The lowest monthly installment for Kawasaki KLX 150L in Philippines starts from ₱2,101 with Down Payment ₱24,500 for 60 Months.

What is the Fuel Tank Capacity of Kawasaki KLX 150L?

The Fuel Tank Capacity of Kawasaki KLX 150L is 7 L.

What is the Engine Displacement of Kawasaki KLX 150L?

The Engine Displacement of Kawasaki KLX 150L is 144 cc.

What is the Ground Clearance of of Kawasaki KLX 150L

The Ground Clearance of Kawasaki KLX 150L is 300 mm.