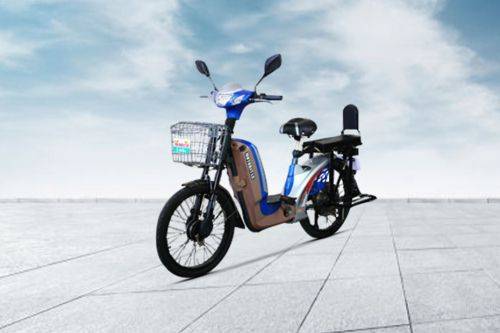 Key specifications & features of the MotorStar Ebike. View engine specs, dimensions, safety and technology features in detail below
MotorStar Ebike 2021 Price List
Checkout Ebike price list below to see the SRP prices and promos available.
MotorStar Ebike Latest Updates
The MotorStar Ebike is actually a moped meant for affordable commuting within the city. It's an extremely lightweight two-wheeler weighing around 40kg. But it has a 150kg carrying capacity. The MotorStar Ebike comes with a small headlight, flat seat with a small backrest, Street riding mode, indicators, and an instrument panel. There's a basket attached in the front for carrying items. The two-wheeler is hauled by a low-speed, brushless, electric motor which is powered by a 20-22Ah lead-acid battery back. The MotorStar Ebike returns a claimed mileage of 40km on a single, full recharge. The MotorStar Ebike is available in a single version. 
Read Less
MotorStar Ebike Pros & Cons
Get the better insights of MotorStar Ebike, Read our expert opinion and helps to buy or not
Things We Like in MotorStar Ebike
Easy to ride in urban environment
Affordable to buy and run
Read Less
Things We Don't Like in MotorStar Ebike
Unfinished design and quality levels
Very limited range from the battery
Read Less
MotorStar Ebike 2021 Colors and Images
MotorStar Ebike Overview

The very basic looking Motorstar EBike is one of the cheapest and simplest ways by which one can experience electric mobility on two wheels. The Motorstar EBike might look unfinished and very dated, but it is its simple mechanicals and easy-to-ride character which promises to make your urban riding experience a very easy task. The Motorstar EBike has been made available in the Philippines in one standard variant with the color option of blue being the only paint scheme available for it.

MotorStar Ebike Design

Remember the pre-historic motorcycles from the early era? How they looked unfinished and raw by having a motor slapped on a frame of a bicycle? The Motorstar EBike looks exactly like a bike from a similar era. With few body panels mounted on a bicycle like frame, the Motorstar EBike has a very basic and minimalist design, which looks cheap but rider-friendly to the core.

The frontal look of the Motorstar EBike has a very basic appeal, with the handlebar cowl being the only prominent bit here to talk about. This cowl houses both U-shaped small headlamp as well as triangular clear lens turn indicators in it. The front frame of the Motorstar EBike has a large plastic basket mounted on it, which should be helpful in ferrying your groceries and light-weighted items in it. The front tire comes with a slim and minimal looking fender over it, which has a small rubber mudguard at its bottom.

When you move towards the side, it is where the Motorstar EBike feels a bit more complete (if not fully complete) in terms of the body panels it wears. There is a pair of large body panels mounted on the slanted frame member of the bike, ahead of the rider's seat. The bike comes with a single-seat, just like in a bicycle, behind which there is a broad rectangular battery pack mounted over the rear fender.

The rear fender is quite big in size and helps in making the Motorstar EBike look complete from the rear three-quarter angle. The bike comes with basic looking spoke wheels, with the rear one having an electric motor mounted in it. The Motorstar EBike comes with a very simple looking tail lamp cluster at the back. The instrument console of the Motorstar EBike too is a rather simple affair, with just analog dials for the speedometer and odometer on display.

MotorStar Ebike Ride & Handling

The best part about the overall chassis of the Motorstar EBike is the fact that it weighs only 40 kgs, making it a super easy bike to ride, even for beginners. The Motorstar EBike has a very basic suspension setup of hydraulic setup at both front and rear wheels, with drum brakes on both the wheels doing a decent job in giving it a good stopping power.

MotorStar Ebike Engine & Fuel Consumption

The Motorstar EBike's main talking point has to be its powertrain – it is the cheapest electric bike currently in the Philippines two-wheeler market. The bike comes with a 22Ah battery, which powers the rear wheel here, with the torque produced by the motor rated at 9 Nm. This battery pack enables the Motorstar EBike to have a maximum riding range of 60 kms and takes up almost 8 hours to get fully charged. The limited riding range of the Motorstar EBike makes it fit only for short city commutes and grocery runs, for which it has been primarily engineered as well.

MotorStar Ebike Braking & Safety

With very basic mechanicals and its strict limited riding range, the Motorstar EBike misses out on many basic features, even from the safety point of view.

MotorStar Ebike Verdict

The Motorstar EBike is by no means a desirable product to think of, courtesy its very basic nature in almost every aspect. However, what it offers is an easy mode of solo transport from one place to another, with minimal running and maintenance costs. It is affordable to buy and is lightweight enough to make it usable for very short riding duties.
Ideal and efficient for Short rides
When it comes to efficiency, there is nothing that can beat electric mopeds. This Motorstar eBike is one such example. I bought t... Jejoma Monday Jan 11, 2021 11:15:16
FAQs on MotorStar Ebike
Answers to most common frequently asked questions (FAQs) on MotorStar Ebike
What is the MotorStar Ebike Price in Philippines?

The MotorStar Ebike price Philippines starts from 0 and goes upto 0.