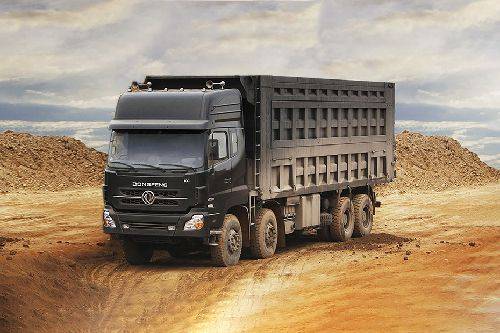 Key specifications & features of the Dongfeng KC. View engine specs, dimensions, safety and technology features in detail below
Dongfeng KC 2021 Price Philippines
Dongfeng KC price in Philippines starts at ₱3.39 Million. Checkout 2021 KC price list, EMI's and available promos.
Dongfeng KC Price Philippines
I am looking for Dongfeng KC price in
Dongfeng KC Latest Updates
One of the most appealing trucks by Dongfeng, the KC is a rugged specialist that can often be seen in heavy industries like a construction site and mining among others. The truck is very uniquely designed and gets the most minimalist approach. Coming to its interior, Dongfeng KC has adapted to a "driver-focussed" dashboard that also makes the use of a single DIN audio system. Available in a single variant in the Philippines, the Dongfeng KC is priced at PHP 3.39 Million. It is powered by an 8.9L inline-six diesel engine, giving out a maximum power output of 340 hp of power and peak torque of 1500 Nm.
Read Less
Dongfeng KC Pros & Cons
Get the better insights of Dongfeng KC, Read our expert opinion and helps to buy or not
Things We Like in Dongfeng KC
Curved dashboard for easy reach of controls
Powerful and durable Cummins engine
Heavy-duty, solid chassis
Versatile and adaptable for various use
Read Less
Things We Don't Like in Dongfeng KC
Price tag
Aftersales service support
Availability of spare parts
Read Less
Dongfeng KC 2021 Colors and Images
Dongfeng KC Overview

Manufactured by Dongfeng Commercial Vehicle, the Dongfeng KC is a proud China made truck that boasts of reliability and durability that makes it a "true representative for the heavy-duty engineering at Dongfeng Trucks." The strength of the KC is its adaptability to conform to various tasks and can be used from heavy construction site works, heavy-duty transports, mining operations, to other off-road and or highway operations.

Dongfeng KC Interior

The interior of this heavy-duty China-made commercial truck is very basic and economical by design. The first thing you'd notice is the curved dashboard. A smart ergonomic design where all the controls and instruments are within easy reach of the driver. It contains a steering wheel, an analog-digital cluster, air conditioning vents, radio, cubbies, and knobs, and switches for controls. The Gear shifter is strategically placed to minimize the arm strain of the driver. The high mounted seat and wide windshield offer good visibility for the driver. This is further enhanced by massive windows and double exterior side mirrors. Seats are wrapped in durable fabric and have ample cushioning that can seat two people.

Dongfeng KC Exterior

The Dongfeng KC is a 12 wheel heavy duty dump truck that boasts of traditional, rugged exterior features. Under the giant windshield is a matte black front grille accented by a giant chrome Dongfeng badge flanked by air vents. On the lower bumper are the headlights with protective grills and foglamps. On the sides are steps leading to the cabin door and two giant side mirrors for visibility. An additional exterior mirror on the right front passenger side for added visual. On the front end of the dump bed is a ladder for ease of access. The dump box is made of 6 mm thick steel on the side while the bottom is 88 mm thick. The size of the dump is 28 cubic meters long and can carry a payload of up to 50 tons. The wheelbase measures 3,500 mm + 1,450 mm, 780 mm ground clearance from the front bumper, and 700 mm ground clearance from the radiator. This 12-wheeler heavy-duty China-made truck rides on a set of euro 5 emissions tubeless tires

Dongfeng KC Ride & Handling

When it comes to handling, the Dongfeng KC can adapt to any construction and heavy-duty tasks. The transmission is designed to handle various road conditions and applications. For instance, it comes with crawler gear for better adaptability and distribution of power while using less fuel which is suitable for off-road operations. The engine is balanced between loading request, accelerating ability, and grade ability while at the same time taking into consideration fuel efficiency and carbon emission. The hydraulic cab tilting, rear mechanical cab suspension, adjustable driver's seat, air conditioning system, power-operated windows, and central locking are practical and convenient features for the driver to easily manipulate the dump truck while remaining comfortable inside the safety of the cabin no matter what the work environment may be.  

Dongfeng KC Engine & Fuel Consumption

The Dongfeng KC is powered by Dongfeng Cummins water-cooled, inline six cylinders turbocharged and inter-cooled, high pressure common rail diesel engine that delivers 340 hp of maximum output at 2,100 rpm and 1,500 Nm of peak torque at 1,200 – 1,400 rpm. The 8,900cc engine is mated to a ZF 16-speed transmission with overdrive that allows it to operate at a lower RPM for better fuel efficiency and reduced engine wear. The engine is also Euro 4 emission standards compliant, has 350 liters fuel capacity, has a maximum speed of 90 km/h, and uses less than 190g of fuel per kWh.

Dongfeng KC Braking & Safety

Safety for this giant truck includes a high strength steel protector for the radiator and front bumper. The dump gets a standard HYVA hydraulic cylinder for easy dumping of payload. The Dongfeng Kc also comes standard with 4-point mechanic suspension, 26 mm thick front and rear leaf springs— 13 pieces on the rear and 9 pieces on the front, 6 x 4 axle configuration, and has 9 and 22 tons capacity hub reduction axle on the front and rear respectively. Furthermore, the patented lubrication pump technology for the middle axle and oil lubrication on the main components preserves the bearings from corrosion brought by wear and tear. All of which adds durability and safety so the truck can work on any road and weather conditions.

Dongfeng KC Verdict

The Dongfeng KC 12W heavy duty dump truck can perform on a variety of construction-related and heavy loading tasks. Its practical and economical features make it perfect for engineering sites that need payloaders. The only consideration before buying this gigantic automotive would probably be the availability of spare parts and after-sales service support like repairs and maintenance.
Compare Dongfeng KC with Alternatives
FAQs on Dongfeng KC
Answers to most common frequently asked questions (FAQs) on Dongfeng KC
What is the Price of Dongfeng KC in Philippines?

The price of Dongfeng KC in Philippines starts from ₱3.39 Million and goes upto ₱3.39 Million.

What is the Lowest Monthly Installment for Dongfeng KC in Philippines?

The lowest monthly installment for Dongfeng KC in Philippines starts from ₱58,157 with Down Payment ₱678,000 for 60 Months.

What is the Fuel Tank Capacity of Dongfeng KC?

The Fuel Tank Capacity of Dongfeng KC is 350.

What is the Engine Displacement of Dongfeng KC?

The Engine Displacement of Dongfeng KC is 8000 cc.

What is the Weight of Dongfeng KC?

The Gross Weight of Dongfeng KC is 25000 kg.