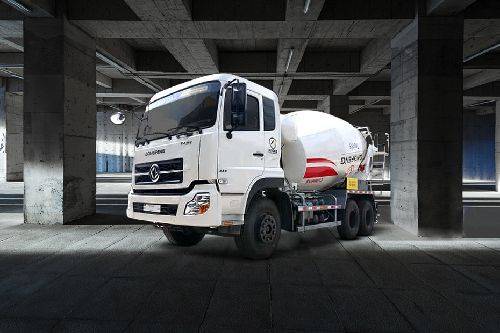 Key specifications & features of the Dongfeng T-Lift. View engine specs, dimensions, safety and technology features in detail below
Dongfeng T-Lift Price List
Dongfeng T-Lift price starts at ₱3.51 Million. Checkout T-Lift price list below to see the SRP prices and promos available
Dongfeng T-Lift Price List in Philippines
I am looking for Dongfeng T-Lift price in
Dongfeng T-Lift Latest Updates
A mixer truck by Dongfeng, the T-Lift is a mark of powerful performance and reliability. The truck packs an appealing design with a rectangular front grille besides its curved windshield that seems to be adapted from the KX. Besides its design, it gets regular safety upgrades over its cabin, making driving easy and convenient. Available in a single variant, the 10W Mixer Truck comes at a price tag of PHP 3.51 Million. Powering this truck is an 8.9L diesel engine, giving out a 340 hp of power and 1350 Nm of peak torque. The engine comes mated to a 9-speed manual transmission. 
Read Less
Dongfeng T-Lift Pros & Cons
Get the better insights of Dongfeng T-Lift, Read our expert opinion and helps to buy or not
Things We Like in Dongfeng T-Lift
Italian manufactured Hydraulic pump & motor
Cummins engine
Spacious cabin
Curved dashboard
Read Less
Things We Don't Like in Dongfeng T-Lift
Built-in EGR
Price tag
After-sales services
Read Less
Dongfeng T-Lift Colors and Images
Dongfeng T-Lift Overview

The Dongfeng T-Lift is a 10-wheeler heavy-duty mixer truck distributed locally by Autokid Truck Solutions— the Philippine distributor of Dongfeng trucks. A trusted Chinese brand since 1969, the Dongfeng Truck brand produces and assembles its own trucks from gearboxes, engines, axles, to cabs and chassis to ensure the integrity and quality of all their products. And with their aggressive global expansion, the Dongfeng brand is banking on its integrity of providing an extensive portfolio of quality medium- and heavy-duty trucks that passed global standards. And with the continued infrastructure projects by private developers and the national government through its Build, Build, Build program, Dongfeng is banking to find a lucrative market locally despite the pandemic.

Dongfeng T-Lift Interior

Inside the Dongfeng T-lift is a spacious cabin and the signature curved dashboard so everything is within easy reach of the driver. There are big air conditioning vents on either side of the analog instrument cluster as well as switches for control. Other functional controls and knobs are placed on the curved center which faces the driver. Mechanisms for the mixer can also be monitored through the center dash console. The gearbox and center cubby act as a divider between the driver and the front passengers leaving ample shoulder room for both. What is more, there is an extra bench at the back of the front seats that can either be used as a sleeping bunk with the backrest of the front seats as restraints. Or it can also be used as cargo space. The lack of legroom does not make it ideal as seats for added passengers.

Dongfeng T-Lift Exterior

The single berth cab carries the traditional look of trucks which is a consistent feature of the Dongfeng line. The white flat façade of the cab features a massive windshield, a front exterior mirror, and a black mesh grille complete with the giant Dongfeng badge at the center. The lower bumper houses the massive headlights. On the side are a couple of exterior side mirrors and a built-in step for easy climbing in the cabin. Massive side and rear window round-up the cabin exterior. The built-in mixer with hydraulics comes complete with a ladder for easy access, pipe, and spout for pouring cement. The overall dimension of the Dongfeng T-Lift 10W Mixer Truck is 7,920 mm long, 2,500 mm wide, 4,230 mm tall with a minimum ground clearance of 250 mm, and a wheelbase of 3,650 mm + 1,350 mm. It rides on a set of 4 x 6 wheels wrapped in 11.00 R20 tires. This Dongfeng mixer has a maximum payload of 11,870 kg, a curb weight of 13,000 kg, and a gross vehicle weight of 25,000 kg.

Dongfeng T-Lift Ride & Handling

The handling of the T-lift is typical on any of the Dongfeng trucks. The steering is a bit on the heavier side but on point. The gear shifts as expected though there is noticeable delay for the engine to reacts. The maximum speed of the T-lift means it still can pass through the expressway which is an added plus especially when there are multiple construction sites where the truck will be used. In terms of handling, the mixing drum can accommodate 13.4 cubic meters with a filling ration of 58 percent. The feeding speed is less than or equal to 3 cubic meters per minute while the discharge speed is at less than or equal to 2 cubic meters per minute with only about 0.7 percent of residual ratio. The mixing capacity is at 8 cubic meters with a 13.5 degrees angle of inclination of the mixing drum with a collapsed degree range at 40 – 230 mm. The hydraulic pump, hydraulic motor, and decelerator are all made in Italy.

Dongfeng T-Lift Engine & Fuel Consumption

The Dongfeng T-Lift 10W Mixer truck is powered by a CUMMINS L340 30-E2 diesel engine that has a dimension of 1,000 mm length, 900 mm width, 1,250 mm height and weighs 625 kg. The 8,900 cc Euro 3 emission standard compliant engine is partnered to a 9JS150T-B DD manual transmission with a diaphragm spring clutch and has a fuel capacity of 200 liters. The maximum gradeability is at 40 percent and the minimum turning diameter is at 23 meters while fuel consumption is at 36 liters per 100 km. The Cummins engine fitted to this Dongfeng mixer truck is a 6-cylinder inline, turbocharging and inter cooling, mechanical injection pump, with built-in exhaust gas recirculation (EGR) engine that produces 340 Hp of maximum power at 2,200 rpm and peak torque of 1,350 Nm at 1,400 rpm with a maximum speed of 80 km/ h. Though the built-in EGR works with the engine and the exhaust to minimize the amount of harmful pollutants by recirculating a portion of the exhaust back through the engine, it can harm engine performance and fuel economy in the long run and might increase maintenance costs.

Dongfeng T-Lift Braking & Safety

When it comes to safety, the Dongfeng T-Lift 10W Mixer truck comes with bare minimum standards. There's the seatbelt for the driver and front passenger. The mechanized mixer and hydraulic motor can be operated and tracked by the driver in the safety of the cabin.  

Dongfeng T-Lift Verdict

The Dongfeng T-Lift 10W Mixer truck is a competent heavy-duty truck that can withstand the rigors of any construction site. Though it is still Euro 3 compliant, it does have tons of features that make it desirable. The heavy-duty axle and Italian-made hydraulics make it a dependable mixer. However, truck buyers might need to think of purchasing additional EGR delete kits if they want to remove the built-in exhaust gas recirculation to prolong the life of the truck engine.
Proven machine for lifted expectations
While I was looking out for a medium duty dumper truck, I was spoilt with a number of choices. However, my decision of sticking t... Jejoma Thursday Jul 15, 2021 03:43:47
Dongfeng T-Lift Alternatives
Compare Dongfeng T-Lift with Alternatives
FAQs on Dongfeng T-Lift
Answers to most common frequently asked questions (FAQs) on Dongfeng T-Lift
What is the Price of Dongfeng T-Lift in Philippines?

The price of Dongfeng T-Lift in Philippines starts from ₱3.51 Million and goes upto ₱3.51 Million.

What is the Lowest Monthly Installment for Dongfeng T-Lift in Philippines?

The lowest monthly installment for Dongfeng T-Lift in Philippines starts from ₱60,215 with Down Payment ₱702,000 for 60 Months.

What is the Fuel Tank Capacity of Dongfeng T-Lift?

The Fuel Tank Capacity of Dongfeng T-Lift is 200.

What is the Engine Displacement of Dongfeng T-Lift?

The Engine Displacement of Dongfeng T-Lift is 8900 cc.