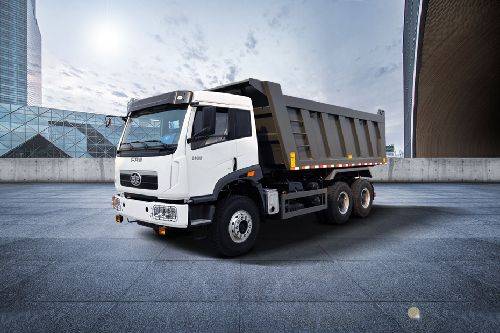 Key specifications & features of the FAW 340D10. View engine specs, dimensions, safety and technology features in detail below
FAW 340D10 2022 Price Philippines
Checkout 340D10 price list below to see the SRP prices and promos available.
FAW 340D10 Latest Updates
The FAW 340D10 is a major player in the heavy-duty truck segment, catering to a variety of applications. This tipper has been around the market for the long run and is known to receive regular upgrades around its safety and its performance. Coming to the interior of the vehicle, it gets a user interactive infotainment system among other necessary safety features. The FAW 340D10 is the sole model in its lineup and it is powered by a six-cylinder 9726cc WP10.340E32 engine. The engine produces a maximum power output of 388 hp of power alongside a peak torque of up to 1160 Nm.  
Read Less
FAW 340D10 Pros & Cons
Get the better insights of FAW 340D10, Read our expert opinion and helps to buy or not
Things We Like in FAW 340D10
T style middle hydraulic lifting system
Powerful torque
Air conditioning system
Heavy-duty frame
Nationwide dealership
Read Less
Things We Don't Like in FAW 340D10
Price tag
Availability of spare parts
Euro 3 standard compliance only
Read Less
FAW 340D10 2022 Colors and Images
FAW 340D10 Overview

The FAW 340D10 is a 6 x 4, heavy-duty dump with a total capacity of 25 tons. The 340D10 truck is manufactured and assembled by China state-owned automaker First Automobile Work (FAW) Group Corporation. The company got its name since it was China's first automobile manufacturer when it domestically produced and unveiled its product—a passenger car back in 1958. Since then, the company has expanded to other automotive segments including truck production. And as part of its growth master plan, the FAW Group has had strategic alliances with known western automotive brands like Volkswagen, Toyota, and General Motors through joint venture partnerships. This allowed the company to gain global competencies that they utilized in producing their cars and trucks. Locally, the FAW Group partnered with a local automotive dealership to distribute and service its truck portfolio. The FAW 340D10 is available locally through QSJ Motors Philippines Inc., the official distributor of FAW trucks with a network of dealerships in all three major islands of the country.

FAW 340D10 Interior

Inside the cabin is an economical, minimalistic interior. The plasticky dashboard carries the usual suspects— an analog instrument cluster and steering wheel. At the center are knobs and buttons for controls. There are also air conditioning vents on either side and center of the dash. Seats are sturdy and firm that provides ample comfort. The center console carries the gear stick. There is sufficient headroom, shoulder room, and headroom for a driver and front-seat passenger without feeling claustrophobic.

FAW 340D10 Exterior

This China made and assembled dump truck has utilitarian looks and built. The traditional design begins with the curved front façade of the cabin with a wide windshield for a commanding view of the road. Below is a muted radiator grille with a giant chrome FAW badge at the center of it. Directly below is an air vent. The lower bumper holds the massive rectangular headlights and just under it are hanging fog lights. On the side are built-in steps for climbing the cabin. Wide side mirrors and external side mirrors complete the traditional truck look. At the rear is a giant dump with an integrated ladder design on the side of the fuel tank case. The FAW 340D10 has an overall measurement of 8,600 mm long, 2,500 mm wide, 3,400 mm tall, and a wheelbase of 3,700 mm + 1,350 mm. The dump body, on the other hand, measures 5,600 mm long, 2,300 mm wide, and 1,500 mm tall. It has a thickness of 8 mm at the bottom and 6 mm at the sides. This 10-wheeler China made dump truck rides on a double coin tire with directional at the front and traction at the rear. Radial tires measures 12.00R 20.

FAW 340D10 Ride & Handling

Driving the FAW 340D10 is no easy feat considering the size. But for professional and experienced drivers, this 10-wheeler is capable enough to handle paved roads and rougher terrains suck as mining and construction sites. Though there is evident vibration from the engine, it is bearable. The same can be said on engine noise. Transmission and clutch work synergistically though there is a noticeable delay on the part of the engine. However, just dig deeper into the acceleration and the engine can catch up. The approach angle of the truck is at 25 degrees while the departure angle is at 32 degrees.

FAW 340D10 Engine & Fuel Consumption

This FAW dump truck is fitted with a WP10.340E32 9,726cc engine capable of delivering 340 hp of power and up to 1,160 Nm of peak torque. The Euro 3 standard compliant diesel engine with 400-litre fuel tank capacity is partnered to an RTD-11509C manual gearbox with 9 forward speeds and 1 reverse with 430mm diaphragm type clutch. The truck frame measures 320 x 90 x (8 + 8) with a rear axle able to handle 13 tons with hub reduction and a speed ratio of 5.921.

FAW 340D10 Braking & Safety

As most trucks are built for utilitarian purposes, there is minimal attention to passenger comforts, driver-assist technologies, and often carries minimal safety features. Besides the usual mandatory seatbelts, there is no added passive safety for passenger and driver like SRS airbags. However, there are the usual windshield external visor, dump truck ladder on the side, fuel tank cage, and headlight grills to protect the headlights from gravel or other construction materials that might cause damage. The heavy-duty open box bed is equipped with a middle lifting T style hydraulic system for easy and safe dumping of materials.

FAW 340D10 Verdict

The FAW 340D10 dump truck is a good choice for heavy-duty work. It is best used for transporting loose materials for construction such as sand, gravel, boulders, and dirt to maximize its hydraulic system. However, it can also be used for other commercial purposes such as for collecting and transporting other materials like garbage, odd-shaped items like furniture and earthball plants, or other construction supplies like bags of cement, tools, and even transporting people to the construction site. The various dealership of QSJ Motors Philippines Inc. means that you get the aftersales service support you need to maintain the FAW truck.
The market leader
The Faw 340D10 is a market leader in the heavy-duty truck segment. The truck is used in a variety of heavy industries. The tippe... erap Wednesday Aug 18, 2021 17:08:18
features match the utility
For a utilitarian heavy duty dumper truck, I am quite amazed as how modernly the FAW 340D10 has been packaged. There are several ... erap Thursday Jul 15, 2021 03:42:04
Compare FAW 340D10 with Alternatives
FAQs on FAW 340D10
Answers to most common frequently asked questions (FAQs) on FAW 340D10
What is the Price of FAW 340D10 in Philippines?

The price of FAW 340D10 in Philippines starts from 0 and goes upto 0.

Which are the tough competitors of FAW 340D10 2022 in Philippines?