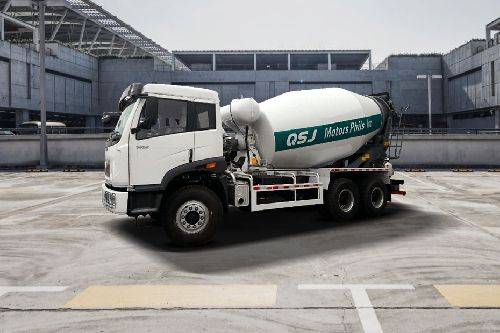 Key specifications & features of the FAW 340M10. View engine specs, dimensions, safety and technology features in detail below
FAW 340M10 2022 Price Philippines
Checkout 340M10 price list below to see the SRP prices and promos available.
FAW 340M10 Latest Updates
A renowned concrete mixer in the Philippine market, the FAW 340M10 has been one of the most reliable offerings by the brand. Carrying its minimalist design concept that follows the truck inside out, 340M10 gets a sleeky and modern interior, offering security and comfort to the occupants. The vehicle offers agility in handling over every form of terrain and also gives out a heavy pulling capacity. The FAW 340M10 is the sole model in its lineup and it is powered by a six-cylinder 9726cc WP10.340E32 engine. The engine produces a maximum power output of 335 hp of power alongside a peak torque of up to 1250 Nm. 
Read Less
FAW 340M10 Pros & Cons
Get the better insights of FAW 340M10, Read our expert opinion and helps to buy or not
Things We Like in FAW 340M10
Eaton pump & motor
Sleeper cabin
Air conditioning system
Power steering
Read Less
Things We Don't Like in FAW 340M10
Price tag
Availability of spare parts
Read Less
FAW 340M10 2022 Colors and Images
FAW 340M10 Overview

Recommended for general construction, the FAW 340M10 Transit Concrete Mixer truck is a 6 x 4 FAW specialty truck manufactured and assembled in China. Though the FAW Group truck brand may not be as popular as Isuzu, Mitsubishi – FUSO, or Foton here in the Philippines, it is an established brand in China. In fact, the state-owned automotive company headquartered in Changchun, Jilin, China has consistently ranked as the leading manufacturer and sales in the medium- and heavy -truck segment for several years in the Chinese domestic market. Its automotive plant can produce more than 300,000 units with sales exceeding annual capacity. FAW trucks include traction, cargo, dump, special purpose, and light trucks covering all three major areas: heavy-, medium-, and light-duty trucks.

FAW 340M10 Interior

Inside this FAW concrete mixer truck is a 'luxury' cabin by industry standard. It is fitted with a J5P type cabin with firmly cushioned driver and front passenger seats. At the rear is a sleeper for when the driver needs to take a quick nap on the road. It can also be used as additional storage space but not for additional passengers due to a lack of leg space. The driver seat has air suspension for added comfort. Another 'luxury' feature of the truck is the availability of an air conditioning system which is not typically standard in some construction trucks. This is an awesome feature considering that construction sites are often dusty and are made worse with our tropical climate. The dashboard is typical—ergonomic and economical. The plasticky dashboard holds the usual analog-digital cluster and giant steering wheel. Air conditioning vents are located on either side and center of the dash. The center console holds the knobs and switches to operate the mixer as well as the gearbox.

FAW 340M10 Exterior

The FAW 340M10 Transit Concrete Mixer truck's exterior features the same traditional design consistent with all FAW trucks. The white cabin has a slightly sloped, wide windshield for a commanding view of the road. Below it is a muted matte black front grille with a giant FAW badge smacked at the center. On the lower bumper is a pair of giant rectangular headlights with grills to protect it from damage while on construction sites, and below it are hanging fog lights. On the side are built-it steps for climbing the cabin, wide windows, and massive external side mirrors. There is also a glass window at the rear of the cabin for added visibility on the drum. The cab itself is made of all metal with an integral front tilting angle of 37 degrees. On the rear is a 9 cubic meter drum with spout and ladder. On the side is a 400L Aluminum fuel tank and WABCO Valve. Curb weight is at 15,000 kg while the overall size of the truck is 9,500 mm long, 2,490 mm wide, 3,700 mm tall, and has a wheelbase of 4,000 mm + 1,350 mm. This FAW truck rides on a set of 12.00R20 -18PR radial, double coin brand tires.

FAW 340M10 Ride & Handling

This FAW transit concrete mixer truck is best driven by capable and skilled professional drivers. Handling an enormous machine like this one requires a certain level of experience and expertise. Navigating it through the paved road requires as much attention as driving it through the rough construction sites. The ability of the truck to transport mortar/ concrete from the plant to the site is safe with the mechanisms in place. And at full capacity, expect the drive to be slow and long. Though it may not be the fastest truck, this FAW mixer truck is reliable with a stable engine power that reacts to the gearbox sans with a momentary delay. With the proper timing of the clutch, the engine can roar continuously. For riding comfort, seats are cushioned firmly with a heavy-duty fabric cover. This FAW truck took extra detail to ensure that the driver has ample support and feels comfortable while working out the mixer on-site or driving the truck.  

FAW 340M10 Engine & Fuel Consumption

The FAW 340M10 Transit Concrete Mixer truck is equipped with the 10.340E32 engine capable of delivering 340 hp of maximum power at 2,200 rpm and 1,250 Nm of peak torque at 1,400 – 1,600 rpm. The 9,726 cc engine is partnered to an RTD- 11509C transmission with nine forward gears and one reverse and an Eaton 430mm, single plate, dry, diaphragm type clutch. The power steering uses ZF technology. The Euro 3 emission standards compliant diesel engine has a fuel tank capacity of 400 liters and consumes 38 liters per 100 km. The FAW 340M10 registers a maximum speed of 78 kmph which means it can be allowed to pass through expressways and tollgates as it meets the required minimum speed of 60 kmph. The drum, on the other hand, is a 9 cubic meter mixer body equipped with Eaton pump, motor, and reduction. Eaton heavy-duty closed-circuit piston pumps and motors have the reputation to be highly reliable and are one of the leading hydraulic components providers for transit mixers.

FAW 340M10 Braking & Safety

For braking and safety, the FAW 340M10 Transit Concrete Mixer truck comes with the basic seatbelts. No SRS airbags here. However, it does come with a dual circuit air brake system. Passive safety features include side rails, punching, and riveted construction frame. With the main rail section measuring 320 mm × 90 mm × 8+8 mm while the auxiliary rail section measures 284 mm × 70 mm × 5 mm. This proudly China-made cement mixer truck is fitted with a D643 front axle and 300 casting hub reduction rear axle. Truck chassis measures 8,143 mm x 2,496 mm x 2890/ 3,760 mm. For the concrete mixer, the mixing drum and spiral blade— the two essential parts of the mechanism, are both made with highly durable steel to ensure efficient mixing capability and the ability to hold and transport the concrete from the batch plant to the site. Other design safety includes an external windshield visor, safety grills for the headlights, fuel tank cage, and drum ladder.

FAW 340M10 Verdict

The FAW 340M10 Transit Concrete Mixer truck is dependable specialty trucks specifically targeted for general construction. These transit mixers are tested by FAW to ensure efficiency, strength, and performance that are all the attributes of a reliable truck. What is more, the FAW is locally distributed by QSJ Motors Philippines, Inc. which is another advantage for the truck since QSJ has an already established dealership nationwide so you are ensured that you have the facilities and after-sales support that you will need to properly maintain your FAW truck investment.
Modern in looks and performance
The Faw 340M10 is one of the most reliable products from the brand. It has a minimalist design but the vehicle manages to look mo... Aquilino Wednesday Aug 18, 2021 17:08:14
a modern mixer at its best
I have never seen a mixer truck as feature packed as the FAW 340M10. Not only it looks quite modern with bits like daytime runnin... Hans Thursday Jul 15, 2021 03:41:59
Compare FAW 340M10 with Alternatives
FAQs on FAW 340M10
Answers to most common frequently asked questions (FAQs) on FAW 340M10
What is the Price of FAW 340M10 in Philippines?

The price of FAW 340M10 in Philippines starts from 0 and goes upto 0.

What is the Fuel Tank Capacity of FAW 340M10?

The Fuel Tank Capacity of FAW 340M10 is 400.

What is the Engine Displacement of FAW 340M10?

The Engine Displacement of FAW 340M10 is 9726 cc.

What is the Maximum Speed of FAW 340M10?

The maximum speed of FAW 340M10 is 78 kmph.

Which are the tough competitors of FAW 340M10 2022 in Philippines?