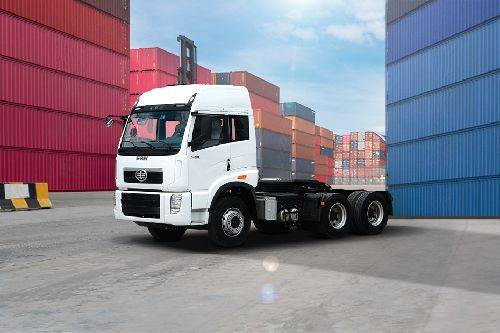 Key specifications & features of the FAW 340T10. View engine specs, dimensions, safety and technology features in detail below
FAW 340T10 Price List
Checkout 340T10 price list below to see the SRP prices and promos available.
FAW 340T10 Latest Updates
FAW 340T10 is one of the most popular ten-wheeler trucks in its segment. This powerful truck marks with a ground clearance 256mm besides a 30% gradeability, and having a low maintenance offering as its major USP. The vehicle gets decent styling to give a more viable approach to its owners. The FAW 340M10 is the sole model in its Philippines lineup and it is powered by a six-cylinder 9726cc WP10.340E32 Turbocharged, Intercooled engine. The engine produces a maximum power output of 335 hp of power alongside a peak torque of up to 1250 Nm. 
Read Less
FAW 340T10 Pros & Cons
Get the better insights of FAW 340T10, Read our expert opinion and helps to buy or not
Things We Like in FAW 340T10
Cab & chassis option
Sleeper cabin
Air conditioning
Local dealership
Read Less
Things We Don't Like in FAW 340T10
Euro 3 engine
Availability of spare parts
Read Less
FAW 340T10 Colors and Images
FAW 340T10 Overview

The FAW 340T tractor head unit is a 6 x 4 cab and chassis designed for hauling bulk cargo like heavy-duty construction equipment and supplies. This China manufactured and assembled truck is locally distributed by QSJ Motors Philippines Inc. The company, established in 2010 is a licensed importer and dealer of trucks, heavy equipment, and pieces of construction machinery. Headquartered in Pampanga, the company has a dealership network in strategic key cities across the country. What is more, QSJ has fully-equipped facilities to help maintain, repair, or customize your FAW trucks.

FAW 340T10 Interior

Inside the FAW 340T10 cabin is the traditional looking, plasticky dashboard. As most trucks are maximized for their utilitarian purpose, the usual suspects— steering wheel, analog instrument cluster, and typical knobs and buttons for controls are laid out in a functional manner. On the plus side, this FAW heavy-duty truck does come with an air conditioning system which is a bonus given our tropical climate. Moreover, for those extra-long trips, this FAW truck has an integrated sleeper bed at the rear of the cabin just enough to lay comfortably for quick naps or stopovers.

FAW 340T10 Exterior

The FAW 340T10 Cab & Chassis carries the same streamlined and straightforward design as all FAW trucks. The cabin has a slightly angled, wide windshield and a front-mounted exterior mirror. On the lower portion is a muted front grille with a giant FAW badge at the center. On the lower bumper is a massive air vent flanked by rectangular headlights. On the side of the truck, the cabin is built-in steps, massive external side mirrors, and wide windows. At the rear is a fixed glass window for added visibility. The rear is an exposed chassis which can be customized with various body option according to the needs of the business. The front axle is a FAW_A1H, 6.5T while the rear is a single reduction, high torque FAW_457 with a ratio of 4.111. The FAW 340T10 measures 6,793 mm long, 2,500 mm wide, 3,450 mm tall, and a wheelbase of 3,150 mm + 1,350 mm with a minimum ground clearance of 256 mm. The truck rides on a set of 11R22.5 – 16PR tires and has a curb weight of 8,900 kg while gross vehicle weight (GVW) is 25,000 kg.

FAW 340T10 Ride & Handling

The FAW 340T10 requires professional skills to be legally driven on roads and construction sites. The mere size of the truck requires skills and experience to be handled effectively. And that is without load. With a full heavy load, the 340T10 is a bit hefty to navigate but with on-point steering and a powerful engine, this China-made truck can get the task done. Clutch and transmission work synergistically with the engine though there is a noticeable delay when changing gears. Also, there's very evident vibration from the diesel engine but very negligible once you get moving. Firm upholstery for the seats and the sleeper is comfortable enough. The sleeper cabin is a big bonus, especially on long haul rides.

FAW 340T10 Engine & Fuel Consumption

This FAW Cab & Chassis is equipped with a WP10.340E32 six-cylinder, turbocharged, intercooler engine capable of delivering 340 Hp of maximum power and peak torque of 1,250 Nm. The Euro 3 emission standard compliant diesel engine is mated to a CA9TB160M full sync transmission with Eaton 430 mm single plate, dry, diaphragm clutch. It clocks a minimum fuel consumption of 196 g/ kWh and has a maximum speed of 103 Km/ h. The truck has a fuel tank capacity of 500 liters.

FAW 340T10 Braking & Safety

Designed for a utilitarian purpose, the FAW 340T10 comes with the very basic added passive and active safety assist features commonly found in private vehicles. But it does come with the basic seatbelts. The cabin is made of durable, heavy-duty steel to protect the passengers. Moreover, the seams of the tractor head are sealed to prevent water damage and corrosion. Though it may not seem like it, the sleeper cabin does provide some safety for the driver and passenger as it can be used for taking naps inside the safety of the trucks during long haul trips. The driver and the alternative driver can even take turns sleeping so the Truck can keep on moving and meet deadlines.  

FAW 340T10 Verdict

The FAW 340T10 cab and chassis are a great investment for hauling big and irregular cargos. They are designed for durability and fuel efficiency even though they are still just Euro 3 standard emission compliant. The added comfort features like an air conditioning system and sleeper are also welcome addition not often found in other trucks. Also, the national presence of QSJ Motors Philippines Inc. ensures that you get after-sales service support.
A wave of surprise in the sea of durability
Going for the FAW 340T10 as my final decision for a tractor head was a kind of simple step – I wanted a truck which has simplicit... Martin Tuesday Jul 20, 2021 17:29:43
Compare FAW 340T10 with Alternatives
FAQs on FAW 340T10
Answers to most common frequently asked questions (FAQs) on FAW 340T10
What is the Price of FAW 340T10 in Philippines?

The price of FAW 340T10 in Philippines starts from 0 and goes upto 0.

What is the Fuel Tank Capacity of FAW 340T10?

The Fuel Tank Capacity of FAW 340T10 is 500.

What is the Weight of FAW 340T10?

The Gross Weight of FAW 340T10 is 25000 kg.