Cadillac Escalade for Sale in Philippines
Jun 28, 2022 - Currently, 10 Cadillac Escalade for Sale in Philippines. Carmudi is your ultimate destination to find all new Cars (10) information, including Car specs, features, prices and images that will help you choose.
10 Cadillac Escalade available for sale in the Philippines, the cheapest Cadillac Escalade is available for ₱2.288 Million. Get great deals and promos on Cadillac Escalade for sale in Philippines, view detailed Cadillac Escalade price list (DP & Monthly Installment), reviews, fuel consumption, images, specifications, Cadillac Escalade variant details & more. Select your favorite drive out of available 10 cars and make your dream come true of buying your own car.
New and Used Cadillac Escalade for Sale | Cadillac Escalade Price Philippines
Cadillac Escalade is an American luxury car manufacturer under General Motors (GM), the company that also produces the Chevrolet car brand. The company's primary markets are the United States, China and Canada, but Cadillac Escalade cars are also marketed to 34 other countries including the Philippines. In the US alone, the company sold around 150,000 car units in 2012.
Founded in 1902 by Henry M. Leland, Cadillac is among the oldest car companies in the world. In the US, it is the second longest running car manufacturer second only to Buick, a co-GM brand. After World War II, Cadillac's popularity grew, thanks to the flash tailfins they added onto their models. During the 1960's the company introduced the Cadillac Fleetwood Sixty Special, arguably the brand's most famous car of that decade because of its vertical taillights and classic style.
The first closed-body car that was made in America was Cadillac's Osceola. Although only one unit of this model was made, it started a trend in the US automotive industry to develop closed-body cars, instead of the earlier open body vehicles. Cadillac Esclalde also debuted some the first automotive technologies in the United States such as the first V8 engine, the first thermostat controlled cooling system and the first dash controlled headlights. In the 1930's, the company was also well-known because of the V12 and V16 engines they produced. Cadillac has been etched into the memory of many people thanks to its various appearances in many Hollywood films. Among the most memorable are: the 1935 370-D in the Oscar winning film "The Artist," the Cadillac Fleetwood 75 in "Karate Kid II," and the 1976 Eldorado in "Dukes of Hazzard."
Never running out of branding ideas, Cadillac Escalade have also launched numerous branding campaigns from its first "You Can Kill a Horse, but Not a Cadillac" in 1905 to its latest "Once you go Cadillac, you never go back" slogan in 2008. As a performance car manufacturer, Cadillac has always prided itself on its ability to improve its vehicles' quality, overall performance and innovative styling. Starting in the 1990's the company have integrated its "Art and Science" philosophy into most of their designs. The very same design philosophy is also noticeable on the full size SUV Cadillac Escalade, another bestseller from the US automaker.
The American automaker has been known for making cushy, vintage-looking sedans but throughout the past decade the company has expanded its fleet to now include SUV's, crossovers and sports wagons to accommodate their younger patrons. The Cadillac SRX, a crossover, has been the company's bestseller since 2010. In the country, the General Motors Automobiles Philippines Inc (GMph) is GM's domestic subsidiary and distributor of Cadillac models. Read on to find out information on the country's most popular new and second hand Cadillac Escalade cars for sale.
---
What are the best-selling Cadillac models in the Philippines?
Cadillac Escalade for sale in the Philippines
Cadillac Escalade Engine Specs
Cadillac models during the years 2002 to 2006 had 5.3-liter V8 engine that delivers a 295 horsepower. However, those interested in the new Cadillac Escalade will be glad to know that it is powered by 6.2-liter V8 engine that is mated to an 8-speed automatic transmission. Other information regarding its engine can be found below:
Base engine: 6.2-liter V8 engine
Cylinders: V8
Horsepower: 420 hp @ 5,600 rpm
Torque: 460 Nm @ 4,100 rpm
Cadillac Escalade Fuel Consumption
Below are the fuel consumption rates for the Cadillac Escalade's recent model years:
Cadillac Escalade 2017: 17.0 MPG average rating
Cadillac Escalade 2016: 17.0 MPG average rating
Cadillac Escalade 2015: 15.5 MPG average rating
Cadillac Escalade 2013: 16.0 MPG average rating
What are Cadillac Escalade Standout Features?
Some convenient features for the Cadillac Escalade models include USB and AUX ports, bluetooth connectivity, rear parking sensors, rearview camera, and climate control. Buyers of the Cadillac Escalade can also drive in confidence with the following safety features:
4 wheel ABS
Stability control
Traction control
Tire pressure monitoring
---
Cadillac Latest offers in the Philippines
If you want to see what Cadillac vehicles can offer, click on the links below to locate a Cadillac vehicle for sale near you. Take a gander!
Cadillac Escalade price list Philippines by year:
Cadillac Escalade price list Philippines by variant:
Cadillac Escalade Bulletproof price in Philippines: P13,500,000
Cadillac Escalade Premium price in Philippines: P9,500,000
Cadillac Escalade for Sale in Philippines Price List
Cadillac Escalade for Sale in Philippines Price List start at for the inexpensive model Cadillac Escalade and goes up to ₱8.9 Million for the most expensive Car model Cadillac Escalade for Sale.
Second Hand Cadillac Escalade Cars for Sale in Philippines Price List
Used Cars in Philippines Starts at ₱2.288 Million for model and goes upto ₱8.9 Million for model Cadillac Escalade for Sale.
Read Less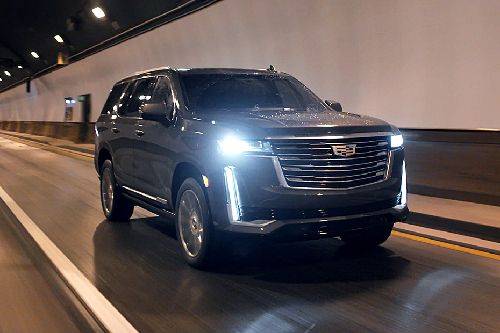 Cadillac Escalade Alternatives
Second Hand used cars Similar to Cadillac Escalade
81 Used Cars Available

Starts @ ₱998,000

117 Used Cars Available

Starts @ ₱898,000

25 Used Cars Available

Starts @ ₱698,000

15 Used Cars Available

Starts @ ₱685,000

48 Used Cars Available

Starts @ ₱650,000