2021 Kia Grand Carnival: The 3 variants in detail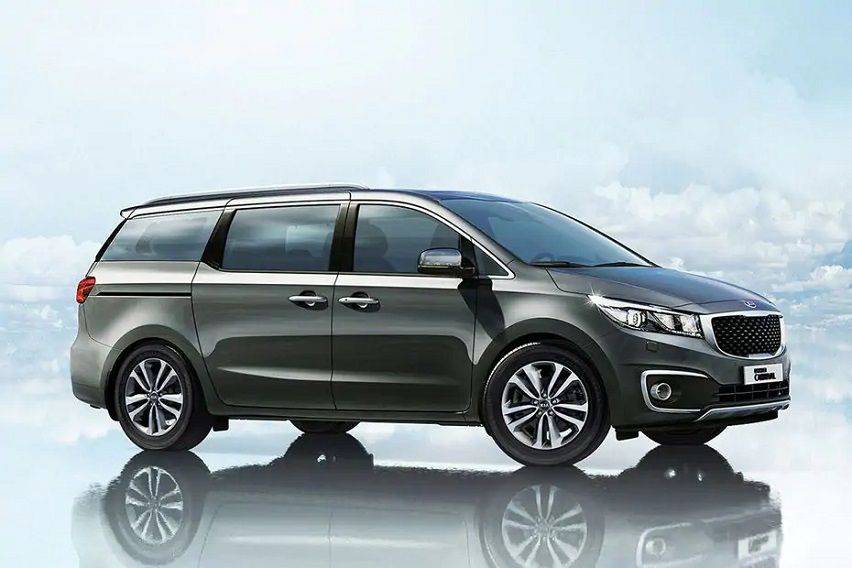 As a culture that's big on family, there's certainly a place for minivans in the hearts and minds of Pinoys, and one of the more popular options in this segment is the Kia Grand Carnival. With every version, Kia's sizable family car has managed to deliver quality comfort and space in generous amounts, and buyers from all over have shown their approval with their wallets. The Carnival nameplate has already sold over two million units globally, making it a respectable seller for the South Korean car brand since its inception in 1998.

The locally sold 2021 Kia Grand Carnival—a 2019 carryover—is driven by a 2.2-liter Euro 4-compliant 2.2 Turbocharged intercooler VGT diesel engine that delivers 197hp and 441Nm. An 8-speed automatic transmission with Shiftronic is the only gearbox option.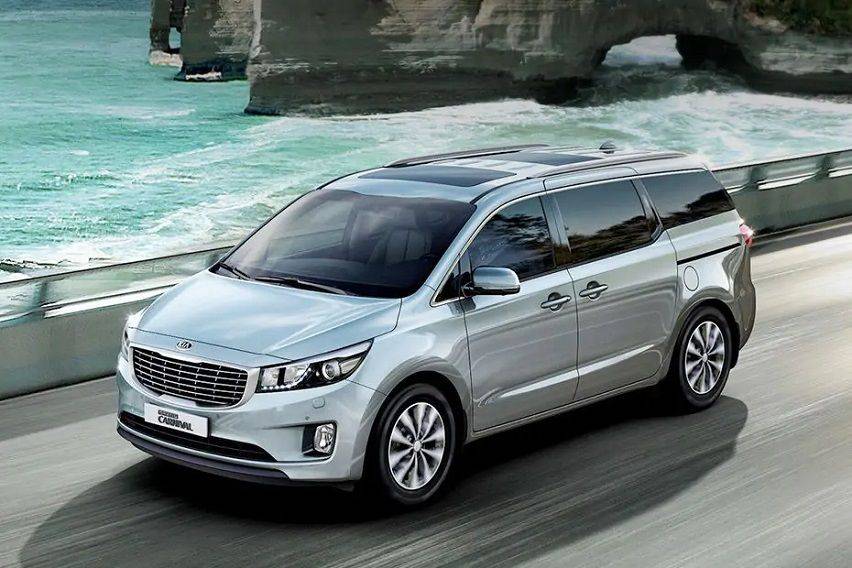 Kia describes the Grand Carnival cabin as "a supremely elegant and spacious cockpit," with well-planned design and function cues all around. For infotainment, the top-ranging Grand Carnival variants have an 8-inch touchscreen with Bluetooth, Android Auto and Apple CarPlay connectivity. The leather-upholstered seats are extremely flexible thanks to stand-up 2nd row seats and pop-up sinking third row seats, allowing owners to maximize storage as necessary.

Philippine car buyers have three Kia Grand Carnival trims to choose from, with 11-seater and 7-seater options available. Price ranges from PHP2 million for the base LX AT to PHP2.4 million for the top-ranging EX AT. Check out the breakdown of the specs and features of each Kia Grand Carnival variant below.


Dimensions (mm): 5111 x 1985 x 1755


Wheelbase (mm): 3060


Ground clearance (mm): 180


Seating Capacity: 11 Persons


Trunk Capacity (liters): 325


Fuel Tank Capacity (liters): 80


Luggage Capacity - Behind Third Row (Liters): 960


Luggage Capacity - Behind Second Row (Liters): 2220


Luggage Capacity - Behind Front Seats (Liters): 4022


Curb Weight (kg): 2107


Gross Vehicle Weight (kg): 2800


POWERTRAIN


Engine Type: 2.2L In-Line 4 Cylinders, DOHC, Common Rail Direct Injection E-VGT


Displacement (cc / Liters): 2199 (2.2)


Fuel Type: Diesel


Max power (hp / RPM): 197 @ 3800


Max torque (Nm / RPM): 441 @ 1750 to 2750


Transmission type: 8-Speed Automatic with Shiftronic


Drivetrain: Front Wheel Drive


Front / Rear Suspension: Macpherson Strut and Stabilizer / Multi-Link


Front / Rear Brakes: Disc / Disc


Wheels: 235 / 65 R 17 Alloy


EXTERIOR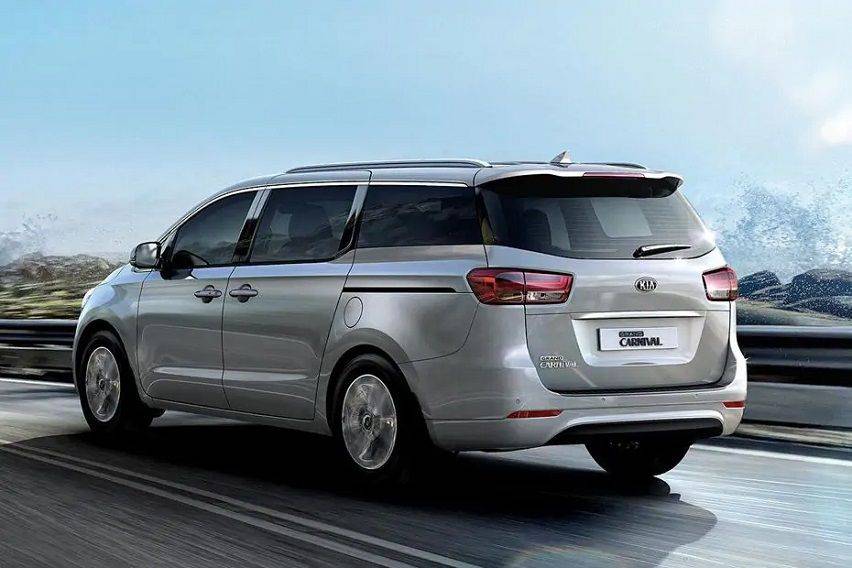 Headlights: Projection Type Halogen


Auto Light Control: Without


Position Lamps: Light Guide


Front Fog Lamps: Without


Rear Combination Lamps: Standard


Front and Rear Bumpers: Body Color


Exterior Rearview Mirrors: Body Color and Electric Adjustable


Turn Signal Indicators: Rearview Mirror Mounted


Sunroof: Without


Radiator Grille: Bar Type


Outside Door Handles: Body Color


Door Garnish: Black


Rear Window Defogger: Standard


Sliding Door: Manual


Tailgate Manual


Paint Options: Clear White, Silky Silver, Panthera Metal, Aurora Black Pearl


INTERIOR


Seat Material: Cloth


Steering Wheel: Polyurethane


Controls: Audio, Bluetooth and Cruise Control


Gear Shift Knob: Polyurethane


Dashboard Trim: Standard


Inside Door Handles: Matte Silver


Parking Brake: Foot Operated


Air Conditioner Type: Front and Rear (Manual)


Remote Keyless Entry: Standard


Push Start: Without


Driver's Seat: Manual Slide, Recline and Height Adjust with 2-way Power Lumbar


Interior Rearview Mirror: Day and Night


Infotainment System: AM / FM Radio, CD, MP3 with USB and Aux-in Ports


Connectivity: Bluetooth Hands-Free


Number of Speakers: 6


SAFETY


Anti-Lock Brakes: Standard


Airbags: Driver and Front Passenger


Electronic Stability Control (ESC): Without


Brake Assist: Without


Hill Start Assist Control: Without


Engine Immobilizer: Standard, with Burglar Alarm


Parking Distance Warning: Rear Sensors


Rear Camera Display: Without


SPECIFICATIONS


Dimensions (mm): 5111 x 1985 x 1755


Wheelbase (mm): 3060


Ground clearance (mm): 180


Seating Capacity: 11 Persons


Trunk Capacity (liters): 325


Fuel Tank Capacity (liters): 80


Luggage Capacity - Behind Third Row (Liters): 960


Luggage Capacity - Behind Second Row (Liters): 2220


Luggage Capacity - Behind Front Seats (Liters): 4022


Curb Weight (kg): 2107


Gross Vehicle Weight (kg): 2800


POWERTRAIN


Engine Type: 2.2L In-Line 4 Cylinders, DOHC, Common Rail Direct Injection E-VGT


Displacement (cc / Liters): 2199 (2.2)


Fuel Type: Diesel


Max power (hp / RPM): 197 @ 3800


Max torque (Nm / RPM): 441 @ 1750 to 2750


Transmission type: 8-Speed Automatic with Shiftronic


Drivetrain: Front Wheel Drive


Front / Rear Suspension: Macpherson Strut and Stabilizer / Multi-Link


Front / Rear Brakes: Disc / Disc


Wheels: 235 / 60 R 18 Alloy


EXTERIOR


Headlights: Projection Type Halogen


Auto Light Control: With


Position Lamps: LED


Front Fog Lamps: Projection Type


Rear Combination Lamps: LED


Front and Rear Bumpers: Body Color


Exterior Rearview Mirrors: Body Body Color, Electric Adjustable and Folding


Turn Signal Indicators: Rearview Mirror Mounted


Sunroof: Without


Radiator Grille: Bar Type


Outside Door Handles: Body Color


Door Garnish: Black


Rear Window Defogger: Auto Defogger


Sliding Door: Powered


Tailgate Manual


Paint Options: Snow White Pearl, Silky Silver, Panthera Metal, Aurora Black Pearl


INTERIOR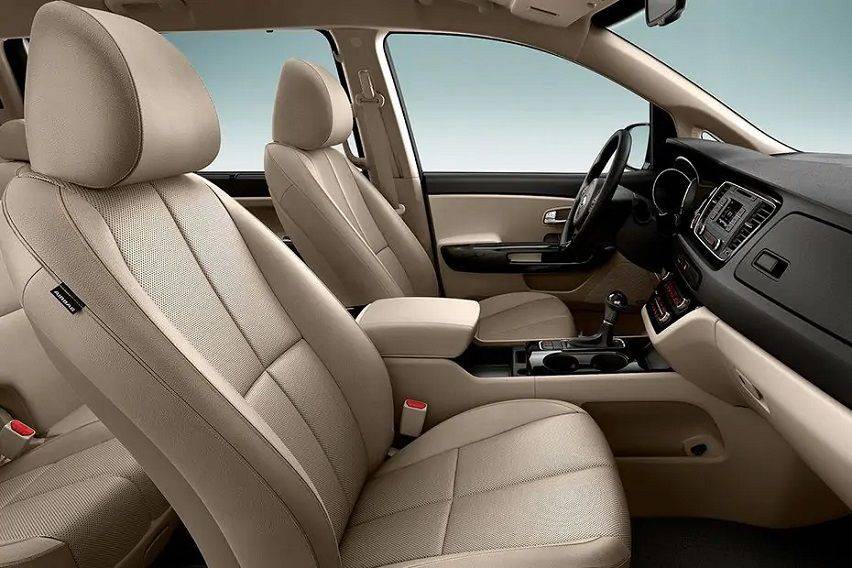 Seat Material: Cloth


Steering Wheel: Polyurethane


Controls: Audio, Bluetooth and Cruise Control


Gear Shift Knob: Polyurethane


Dashboard Trim: Glossy Black


Inside Door Handles: Chrome


Parking Brake: Foot Operated


Air Conditioner Type: 3-Zone Automatic with Cluster Ionizer


Remote Keyless Entry: Smart Entry


Push Start: With


Driver's Seat: Manual Slide, Recline and Height Adjust with 2-way Power Lumbar


Interior Rearview Mirror: Day and Night


Infotainment System: 8-inch Touchscreen, AM / FM Radio, CD, MP3 with USB and Aux-in Ports


Connectivity: Bluetooth Hands-Free with Apple CarPlay and Android Auto


Number of Speakers: 6


SAFETY


Anti-Lock Brakes: Standard


Airbags: Driver and Front Passenger


Electronic Stability Control (ESC): Without


Brake Assist: Without


Hill Start Assist Control: Without


Engine Immobilizer: Standard, with Burglar Alarm


Parking Distance Warning: Front and Rear Sensors


Rear Camera Display: With


SPECIFICATIONS


Dimensions (mm): 5115 x 1985 x 1740


Wheelbase (mm): 3060


Ground clearance (mm): 180


Seating Capacity: 7 Persons


Trunk Capacity (liters): 325


Fuel Tank Capacity (liters): 80


Luggage Capacity - Behind Third Row (Liters): 960


Luggage Capacity - Behind Second Row (Liters): 2220


Luggage Capacity - Behind Front Seats (Liters): 4022


Curb Weight (kg): 2177


Gross Vehicle Weight (kg): 3045


POWERTRAIN


Engine Type: 2.2L In-Line 4 Cylinders, DOHC, Common Rail Direct Injection E-VGT


Displacement (cc / Liters): 2199 (2.2)


Fuel Type: Diesel


Max power (hp / RPM): 197 @ 3800


Max torque (Nm / RPM): 441 @ 1750 to 2750


Transmission type: 8-Speed Automatic with Shiftronic


Drivetrain: Front Wheel Drive


Front / Rear Suspension: Macpherson Strut and Stabilizer / Multi-Link


Front / Rear Brakes: Disc / Disc


Wheels: 235 / 60 R 18 Alloy


EXTERIOR


Headlights: Projection Type Halogen


Auto Light Control: With


Position Lamps: LED


Front Fog Lamps: Projection Type


Rear Combination Lamps: LED


Front and Rear Bumpers: Body Color


Exterior Rearview Mirrors: Body Color, Electric Adjustable and Folding


Turn Signal Indicators: Rearview Mirror Mounted


Sunroof: Dual


Radiator Grille: Bar Type


Outside Door Handles: Body Color


Door Garnish: Black


Rear Window Defogger: Auto Defogger


Sliding Door: Powered


Tailgate Powered


Paint Options: Snow White Pearl, Silky Silver, Panthera Metal, Aurora Black Pearl, Titanium Brown


INTERIOR


Seat Material: Leather


Steering Wheel: Leather


Controls: Audio, Bluetooth and Cruise Control


Gear Shift Knob: Leather


Dashboard Trim: Glossy Black


Inside Door Handles: Chrome


Parking Brake: Foot Operated


Air Conditioner Type: 3-Zone Automatic with Cluster Ionizer


Remote Keyless Entry: Smart Entry


Push Start: With


Driver's Seat: Manual Slide, Recline and Height Adjust with 2-way Power Lumbar


Interior Rearview Mirror: Electro Chromic


Infotainment System: 8-inch Touchscreen, AM / FM Radio, CD, MP3 with USB and Aux-in Ports


Connectivity: Bluetooth Hands-Free with Apple CarPlay and Android Auto


Number of Speakers: 6


SAFETY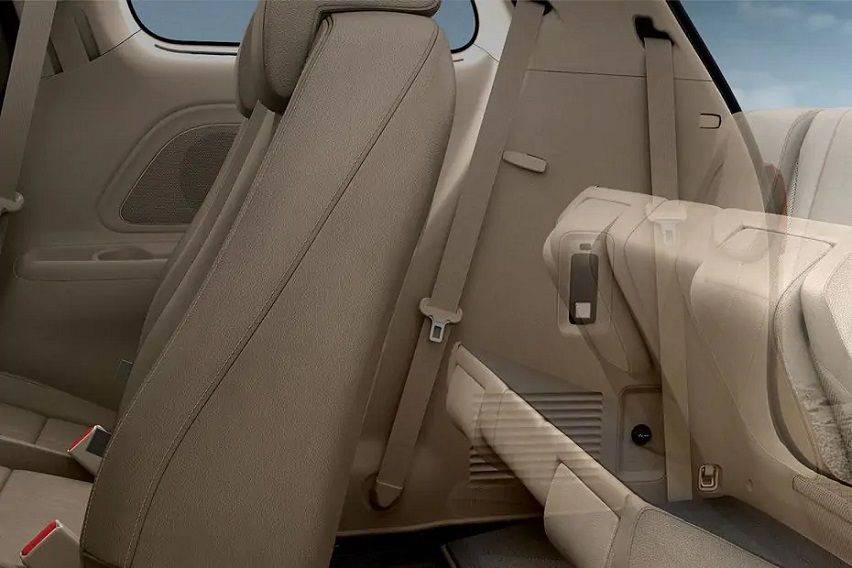 Anti-Lock Brakes: Standard


Airbags: Driver and Front Passenger


Electronic Stability Control (ESC): With


Brake Assist: With


Hill Start Assist Control: With


Engine Immobilizer: Standard, with Burglar Alarm


Parking Distance Warning: Front and Rear Sensors


Rear Camera Display: With


Photos from Kia
Explore KIA Grand Carnival