Finish Line in Sight: Isuzu Crosswind Will End Production This Year
Sad news for Isuzu Crosswind fans: the much-loved AUV/MPV is saying its final goodbye this year.
This move is in line with the Department of Environment and Natural Resources's (DENR) mandate for all cars to be Euro 4 Emissions Compliant on or after January 1, 2018.
Euro 4 Standard requires car engines to use fuel with low amounts of sulfur and benzene -- two significant components that cause smog and pollution in the air. The standard sulfur content that Euro 4 standard allows for gasoline and diesel should only be 50 parts per million (ppm) instead of the 500 ppm set by Euro 2.
Problems of transitioning to Euro 4 Emission Standards seen
@http://adserver.bworldonline.com
Current models of Isuzu Crosswind still use Euro 2 standards for their engines. Transitioning it to Euro 4 can mean an increase of around 10 to 15 percent in added expenses.
The process is not only costly but also difficult to do, since it not just affects the entire engine system, but will also require Isuzu to change or modify the brakes, transmission, and chassis.
Unfortunately, the original engineers who made the Crosswind in the 90's have already moved on to other ventures, making the changes harder to implement.
Isuzu Crosswind not just the only one affected by the Regulation
With sights of ending the Crosswind as the best option, Isuzu Crosswind's plight may also be shared by other vehicles, specifically passenger cars, light commercial cars, 10-seater AUVs like the L300, and MPVs such as the Mitsubishi Adventure. Overall, there will be a total of about 25,000 cars that will be directly affected by the Euro 4 Compliance rule.
Aside from this, small-to-medium enterprises (SME) and suppliers that provide car manufacturers local parts for assembly (like small brackets, bolts, and nuts) might eventually close down.
Not yet totally "goodbye" for Isuzu Crosswind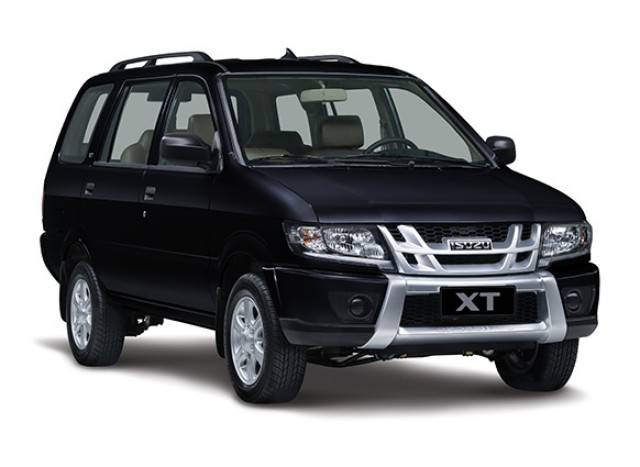 @https://isuzuphil.imgix.net
Isuzu has recently updated the Crosswind model for the last time, despite its planned farewell this year. It now comes with a new grille, bumper, and fog lamps, and they are all available on all six variants: the XS and SL M/T; XT M/T; XUV A/T; and the Sportivo-X A/T and M/T.
The final Crosswind comes in six colors, and are priced between P790,000 to P1.235 million.
Isuzu also assures Crosswind owners that they will continue to provide Crosswind parts and services for at least 10 years after they discontinue its production.
About Isuzu Crosswind
Isuzu Crosswind is one of the oldest running AUV/MPV in the Philippine market, having served Filipino individuals, families and businesses for 15 years. It started in the '90s as the Isuzu Hilander, and became a popular and much-loved vehicle for families and OFWs alike
Its strongest assets are its versatility, easy market availability, consistent and small improvements, wide choice of variants, and strong power plant.
According to data released by the Chamber of Automotive Manufacturers of the Philippines Incorporated (CAMPI) and the Truck Manufacturers' Association (TMA), the Crosswind has achieved a market share of around 7.6% in the Philippines in 2016.