INDIAN INVASION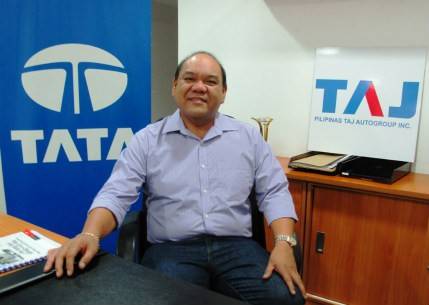 In the booming and highly competitive automotive industry, a new brand has slowly emerged in its bid to provide more to the Philippine car market. Pilipinas Taj Autogroup Inc. has recently become the distributor of Tata Motors that carries a formidable line-up of quality affordable vehicles intended for the budget-conscious Filipino.
Steering the wheel for the local arm of India's largest automotive manufacturing company is Cresencio Vincent Fernandez Jr, President of Pilipinas Taj Autogroup Inc., the distributor of Tata Motors in the country.
In 2013, Pilipinas Taj Autogroup Inc. (TAJ) was granted exclusive distributorship for sales, parts, and service of Tata Motors Limited in the Philippines that carries a wide spectrum of vehicles from passenger cars, LCV's, and heavy duty Trucks.
In an exclusive interview, Fernandez claimed that their strength as a brand is their full line-up of Eco-Diesel vehicles and solid after-sales support. "To better reach the whole nation, we have been establishing our dealerships strategically in key areas in the country with each dealer having the capability to offer very competent after-sales technical support to all our clients," he said.
Fernandez also said that the company's current strategy is to highlight their line-up. "Right now, our strategy remains simple, and that is to highlight the strengths of our vehicle line-up. We are focused on creating our own niche market for Filipinos in need of quality affordable workhorse vehicles which will help them in growing their livelihood and businesses," he explained.
Although admitting that Tata cars are above the current price for Chinese-made vehicles, the automotive firm's chief local executive expressed firm confidence that they are off to a good start. "I assure you that you will be getting great value for your money as the technical specs of our current line-up make Tata vehicles far more durable and dependable even among those of well-known brands," Fernandez stated.
"Affordable workhorse vehicles with superior technical specs are what Tata offers and we feel that the Filipinos are ready for this smart alternative," he added.
He noted that Tata Motors is a subsidiary of the India-based Tata Group which has been around for more than a century. In its over 145 years on the scene, the Tata Group has been in various industries such as power, chemicals, steel, IT, communications, and even hotels.
However, Fernandez also revealed that despite carrying a global company on local shores, it has its fair share of challenges that need to be resolved. He said that being a new player in the local automotive industry means that the brand still needs to make its presence felt among buyers.
To date, Tata already has nine dealerships spread over key cities in the Philippines such as Marcos Highway, Cainta (Rizal), Quezon Avenue (Quezon City), Davao, Cebu, Cagayan De Oro, Bohol, Tarlac, and Tacloban.
Furthermore, Fernandez said that they are open to the idea of attracting more investments to the country. "Currently, all our passenger cars and commercial vehicles are completely built up units (CBUs) brought in straight from the Tata Motors plant in India. But we are also currently exploring the possibility of locally manufacturing some models and even putting up a manufacturing plant here in the distant future," he said.
Moreover, Fernandez revealed that despite the price, safety has always been a top priority for Tata Motors. "Tata has and will always be conscientious in adhering to world class safety norms and standards," he said.
He noted that the Tata Xenon XT was recently awarded a four star safety rating by the Australasian New Car Assessment Program (ANCAP) for its standard equipped advanced safety features.