Isuzu PH Renews Ties with TESDA-JZGMSAT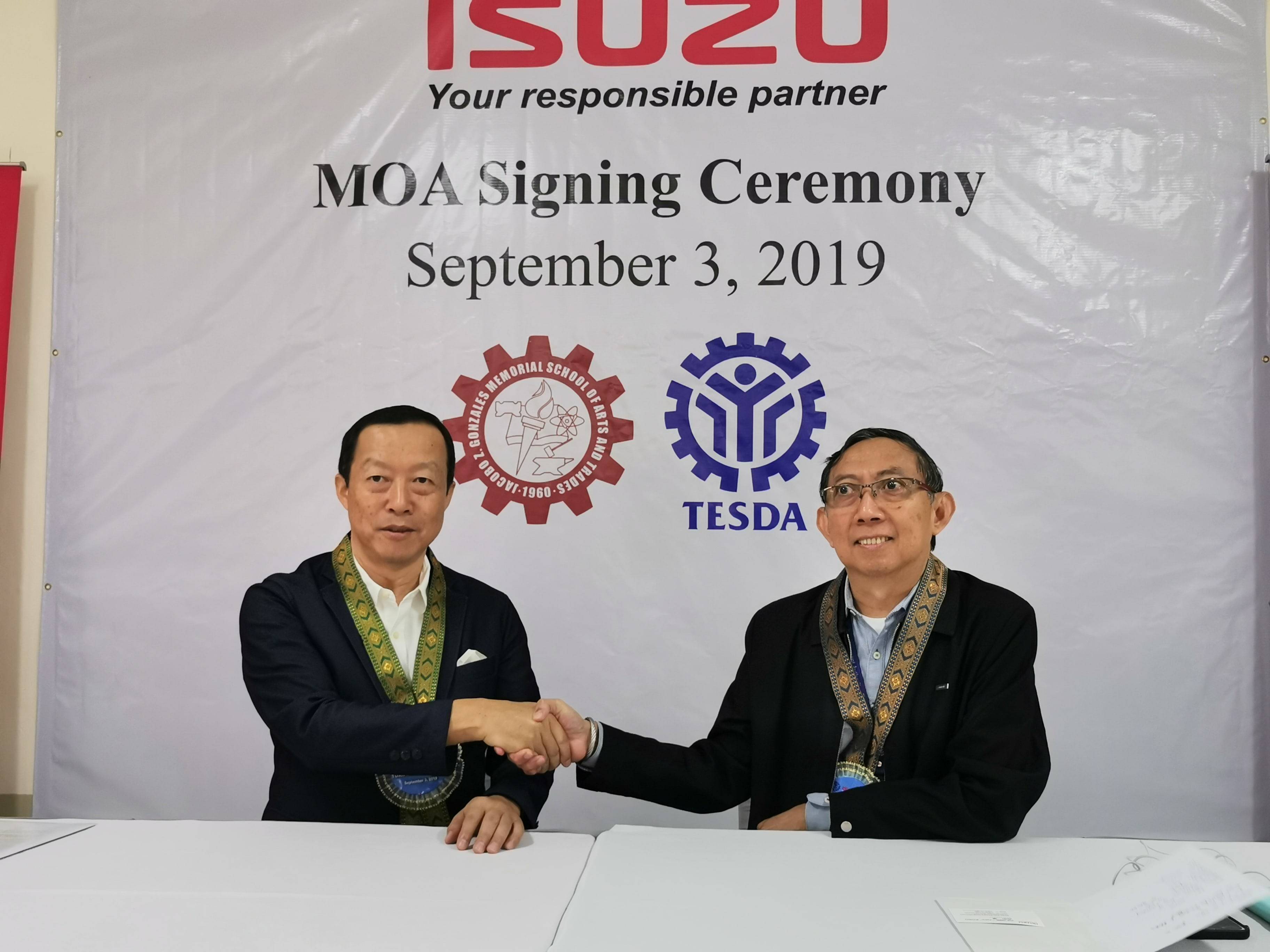 Isuzu Philippines, Corp. (IPC) has renewed its partnership with the Technical Education Skills and Development Authority (TESDA) Jacobo Z. Gonzales Memorial School for Arts and Trade (JZGMSAT). IPC President Hajime Koso, together with TESDA Regional Director Florencio Sunico Jr. led the signing of the Memorandum of Agreement. JZGMSAT School Administrator 3 Benito Reyes said that the first recipients of the latest equipment will comprise of 50 student under NC1 and NC2.
Under the renewed partnership, IPC has turned over two sets of automotive lifters, one mock-up diesel engine, and five computer units to the latest batch of trainees that will undergo technical programs that will include topics for the new modernized public utility vehicless. The first partnership with JZGMSAT took place in July 2017 which involveed a donation of three mock-up diesel engines and a special training program for the engine that was received by 12 TESDA trainers and 114 students undergoing NC1 and NC2. Koso said, which was affirmed by Reyes, that the partnership with be of great addition to the school as it gears toward increasing the students' competency. "We hope that through this, the school will be able to strengthen its curriculum and attract more students in the area to be more interested in automotive servicing, which is a great way to uplift the lives of the less privilege,: Koso said. "As for IPC, we vow to continue to impart our expertise on diesel engine technology, through knowledge training and find more ways to support our neighboring communities." Reyes and Sunico, on the other hand, expressed gratitude over the refreshed partnership. "We are so happy with the continuation of the partnership. We are also happy that CDRi is here and we're happy that Isuzu is here," Reyes said. IPC started the partnership back in 2008 with TESDA Tacloban, which has produced more than 200 automotive service technicians to-date.