Mahindra's New Detroit Manufacturing Plant Signals Motor City Revival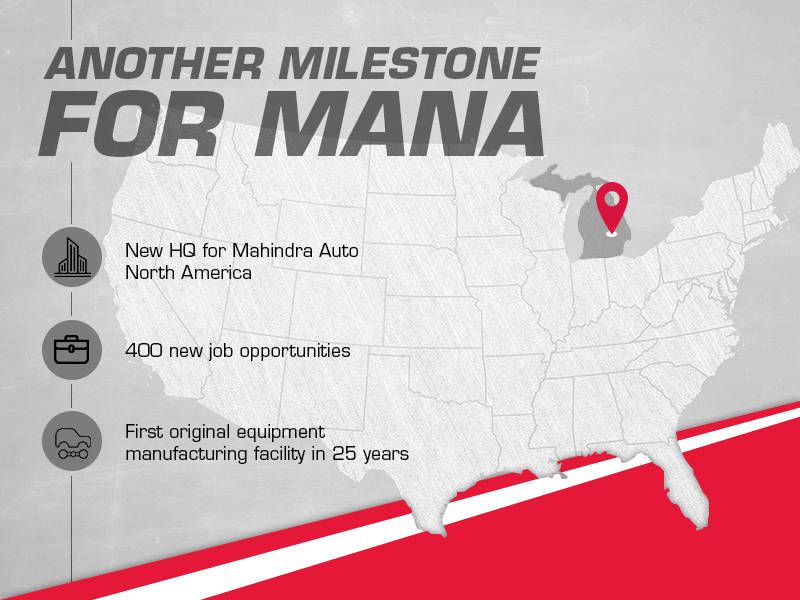 Detroit is considered as the car capital of the world. The 'Big Three' auto manufacturers--General Motors, Ford, and Chrysler--all call The Motor City their home. Yet despite Detroit's reputation as an automotive hub, the city has not seen the creation a new car manufacturing plant within its limits in the last 25 years.
That all changed this week, when India's automobile behemoth Mahindra opened its new car manufacturing plant in Detroit, pouring in an investment of $230 million to make it happen. The new 150,000 sq. ft. plant, located in a corporate park near the I-75 American Highway, is expected to create 250 new jobs in the Motor City.
"It is pretty rare and extraordinary," said Michigan Lieutenant Governor Brian Calley during the opening. "You are an important and vital part of the resurgence of Detroit," he told Mahindra employees and top officials including the company's chairman, Anand Mahindra.
"This building opening represents our company's growing presence in North America and locally in the Metro Detroit area where we have tripled our workforce during the past 18 months," said the Mahindra Group's head.
The plant is where Mahindra will produce its latest off-road utility vehicle, the Mahindra Roxor. A prototype of the vehicle was at the plant during the grand opening, but it remained under a tarp the whole time.
The Roxor is designed by Mahindra Automotive North America (MANA). Mahindra plans to unveil the vehicle sometime at the end of this year, with the promise that it will be unlike anything currently on the market.
"This expansion represents a milestone for us and for Michigan," said MANA president and CEO Richard Haas. "We started this operation with seven people four years ago--to be crossing the 250 mark is a testament to the hard work of our employees and what this region has to offer in terms of top automotive talent."
Mahindra plans to expand its operations to 400 workers by 2020 and infuse the plant with an additional $600 million in local investment within the period. The plant will also be used to provide engineering support for new vehicle platform development for India and global markets.
Meanwhile, prominent political figures with a personal stake in the development have also expressed their appreciation.
"It is a great day for my district and my State as this is the first automotive manufacturing facility in 25 years," said Congressman Dave Trott, adding that Southeast Michigan is the birthplace of automotive industry. "This comeback is real and exciting," he added.
"This illustrates the strong partnership between the US and India," said Tom Vajda, the Acting Assistant Secretary of State for South and Central Asia.