Nissan Creates Electric Ice Cream Van--Will Food Trucks Follow?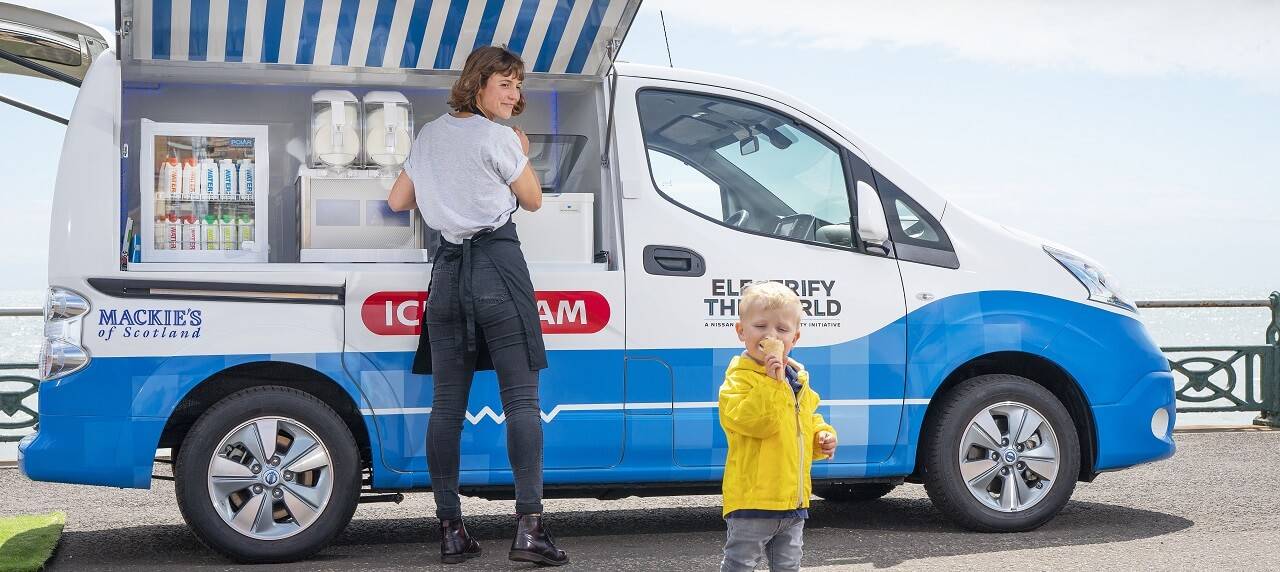 Nissan partnered with Mackie's--an ice cream brand in Scotland--in launching an all-electric zero-emission concept car for the United Kingdom's 'Clean Air Day' last Thursday, June 20.
The collaboration attempts to demonstrate how a 'Sky to Scoop' approach can eliminate carbon dependence throughout the ice cream vending process via Nissan's new ice cream van, the e-NV300.
Based on the e-NV200, Nissan's electric commercial van available in Europe, the e-NV300 comes with the same 40 kWh (54 hp) electric motor as the former. Customized to serve an ice cream vendor's unique needs, the e-NV300 comes outfitted with a swing-open shelving panel, freezer space, drinks fridge, and soft-serve ice cream dispenser.
©nissannews.com
These electrical systems are powered by an independent Nissan Energy ROAM, a portable power back that uses lithium-ion cells recovered from used first-gen Nissan electric vehicles. This recycling effort keeps the used batteries from polluting landfills and dumpsites, further lending authenticity to Nissan's environmentally friendly goals.
Three roof-mounted solar panels help ensure the car's time between charging is maximized.
©nissannews.com

"We're delighted to have worked with Nissan on this project as it's the perfect complement to our own vision of becoming self-sustainable in renewable energy--and eliminating carbon in the journey from 'Sky to Scoop'," said Karin Hayhow, marketing director at Mackie's.

"At Mackie's we've already shifted our dependence from fossil-fuels on to clean renewable power. We now export 4.5 times more energy to the national grid than we consume. This year we will make further progress towards our vision with the installation of an innovative new low-carbon refrigeration system. We're proud to be a 'climate positive' ice cream maker," she added.

"The Clean Air Day campaign is here to celebrate innovation and accelerate action," said Chris Large, senior partner, Global Action Plan. "We welcome Nissan's efforts to make ice cream vans that serve up toxic fumes a thing of the past. Schoolchildren campaigning for the Clean Van Commitment sent a video message to all van fleets encouraging them to get millions more electric vans on to UK roads in place of diesels. I think those children would love this project."

Many of the ice cream vans today rely on their diesel engines to keep frozen goods frozen. The diesel engines are kept running even when the van is stationary, which ends up producing more harmful pollutants, including black carbon.

Due to their negative impact to the environment, many UK towns and cities are looking to fine these vehicles or ban them completely. Nissan's concept gives ice cream makers a way to overcome these potentially devastating scenarios to their bottom line.

The electric vending van certainly has a lot of potential to expand to other markets, and the solar technology added is especially useful for ensuring power lasts throughout the day. Perhaps one day, our multitude food carts will come in the guise of these eco-friendly alternatives.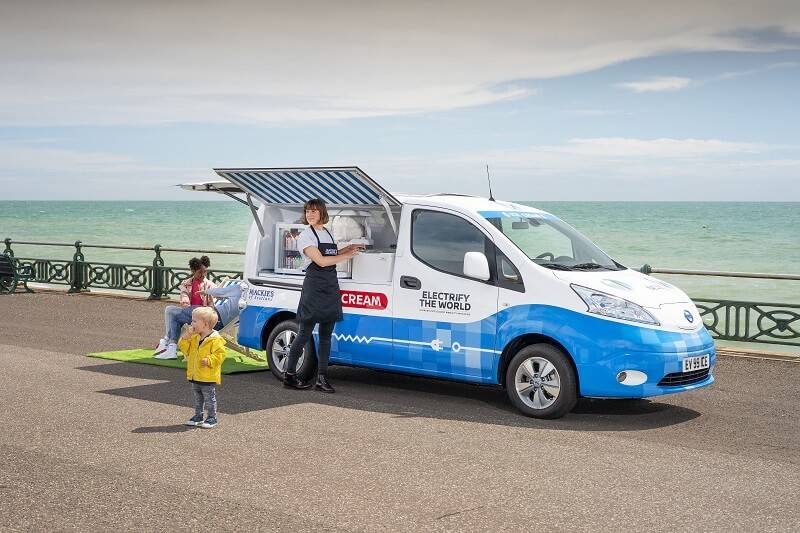 ©nissannews.com