Discounts, low down payment, and more offers in Honda's 'Deals Made Easy'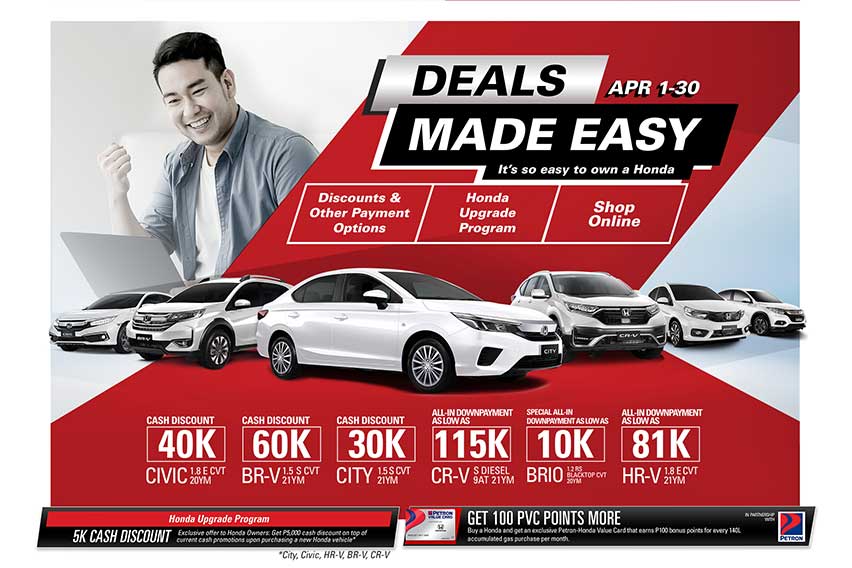 Getting behind the wheel of a new Honda is made easier with Honda's "Deals Made Easy" promo where cash discounts, low down payment (DP), the Honda Upgrade program, and other offers await customers.
Honda's local distributor, Honda Cars Philippines, Inc. (HCPI), said the deals will be available until Apr. 30, 2021.
Cash discounts slash the prices of the following Honda cars: The City subcompact sedan, BR-V MPV, Brio mini subcompact, Civic compact sedan, CR-V SUV, Jazz hatch, HR-V crossover, Odyssey minivan, and Civic Type-R hyper hatch.
The prices of the Odyssey in 2.4 EX-V Navi CVT trim and Civic Type-R, to name a few, have significant price discounts; P100,000 off the minivan, and P180,000 off the turbocharged 300hp hot hatch.
Refer to the photo below for the list of other discounts available to the other Honda cars.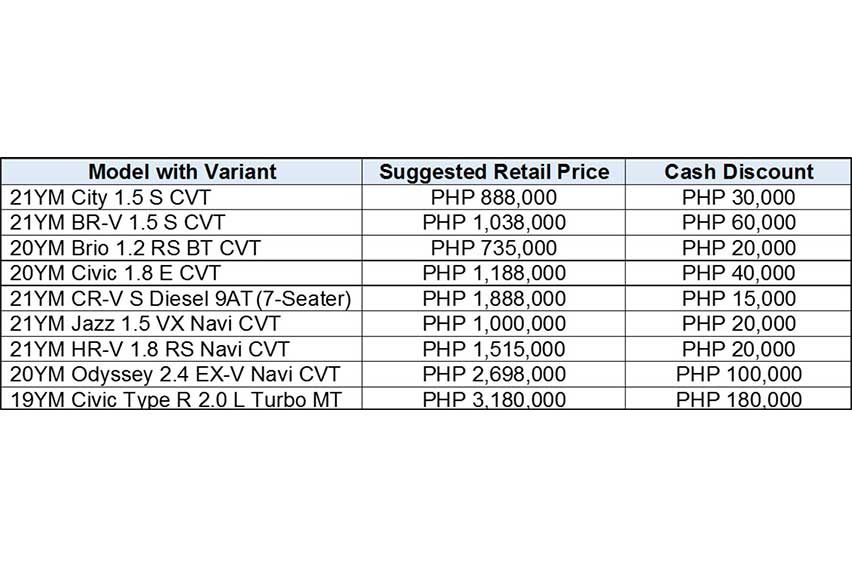 Meanwhile, customers can drive away in the City, BR-V, Brio, Civic, CR-V, Jazz, and HR-V following special all-in and regular all-in low DP offers.
The seven-seater BR-V 1.5 S CVT can be had for as low as P10,000 DP, while an HR-V 1.8 RS Navi CVT can be had for P83,000 DP.
Check out the list below.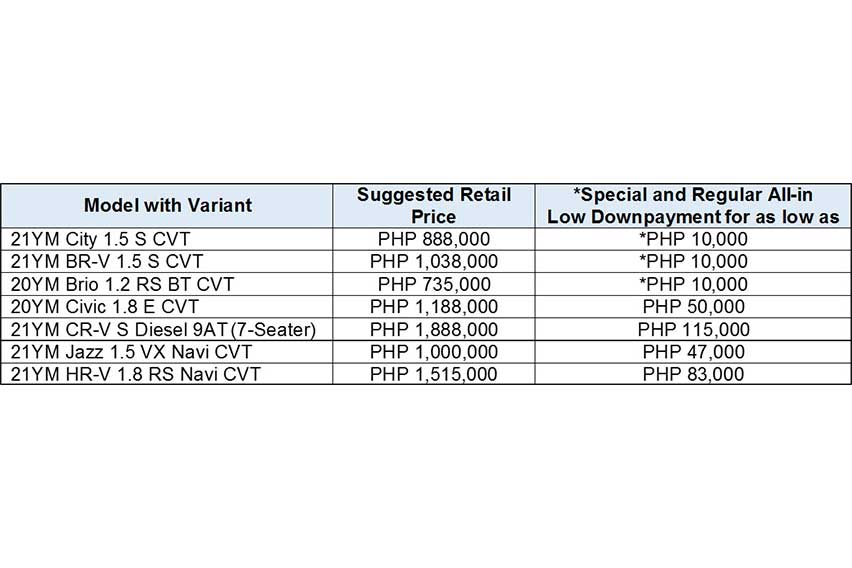 The Honda Upgrade Program provides P5,000 cash discounts (on top of other cash promotions offered) to current Honda vehicle owners who would like to purchase any variant of City, BR-V, Civic, CR-V, and HR-V.
To avail of the Upgrade Program, customers must present their latest official vehicle official receipt, certificate of registration, and deed of sale (if they own a second-hand unit) to their preferred dealerships, HCPI said.
HCPI added that customers who will be purchasing a Honda this month will also get a free Petron-Honda Value Card, which earns an additional P100 point bonus for every 140 liters of gasoline, or 200 liters of diesel accumulated purchased per month.
Other benefits of the Petron Value Card includes Free Towing and Roadside Assistance, and Year-Round Personal Accident Insurance.
The aforementioned special all-in financing program at 10 percent DP, with 36 to 60 months payment terms for select models are available with the following details as shown below.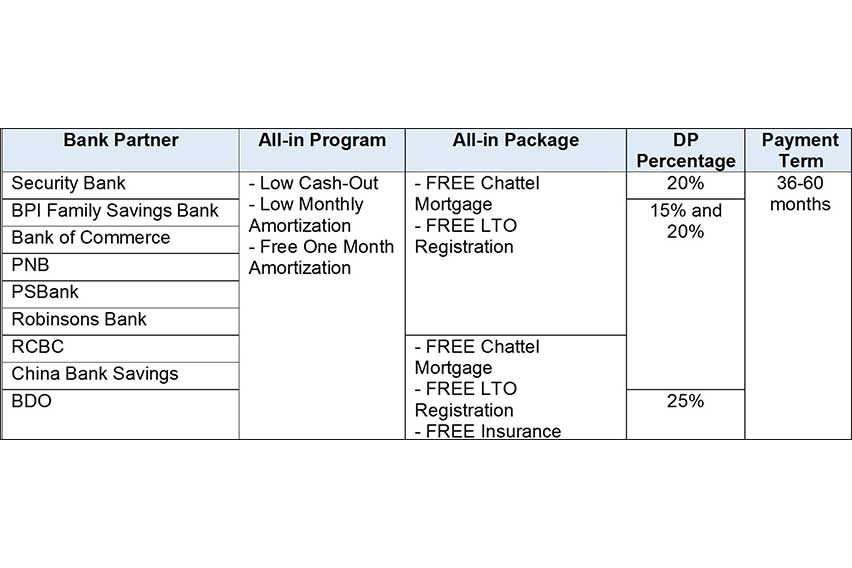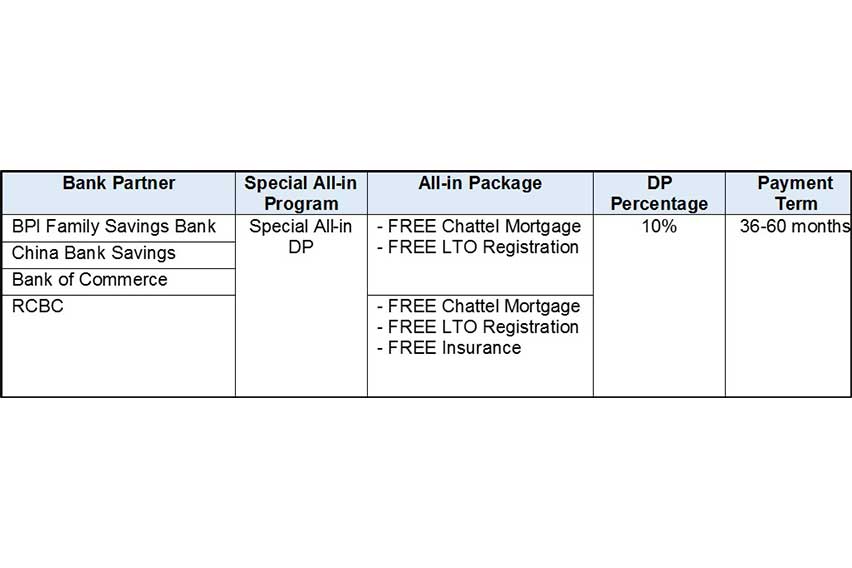 Moreover, HCPI added that customers may also avail of other all-in financing promo option offers, such as low cash-out, low monthly amortization, and free one-month amortization at 15-, 20-, and 25-percent all-in DP offers.
HCPI also advised that customers may also submit their bank loan applications online through the Auto Loan link page in the HCPI website for select bank partners, subject to the preferred bank's approval.
All these offers include a three-year LTO Registration and Chattel Mortgage, and a free one year Comprehensive Insurance with Acts of Nature through select bank partners.
"Honda is one with the nation in battling the pandemic," Masahiko Nakamura, HCPI president, said.
"To continuously provide convenience and mobility for every Filipino family, we have prepared deals and promos that are available for our dear customers, right at the comfort of their own homes through our online virtual dealership facility, VIRTUAL@Honda," Nakamura added.
HCPI has invited the public to know more about each promo in 'Deals Made Easy' through their official website at www.hondaphil.com, its dealerships, or access the virtual showroom through the same website.
Photos from Honda Cars Philippines, Inc. (HCPI)
Also read
5th-generation Honda City now available in PH