Give Your Hyundai Car Some TLC with Hyundai PH's RAINDROPS Packages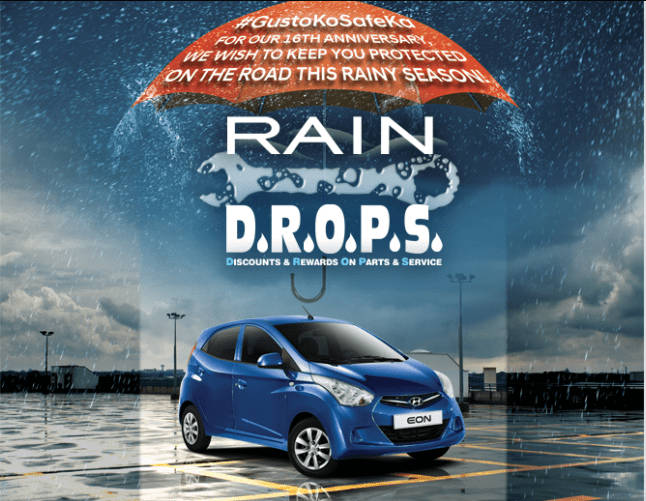 Hyundai Asia Resources, Inc. (HARI), the official distributor of Hyundai vehicles in the Philippines, knows how important your Hyundai vehicle is to you. It's your ever-reliable workhorse, and without it, staying on the go and accomplishing your tasks becomes a challenge. "It is, therefore, imperative to give your car the TLC it truly deserves," HARI states. According to HARI, there are three easy steps fro you to pamper your car and keep it in tip-top condition:
Trust the experts. "Health is wealth" should not be exclusive to humans. It can also be an important philosophy on how your car should be treated. Bringing it regularly to authorized Hyundai service centers is like getting a checkup from a licensed doctor. It is akin to putting your life in the hands of trained experts with the right equipment. Relying on unqualified mechanics and run-of- the-mill car shops will not justify the hard-earned money you saved to purchase your car.
Keep it real. Fake alternatives are cheaper. Why? No warranty, no quality check, low quality components, and poor workmanship. Masked as savings, these can be more costly in the long run, as they do not last and may cause further damage to the vehicle. Word from the wise: Always go for genuine parts for optimum performance. They are guaranteed to work best with your car.
Be consistent. Preventive maintenance service (PMS) is designed to keep your car in perfect shape. Regular checkups aid early detection of  problems and can spare you expensive repairs.
Beyond these three tips though, HARI has its 
Hyundai RAINDROPS
(Discounts & Rewards on Parts & Service) packages which gives your car the special treatment it deserves minus the high cost. It comes in two special packages:
Package 1: HGMO semi-synthetic oil
10 percent off on labor
10 percent off on parts
Limited edition freebie
Package 2: HGMO fully synthetic oil
20 percent off on labor
10 percent off on parts
Limited edition freebie
As an added bonus, 
One Hyundai Family
 members get an
additional 10 percent discount.
The Hyundai RAINDROPS promo is an anniversary offering that will run
from August 28 to September 2, 2017
at authorized dealer service workshops. Hyundai vehicle owners who are interested to avail of the promo must present a copy of the vehicle's official receipt/certificate of registration or service passport at the service workshop prior to having their vehicle serviced.