Honda unveils new offer: Supra GTR 150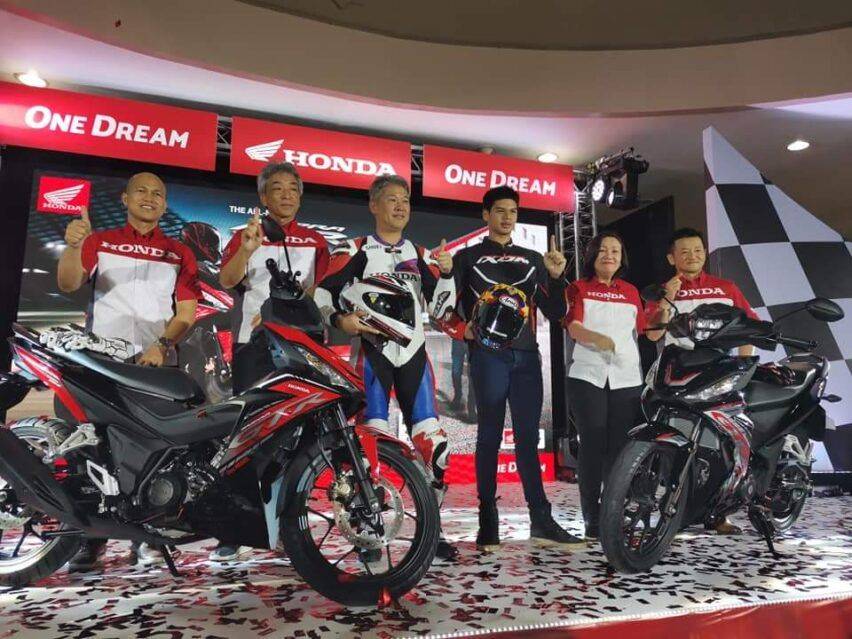 Months after Japanese motorcycle giant Honda revealed the ADV 150 and Genio scooters, here they go again with another offering in the country. Honda Philippines Inc., the number one motorcycle manufacturer in the country, has just revealed the All-New Supra GTR 150 (no relation the supercars from carmakers Nissan or Toyota, by the way).
From Honda Philippines Inc. Facebook page

The said unveiling was done by Makoto Tamada and Honda Asian Cup rider Troy Alberto. Dubbed as the Speed Aggressor, the All-New Honda Supra GTR150--the RS150R to its neighboring Southeast Asian countries--would be going against Yamaha Sniper locally. It is said to be the one of Honda's local offers that could bob and weave through the horrendous traffic that is being experienced nowadays, while provide utmost pleasure and thrill with its features without undermining looks. Susumu Mitsuishi, President of Honda Philippines said that the All-New Honda Supra GTR150 will be appealing to the local market.
"The All-New Honda Supra GTR150 will give customers a more aggressive look in tougher style at the right price. Designed to ensure that it fits with the Filipino lifestyle, this new model delivers speed, comfort, and Honda's top-notch technology and design, making every ride a thrilling experience," he said. " The launch of this new product is also in line with our ONE DREAM campaign, which aims to make Honda motorcycles serve as a partner in achieving one's dream," Mitsuishi added. Powering the All-New Honda Supra GTR150 is its DOHC 4-Valve Liquid-Cooled Engine with a six-speed manual transmission layout. It has a top speed of 110 kilometers per hour, but can also provide 42 kilometer per liter consumption. For its braking, the large front (256mm diameter) and rear (220mm diameter) disc brakes provide superb braking performance and safety on the road with stability and comfort. To note, while the all-new Supra GTR150 comes out two months after the ADV150, the former will come out earlier, as the latter will come out early next year.
From Honda Philippines Inc. Facebook page

Priced at Php102,900, the All-New Honda Supra GTR150 comes in two (2) colors, the Valiant Red and Black. It is set to be available at all Honda's dealership starting next month. Also read: 2020 Honda Pilipinas Dream Cup , in Search for New Breed of Riders
Honda PH Reveals 2 New Bikes, Latest Brand Ambassador
Honda Motorcycles Reveals 2019 CBR400R Sportbike in Japan