Hyundai PH's Modern Jeepney Class 1: The Filipino's Modern Workhorse For Smart Mobility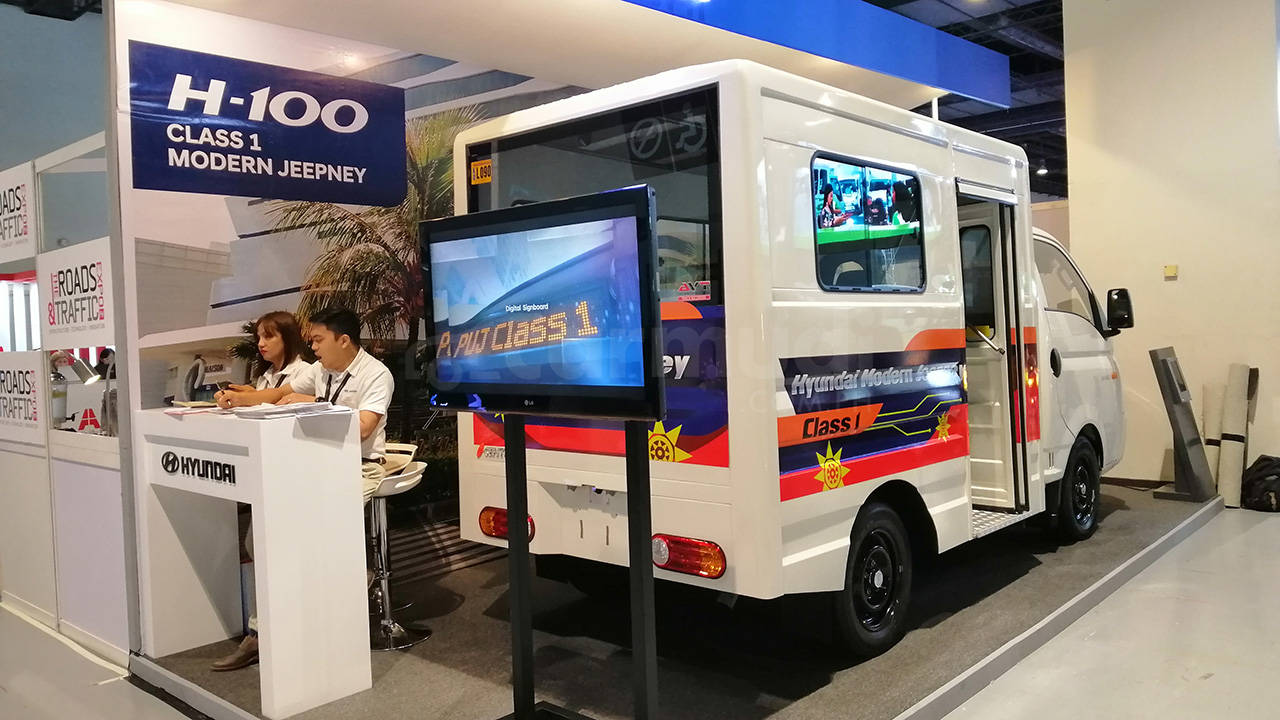 Hyundai Asia Resources Inc. (HARI), the Philippines' official distributor of Hyundai passenger and commercial vehicles, is featuring the Hyundai Modern Jeepney Class 1 in this year's Roads & Traffic Expo Philippines from October 1 to 2, 2019 at the SMX Convention Center. Inspired by the President Rodrigo Duterte Administration's 'Build, Build, Build' program which aims to improve the infrastructure and transportation sectors in the country, the Hyundai Modern Jeepney Class 1 is the product of the collaboration between the world's 5th biggest automaker, the Hyundai Motor Company (HMC) and HARI. It goes beyond serving as a fusion of the Filipino's legendary ingenuity and Korea's renowned technology, since it also ushers in a fresh new take for the 'King of the Philippine Road.' Indeed, the Hyundai Modern Jeepney Class 1 is made people-centric, fuel-efficient, and innovative.
People-centric
The Hyundai Modern Jeepney Class 1 is engineered to have ample seating capacity that can accommodate 12 passengers (plus 1 driver) comfortably. What's more is that it possesses a long wheelbase, which means two things: more passengers and cargo can be carried without putting too much stress on the vehicle (which can affect fuel economy), and it lowers the center of gravity of the vehicle, thus keeping it steady and firmly planted on the road.
Fuel efficient
Powered by a 2.5-liter CRDi diesel engine, the Hyundai Modern Jeepney Class 1 is packed with enough power (maximum output of 128 hp) and torque (255 Nm at 1,500 rpm), making sure that it can deliver good fuel economy and sufficient power output to get you through the day. Plus, it's also mated to a six-speed manual transmission that fits the strict Euro 4 regulation, proving that its topnotch engine performance, supported by the driver's efficient driving and eco-friendly engine operation can let its driver save up on fuel and enjoy more savings, while helping minimize adverse impact on the environment, as the engine emits less particulate matter in the air.
Innovative
Staying true to its promise of smart mobility, the Hyundai Modern Jeepney Class 1 is also engineered to have a load-sensing proportional valve (LSPV) control, which provides optimal braking stability as fluid pressure is controlled according to the loading ratio, and semi-elliptical leaf springs for rear suspension, which allow exceptional durability and resistance against lateral rolling for optimal suspension, regardless of cargo carried. Aside from those, the Hyundai Modern Jeepney Class 1 can also be fitted with optional features such as a modern digital signboard that provides better visibility for potential passengers, CCTV monitor, surveillance cameras and reverse cameras that enhance both the passengers' and driver's safety and security when out on the road, optional Wifi router for better connectivity, and two AFCS systems for easy payment and collection of the passengers' fare. Indeed, the Hyundai Modern Jeepney Class 1 is ready to bring smart mobility that can enable Filipinos to experience a better, smarter, and safer commuter experience. You can check out the Hyundai Modern Jeepney Class 1 model at the Hyundai booth in the Roads & Traffic Expo 2019 from October 1 to 2, 2019 at the SMX Convention Center, or visit your nearest Hyundai dealer for more information.
© Patrick Everett Tadeo for CARMUDI PHILIPPINES