Improved Nissan ProPilot tech now fitted to 2022 Infiniti QX60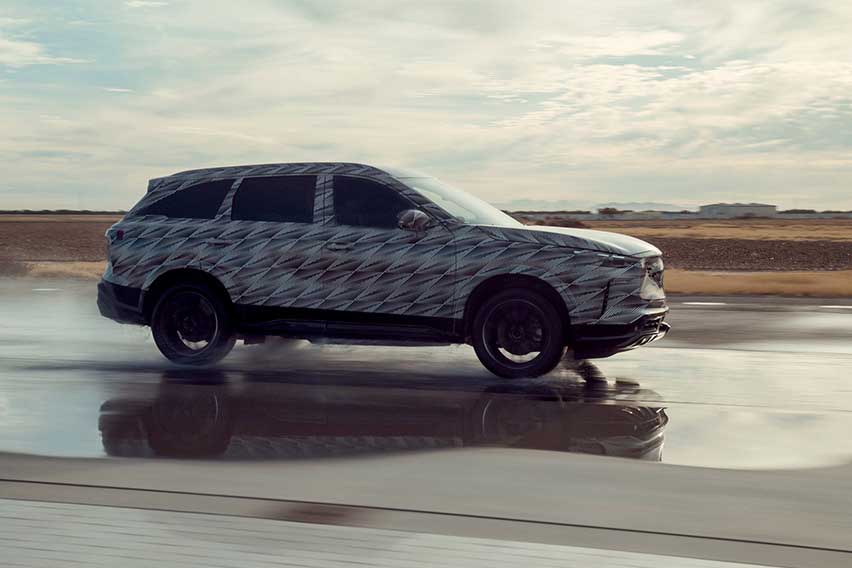 It seems that every automaker today wants to make operations done in a car as easy possible. Nissan, for one, aims to make driving not only easier, but safer as well with the ProPilot technology which it revealed several years ago.
ProPilot is a semi-autonomous driving system that helps the driver during highway driving. Once activated, the system will guide the vehicle in highway merging, overtaking slower vehicles, and lane exiting maneuvers.
The system judges the correct time and whether it is safe to execute these maneuvers through the information from the navigation, and from its 360-degree sensing ability. A whole suite of cameras, radars, sensors and sonars, radars, which all act as the "eyes" of the car, provides that 360-degree view.
Being a semi-autonomous system means that the driver should not completely rely on ProPilot to take over all driving duties. Audio cues on the instrument cluster and sounds will notify the driver to take over the wheel when the system deems it necessary.
Many Nissan cars today are equipped with ProPilot. These cars include the Navara, Terra, X-Trail, and Qashqai (a crossover available in Europe), to name a few. The Leaf also features ProPilot, and so will the upcoming Ariya electric crossover with an improved system called the ProPilot 2.0.
So it is only natural that the driving assistance gadget finds its way to Infiniti, the luxury arm of the Japanese brand.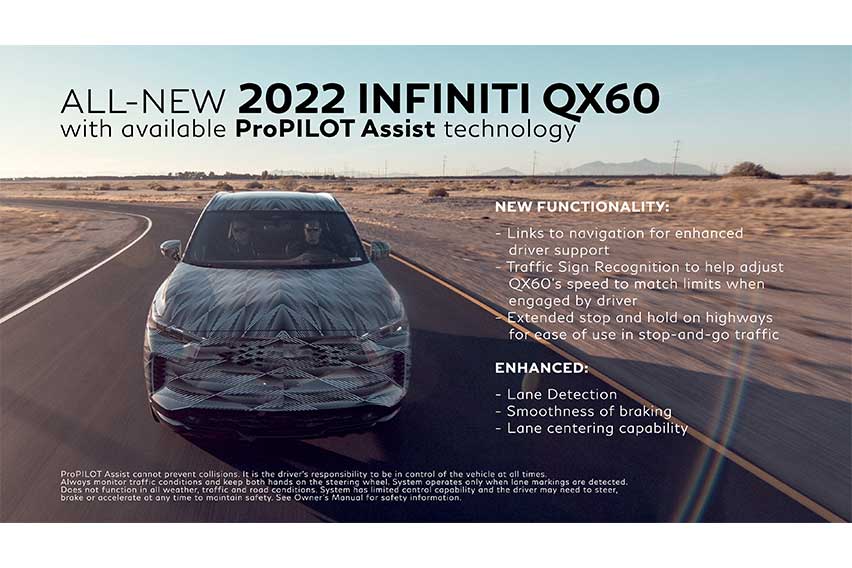 The Infinity QX60 SUV, scheduled to hit showroom floors in the US this year, will have a ProPilot system with enhanced lane detection and centering, and smoother braking capabilities.
The QX60's system will also use navigation data to "more intuitively support driver on highways, including curves and exits," Infiniti said.
Another function is the Traffic Sign Recognition, which will adjust the speed of the QX60 according to the speed limit the system read from road signs. In stop-and-go traffic situations, ProPilot can stop the car for 30 seconds.
"I like to think of it as a wetsuit," said Melissa Tellez, autonomous drive testing and development engineer at Infiniti. "When you put one on and you jump in a lake, the wetsuit will not swim you to the other end of the lake.
But while you're swimming, it'll help keep you comfortable, and it reduces the amount of energy you have to spend because it helps you float. It's the same with ProPilot...it doesn't drive you from point A to point B, but while you're driving, you're more comfortable and confident," she remarked.
Photos from Infiniti
Also read:
Nissan to present new X-Trail, EV tech at Auto Shanghai 2021