Jeep offers Gladiator upgrade tips and kits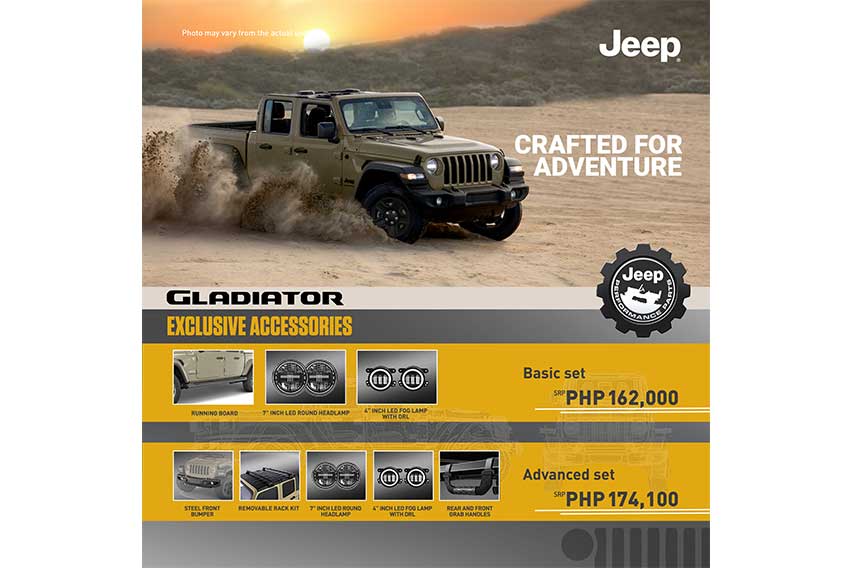 The typical Filipino car buyer would often go for a vehicle he or she can drive in the city or something for out-of-town trips every once in a while. But the adventure-seeking gear head that would dare to go anywhere, well, would opt for a Jeep.

Jeeps have earned the reputation of being one the best 4x4 all-terrain vehicles. Really, they once set a record for climbing the world's highest volcano and the second-highest mountain in the Western Hemisphere — Chile's Ojos del Salado.

But apart from all the excitement driving behind the wheel of this go-anywhere vehicle, Jeep owners have loved the fact that they can customize and personalize their rides depending on the terrain they would set their Jeeps on.

On that note, Jeep Philippines offers three tips for those planning to upgrade their trucks, specifically the Gladiator. 
1. Go for mono
The local arm of the American automotive brand believes that an ensemble looks put together when it's in one shade or hue. Jeep Gladiator owners are advised to be cautious when choosing upgrade parts that look like they are of the same shade.

Don't confuse metal gray with olive gray, for instance.

An alternative, says the brand, is to choose complementary colors. Having striking shades to create some sort of highlight can look good on a Jeep, but owners are warned not to overdo it. Accents and ratios of the color variants should be carefully placed.
2. Play with prints, patterns, and textures
Visible elements like prints, patterns, and textures can greatly improve the looks and the character of the Gladiator. Be it stripes, hexagonal print, or a 1941-inspired hood decal, exploring multifaceted variations allows owners to tailor the looks of their utes.

However, just as previously stated, keeping the design in the same color block makes the aesthetic upgrade look more cohesive.

Textures, on the other hand, can make or break a look.
3. There's no such thing as too many accessories.
Lastly, make sure your Gladiator puts on some accessories. They act both as aesthetic and functional upgrades.

Luckily, Jeep Philippines is offering exclusive sets for Gladiator owners.

The Basic set gives your Gladiator a running board, seven-inch LED headlamps and a four-inch LED DRL fog lamps – all for P162,000.

Those who want a bit more can opt for the brand's Advanced set that comes with seven-inch LED headlamps and a four-inch LED DRL fog lamps, rear and front grab handles, steel front bumper, and removable rack kit, all for P174,000.

All accessories sold by Jeep Philippines come with a one-year warranty directly from the dealership.