Lamborghini shows off trio of treats in 2021 Shanghai Auto Show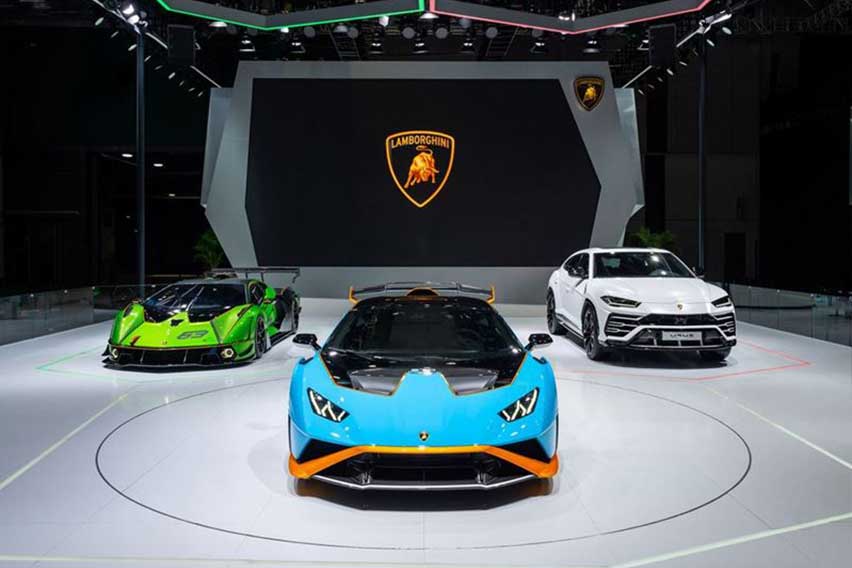 Automobili Lamborghini just presented two of its most potent raging bulls to date at the 2021 Shanghai Auto Show.
These are the track-only Essenza SCV12 hypercar, the street-legal track car Huracán STO, and alongside them is one of the most speediest SUVs in production, the Urus.
The Italian marque also showcased the Huracán Fluo Capsule, the latest collection of the vibrant colors for V10 sports cars, for the Asia Pacific region. The colors were shown on a Huracán EVO.
The limited-edition Essenza SCV12 was inspired by the Squadra Corse's years of motorsports experience, Lamborghini said, referring to its motorsports division. How limited is this edition? Only 40 will be released.
This hypercar aims to deliver the ultimate driving experience, mixed with a futuristic design with lightweight construction, functionality, and design aesthetics.
The Essenza SCV12 packs "the most powerful V12 naturally aspirated engine ever developed by Lamborghini," developing 830hp, and features an exceptional power-to-weight ratio of 1.66hp per kilogram, made possible by its carbon fiber monocoque chassis without internal roll cage.
Every SCV12 customer will be able to drive his or her hypercar on the most prestigious circuits in the world through an exclusive club, Lamborghini said. Professional race driving training also comes standard.
The Huracán STO, a street-homologated sports car" with the soul and the characteristics of a real racecar," brings technologies from the Huracán Super Trofeo EVO and GT3 EVO race cars to the road.
The Huracán STO is powered by a naturally aspirated V8 delivering 640hp and 565Nm of torque, enabling it to get from standstill to 100kph in three seconds. Its gear-change speed has also been further increased.
And just like a real racer, the STO is light at 1,339 kilograms.
An Urus in "Bianco Monocerus" also graced 2021 Shanghai Auto Show, wearing 23-inch Black Taigete rims, "referencing the marque's sportive spirit and exclusive luxury," and optional red calipers.
The Urus is powered by a 4.0-liter twin-turbocharged V8 engine that's rated at 641hp and 850Nm
In the exclusive Ad Personam room at the Lamborghini stand, the Huracán EVO Fluo Capsule shows a daring yet elegant collection of bright and bold colors in a matte paint exterior with complementary interior color and trim options.
The Huracán EVO was presented in matte Verde Shock (green), four exterior and interior configurations in Arancio Livrea (orange), Celeste Fedra (blue), Arancio Dac (orange,) and Giallo Clarus (yellow).
All of these hues bring more personalization to the already near-infinite possibilities that the Ad Personam program offers, Lamborghini said.
Automobili Lamborghini President and CEO Stephan Winkelmann commented on the brand's outlook in the Chinese market.
"The Chinese market is seeing very positive developments. I am very happy to confirm that all production for the Chinese market in 2021 is already planned. With growing volumes, the Chinese market is expected to rise to second place in terms of sales, remaining one of the most significant markets for Lamborghini globally," Winkelmenn said.
Photos from Lamborghini
Also read:
Lamborghini Ad Personam: The 5 things you need to know
Lamborghini sees 2021 growth, receives 9 months' worth of orders
Lamborghini rolls out 400th Huracán race car, celebrates motorsports milestones
Read All
Featured Articles
Featured Lamborghini Cars