Nissan Philippines Gives Customers 30-Day Grace Period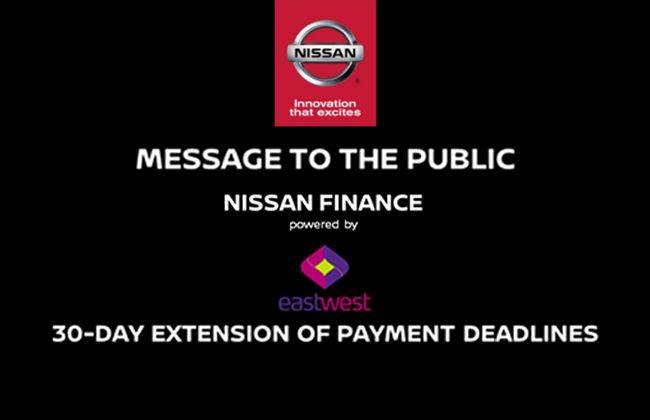 Nissan Philippines recently announced that they will extend their payment deadlines to help Filipinos cope up during these trying times. Nissan Philippines, in partnership with EastWest bank, enforced a 30-day extension of payment deadlines for eligible Nissan Finance customers whose due dates fall within the period covered by the Enhanced Community Quarantine (March 17, 2020 to April 13, 2020).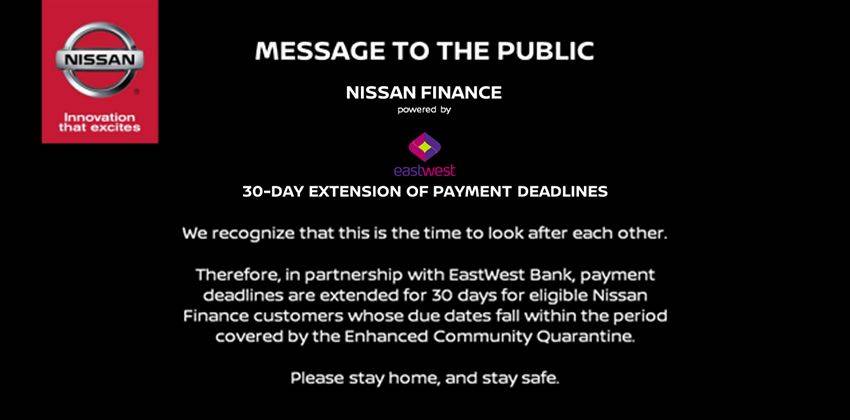 Along with the extension of payment deadlines, Nissan Philippines is extending the warranty coverage and scheduled preventive maintenance service (PMS) for 30 days as well. Once the quarantine is lifted, you can have your PMS rescheduled provided that the initial PMS falls within the quarantine period. For Nissan vehicle owners whose vehicle warranties will expire within the quarantine period, Nissan is also extending the warranty period for an additional 30 days. However, it should be noted that the 30 day extension for warranty coverage is still subject to warranty validation. The following conditions are not covered by the warranty:
All tires and batteries are subject to a separate warranty, as set out in detail under the section titled "TIRE AND BATTERY WARRANTY."
Damage or failures resulting from unauthorized modifications or use of any non "Genuine Nissan" parts, accessories, or equipment.
Damage or failures resulting from the use of non-recommended, improper or dirty fuel, fluid, oil, or lubricant.
Misuse, such as driving over kerbs, overloading, racing, continuous drive after the loss of lubricants, oils, refrigerant, or water.
Nissan dealerships continue to remain closed during the quarantine period. Customers with important queries will still be able to contact Nissan through their Customer Assistance Center Hotline at (02) 8403-6593.
Also Read:
Read All
Featured Articles