Suzuki PH Eyes Car Dealership Expansion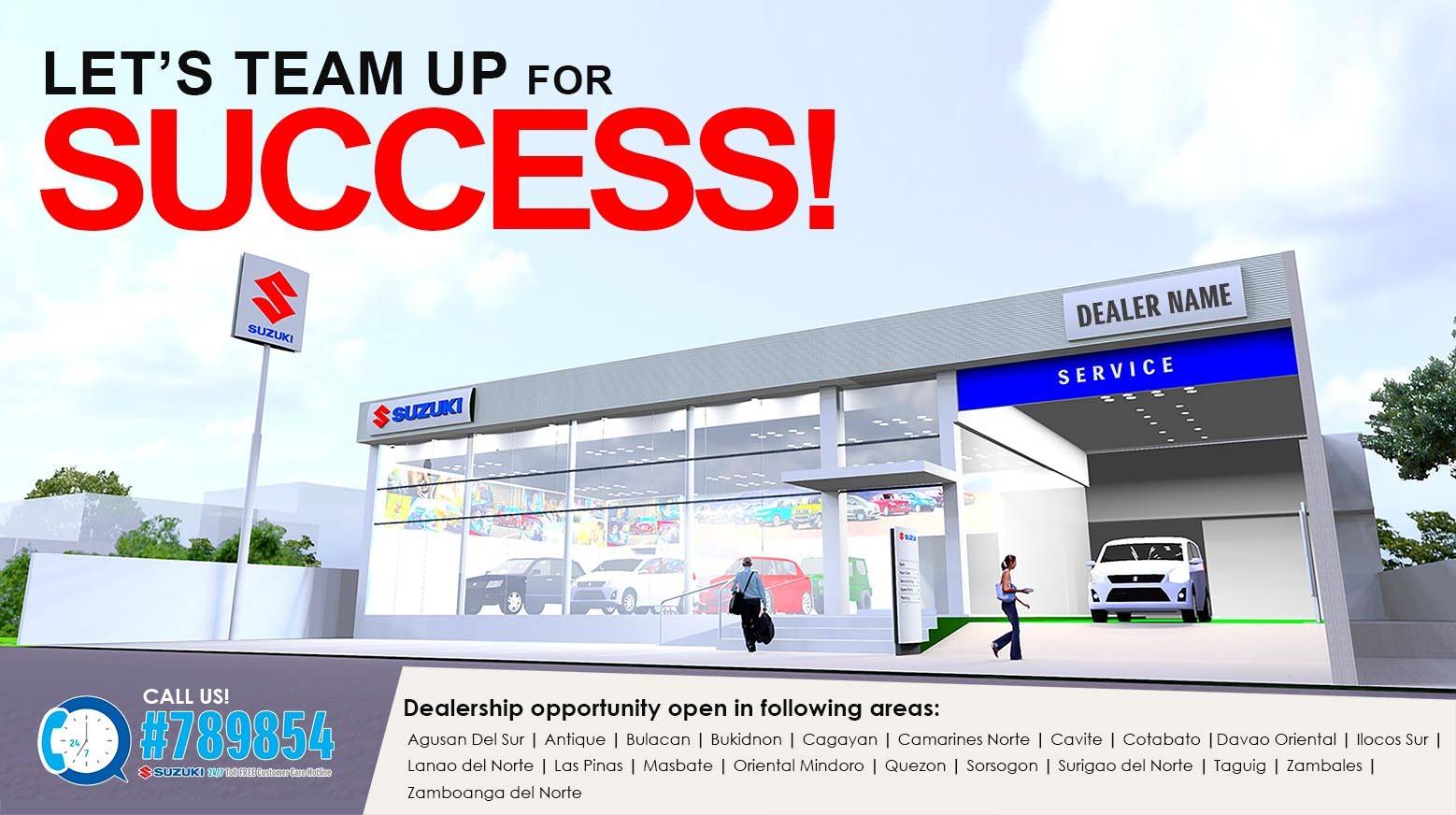 Eyeing to expand its presence and further ride on its growing business momentum, Suzuki Philippines Inc. (SPH), is now seeking more investor partners to join its car dealership network.

Through its Dealer Expansion Program, SPH is keen to open more dealerships in the country, specifically in areas with growth potential. The dealership partnership covers the construction and operation of the new dealerships.

"With the milestones Suzuki Philippines has reaped, including the ones we've achieved so far this year, we believe we are more equipped to grow the business further and spread to more areas in the country. We consider that now is the best time to work with more potential investors, and so we are looking for more business partners who share our vision, believe in our products and see the great possibilities in growing with the brand. We are eager to bring more of the award-winning Suzuki vehicles to more parts of the country so we hope to gain more partners to team up with and together achieve success," Suzuki Philippines Director and General Manager for Automobile Division Keiichi Suzuki shared.

Those who are interested to venture in the car dealership business to take advantage of the opportunity to open a Suzuki Auto dealership in the country may submit a letter of intent to sph_auto.dd@suzuki.com.ph..

The following areas are currently available for opening a Suzuki Auto dealership:

Luzon



Bulacan


Camarines Norte


Oriental Mindoro


Cagayan


Cavite


Ilocos Sur


Las Piñas


Oriental Mindoro


Quezon


Sorsogon


Taguig


Zambales


Visayas


Antique


Lanao Del Norte


Masbate


Mindanao


Agusan Del Sur


Bukidnon


Cotabato


Lanao Del Norte


Surigao Del Norte


Zamboanga Del Norte


As it climbs up the industry ranking
with its continuous positive growth throughout the years, SPH drives its goal of reaching more Filipinos through various marketing initiatives. SPH brings quality driving experience to local and provincial markets with its passenger cars and commercial vehicles.
"It has always been the brand's commitment to introduce innovative vehicles and deliver quality service that is accessible and convenient. It is our pleasure to offer our products and services to motorists in every major urban areas and provinces in the country so that we can share the 'Suzuki Way of Life' with more Filipinos," Suzuki added.
For more information about Suzuki Philippines and its car dealership business plans, please visit
www.suzuki.com.ph
.