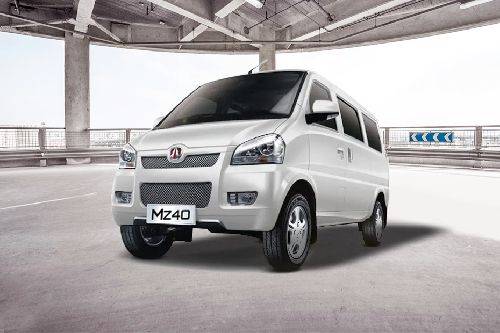 Key specifications & features of the BAIC MZ40. View engine specs, dimensions, safety and technology features in detail below
Features

Side Impact Beams
Rear Seat Belts
Front Impact Beams
Anti-Lock Braking System
Seat Belt Warning
Big Saving!!
Save upto 24% ! Find the best deals on used BAIC MZ40 in Manila
BAIC MZ40 2021 Price Philippines
BAIC MZ40 price in Philippines starts at ₱488,000 for base variant Cargo and goes upto ₱498,000 for top variant Luxury. Checkout 2021 MZ40 price list, variants, EMI's and available promos.
BAIC MZ40 Price Philippines
BAIC MZ40 Latest Updates
The MZ40 is a utilitarian minivan from BAIC that features a stylish exterior which is highlighted by the large windscreen at the front. On the inside, you are welcomed by a spacious and practical cabin that gets 22 storage locations, comfortable seats, a dual air-conditioning system, and an LCD gauge. Power comes from a 1.2-litre 4-cylinder DOHC engine that makes 85 hp of power at 6000 rpm and 108 Nm of torque at 4400 rpm. The engine is powerful enough to allow the van to carry a total weight of 1850kg. The MZ40 is available in Cargo, Comfort, and Luxury variants and starts at Php 488,000.
Read Less
BAIC MZ40 Pros & Cons
Get the better insights of BAIC MZ40, Read our expert opinion and helps to buy or not
Things We Like in BAIC MZ40
Affordable Price
Spacious Cabin
Sedan-like Handling
Read Less
Things We Don't Like in BAIC MZ40
Bare Bones Basic
Engine is kind of underpowered
Simple styling
Read Less
BAIC MZ40 Price, Promos, DP & Monthly Installment
BAIC MZ40 2021 Colors and Images
BAIC MZ40 Overview

Tagged as the hidden gem of the orient, the BAIC MZ40 is a minivan you would never expect to be stylish yet ergonomic. The Chinese-based car manufacturer has entered the minivan scene with flying colors through this multi-awarded MZ40. Comes with affordability, this minivan is also set to defy expectations with its spacious cabin and practical design.

It is available in three variants which are named Cargo for the two-seater, Comfort for the 8-seater, and Luxury for the 7-seater. This minivan just definitely proves how it can be used in various applications. It can either be a cargo van for business and logistics needs or it can be a family car with enough space for a big family.

Both the Cargo and Comfort are prized at P488,000 while the Luxury variant is priced at P498,000. On top of its affordability, this car is also EURO4 compliant. These features pose a greater edge against its competitors like the Haima FStar5.

BAIC MZ40 Interior

Going through the inside, you may find the materials cheap but durable, as it is made of fabrics and hard plastics with ample space because of a nearly 3m wheelbase and a front-rear track width of 1.4m. This can actually provide lots of elbow and legroom. 

The tall design is also a good design proposition to accommodate taller people with up to 6 feet of height. The space for cargo is present behind the third row and if you want to carry larger loads, you will have to remove seats in the third row which is not really difficult to manage though. MZ40 is generally shorter than a sub-compact sedan but has the three seating rows and ample cargo space to transport as many as 8 adults and their luggage.

MZ40's engine is mounted under the front seats so it actually makes the whole cabin more spacious both insight and feels.

BAIC MZ40 Exterior

The BAIC MZ40 is available in four colors which are silver, gold, grey, or white. When it comes to the dimensions, it is 4030 mm long, 1636 mm wide, and 1907 mm long with rear and front overhangs of 772 mm and 558 mm respectively. 

This car also features chrome door handles on the Luxury variant and body-colored door handles on others. The BAIC MZ40 comes with lights of the same color as the body, large halogen headlights, and also fog lights located between the bumper and the grille. Meanwhile, the rear-view mirrors have turn signals as well. 

MZ40 zooms in through thoroughfares via its 14" alloy wheels on the luxury variant and steel rims and plastic covers on other variants while the dimension of tiers is 175/70. There is also an additional brake light that is mounted high on the back. 

It has a rigid box shape to make the car even stronger with a discrete undercarriage subframe welded into the conventional unibody construction. This actually adds up to the overall capability of the car for hauling a truck-load like a payload equivalent to 600kg in passengers or cargo.

BAIC MZ40 Ride & Handling

The suspension system is being handled by McPherson struts with coil springs independent in the front and semi-elliptical leaf springs for the rear.

This car has steering and ride characteristics similar to a sedan, in which, however, the ride is comfortable for the first row, whereas, the third-row passengers might experience a bumpy ride. In the cockpit area, the semi-forward driver's position puts the front seats behind the front wheels, making things less bouncy for the driver and more comfortable for everyone. For the steering, it uses a rack and pinion with hydraulic assist.

Its long 2.7m wheelbase and better weight balance of the mid-front engine work together to deliver enhanced stability when turning. Given that, the turning radius of the van is actually at 5.2m which makes it easy to steer it in the city traffic.

BAIC MZ40 Engine & Fuel Consumption

Powering this mini wonder van is a 1299cc 1.2-litre A12 unit from Mitsubishi DOHC VVT in line-4 gasoline engine that has passed the Euro4 standards. It can fire up to 85 hp at 6000 rpm and 108 Nm of torque at 4400 rpm. The high compression and variable valve timing technology combine to produce the power and attainable toque which is well above the critical hundred marks for cargo haulers.

This mill is mated with a 5-speed manual transmission that has deep enough ratios on low gears to ensure ample torque when hauling a full load and sufficiently tall ratios on high gears for efficient cruising even on uphill.

Meanwhile, the traditional rear-wheel-drive puts the workload on a ruggedly solid rear axle.

This car has a fuel tank capacity of 45 liters and an estimated top speed of 130 kmph.

BAIC MZ40 Braking & Safety

The disk brakes on the front and the drums on the rear completes the braking system for this car. Unfortunately, this car doesn't have an Anti-Lock Braking System with Electronic Brakeforce Distribution and Traction Control.

The MZ40 Cargo packs a few safety features such as Rear Seat Belts, Seat Belt Warning, Front Impact Beams, Side Impact Beams, Door Ajar Warning, and Engine Check Warning. For the security features, it only has Power Door Locks.

For a family car, the MZ40 might be a little lacking in terms of the security features which might pose a little bit of an advantage for this model. Essentially, family cars should be baby and child safe so that all the passengers can have peace of mind whether if its a  quick trip around the city or a long haul.

BAIC MZ40 Verdict

With its affordability and durability, there is no wonder that the Baic MZ40 is a great catch. It is very much practical and economical for families who want to have their own car without worrying about the space and the luggage area or those businessmen who are looking for a service utility car that is good for their business continuity. Although, the carmakers should still be mindful about initiating some ideas on how they can improve this model in the years to come. Additional safety and technology features may cost a little bit much more on the pricing but given the existing pros of this car like space and versatility, an extra grand will be much worth it.
Find Second Hand BAIC MZ40 By City
I am looking to buy a second hand BAIC MZ40 in
Second Hand BAIC MZ40 by Budget
Second Hand Cars Similar to BAIC MZ40
FAQs on BAIC MZ40
Answers to most common frequently asked questions (FAQs) on BAIC MZ40
What is the BAIC MZ40 2021 Price Philippines?

The BAIC MZ40 Price Philippines starts from ₱488,000 and goes upto ₱498,000.

What is the length of BAIC MZ40?

The length of BAIC MZ40 is 4030 mm, while the width is 1636 mm.

What is the Fuel Tank Capacity of BAIC MZ40?

The Fuel Tank Capacity of BAIC MZ40 is 45 L.

What is the Lowest Monthly Installment for BAIC MZ40 in Philippines?

The lowest monthly installment for BAIC MZ40 in Philippines starts from ₱8,371 with Down Payment ₱97,600 for 60 Months.

What is the Top Speed of BAIC MZ40?

The top speed of BAIC MZ40 is 130 kmph.

What are the Key Specifications of BAIC MZ40 Philippines?

The Key Specifications of BAIC MZ40 Philippines is Rear Seat Belts, Seat Belt Warning, Door Ajar Warning, Side Impact Beams and Front Impact Beams.

What are the safety features available in BAIC MZ40?

The safety features of BAIC MZ40 are: Rear Seat Belts, Seat Belt Warning, Door Ajar Warning, Side Impact Beams, Front Impact Beams and Engine Check Warning.

What are the security features available in BAIC MZ40?

The security features of BAIC MZ40 are: Power Door Locks.