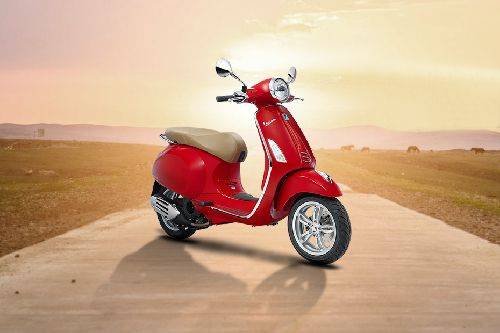 Key specifications & features of the Vespa Primavera. View engine specs, dimensions, safety and technology features in detail below
Vespa Primavera 150 2022 Price Philippines
Vespa Primavera price in Philippines starts at ₱185,000 for base variant Standard and goes upto ₱298,000 for top variant 75th Limited Edition. Checkout 2022 Primavera price list, variants, EMI's and available promos.
Vespa Primavera Standard

₱185,000

DP ₱37,000

EMI (₱3,173 x 60)

SEE PROMO

Vespa Primavera S 150

₱195,000

DP ₱39,000

EMI (₱3,345 x 60)

SEE PROMO

Vespa Primavera RED 150

₱240,000

DP ₱48,000

EMI (₱4,117 x 60)

SEE PROMO

Vespa Primavera 75th Limited Edition

₱298,000

DP ₱59,600

EMI (₱5,112 x 60)

SEE PROMO
Vespa Primavera 150 Price Philippines
I am looking for Vespa Primavera 150 price in
Vespa Primavera Latest Updates
Vespa, to celebrate the 75th anniversary of the Primavera, is all set to release a special edition of the iconic scooter. The Primavera has earned an iconic status worldwide and its design has remained largely unchanged over the years. The 2020 Vespa Primavera 150 is equipped with a 155c engine which produces 13 PS maximum power at 7,750 rpm and 13 Nm peak torque at 6,500 rpm. Major features of the Vespa Primavera 150 include antilock braking, pass switch, engine check warning, dual straight-type seat, front wheel disc brake, and an analog-digital instrument cluster. The Vespa Primavera 150 is available in 3 different colors with prices starting at ₱185,000.
Read Less
Vespa Primavera 150 Pros & Cons
Get the better insights of Vespa Primavera, Read our expert opinion and helps to buy or not
Things We Like in Vespa Primavera 150
Excellent in terms of ride and handling
Fascinating in all aspects
Top-class performance and riding quality
Read Less
Things We Don't Like in Vespa Primavera 150
Lacks modern features
Engine capacity is lesser than most of its competitors
Read Less
Vespa Primavera 150 2022 Colors and Images
Vespa Primavera Overview

The Vespa was initially an Italian marque which has been recently updated to Vespa Primavera 150 IGET in the year 2018 in the Philippines. The Vespa scooter is popular for its iconic style and design of the timeless classic that exudes a youthful vibe for both young and adult riders. Moreover, this small-bodied bike has been offered an Italian Green Experience Technology which includes a new engine with a total of three valves per cylinder. 

In the local market, the Vespa Primavera 150 IGET has been made available in two different variants- one is the ABS, and the other is the Sports trim. Moreover, the Vespa Primavera 150 IGET has been offered a base price of Php 185,000 that makes it a standard competitor in this segment.

Vespa Primavera Design

The Vespa Primavera 150 retains the old-school look but has been offered with some improved aesthetics and LED lighting features. The old school look of the Vespa can be clearly seen on the front in those customary aircraft landing gear type front suspension and that fixed elevation front fender that now rides high above the front wheel. The major changes in its design include the improvement in the wheels itself which are now boosted from 11 to 12 inches in dimensions. 

The fully enclosed handlebar of the Vespa Primavera now comes equipped with round Cyclops Headlights, switch housings, and instrumentation. The seats have been built in such a way that it allows the rider to reach the obligatory under seat storage compartment easily. Moreover, the carrying capacity has also been expanded with the set of chrome J.C handles.

Vespa Primavera Ride & Handling

The Vespa Primavera 150's main attraction is the ride and handling that is highly comfortable. The huge size comfy seat ensures leg rest and also offers a comfortable riding experience. The maximum comfort of this scooter is derived from the suspension and absorption of bumps is ensured by the front and rear coils. 

In terms of handling, the Vespa is easy and flexible to maneuver around at almost all speeds. In terms of riding experience, the Vespa Primavera 150 is no less than a motorcycle and the rider can easily push the limits with this scooter.

Vespa Primavera Engine & Fuel Consumption

The Vespa Primavera scooter derives its power from the air-cooled EFI 154.8cc single-cylinder engine. The engineers of this scooter have worked a lot in trapping the engine noises inside the case of the Vespa Primavera. The engine churns out a maximum power output of 12.7 hp at 7,750 rpm and a peak torque of 12.8 Nm at 6,500 rpm. 

The engine has been offered with an option of a variable speed transmission gearbox that directly sends the power to the wheels. Moreover, the seat height of 780 mm is suitable for riders of all heights ensuring a comfortable riding experience.

Vespa Primavera Braking & Safety

The Vespa Primavera 150 has been offered with a standard ABS braking system that is a technical advancement towards safety measures. The front wheel of the Vespa Primavera comes equipped with a speed detection system that can instantly measure both speed and deceleration of the scooter. Moreover, the scooter is light in weight which is another advantage to its smooth ride and handling that makes it safe up to a certain limit. 

Some of the other safety and security features include a Pass switch, Engine check warning, side reflectors, and various street, road riding modes.

Vespa Primavera Verdict

The Vespa Primavera 150 is surely a minimalist scooter that has less desire to be taken freeways but just does the job right. In terms of storage space, the glove compartment seems fine and plenty of space has been offered to fit your necessary belongings. This scooter suffers a drawback and that is in terms of the side stand as that would have been more convenient for this scooter. 

Though the scooter is available at a pretty decent price that offers a unique lifestyle of its own. Overall, this scooter is fun and exciting to ride and handle just like any other motorcycle.
Vespa Primavera Alternatives
Compare Vespa Primavera with Alternatives
FAQs on Vespa Primavera
Answers to most common frequently asked questions (FAQs) on Vespa Primavera
What is the Vespa Primavera Price in Philippines?

The Vespa Primavera price Philippines starts from ₱185,000 and goes upto ₱298,000.

What is the Lowest Monthly Installment for Vespa Primavera in Philippines?

The lowest monthly installment for Vespa Primavera in Philippines starts from ₱3,173 with Down Payment ₱37,000 for 60 Months.

What is the Fuel Tank Capacity of Vespa Primavera?

The Fuel Tank Capacity of Vespa Primavera is 7 L.

What is the Engine Displacement of Vespa Primavera?

The Engine Displacement of Vespa Primavera is 154.8 cc.

Which are the tough competitors of Vespa Primavera 2022 in Philippines?