CAGI to Award Maiden Motorcycle of the Year-Philippines, Recognize Cars and Trucks Anew Tonight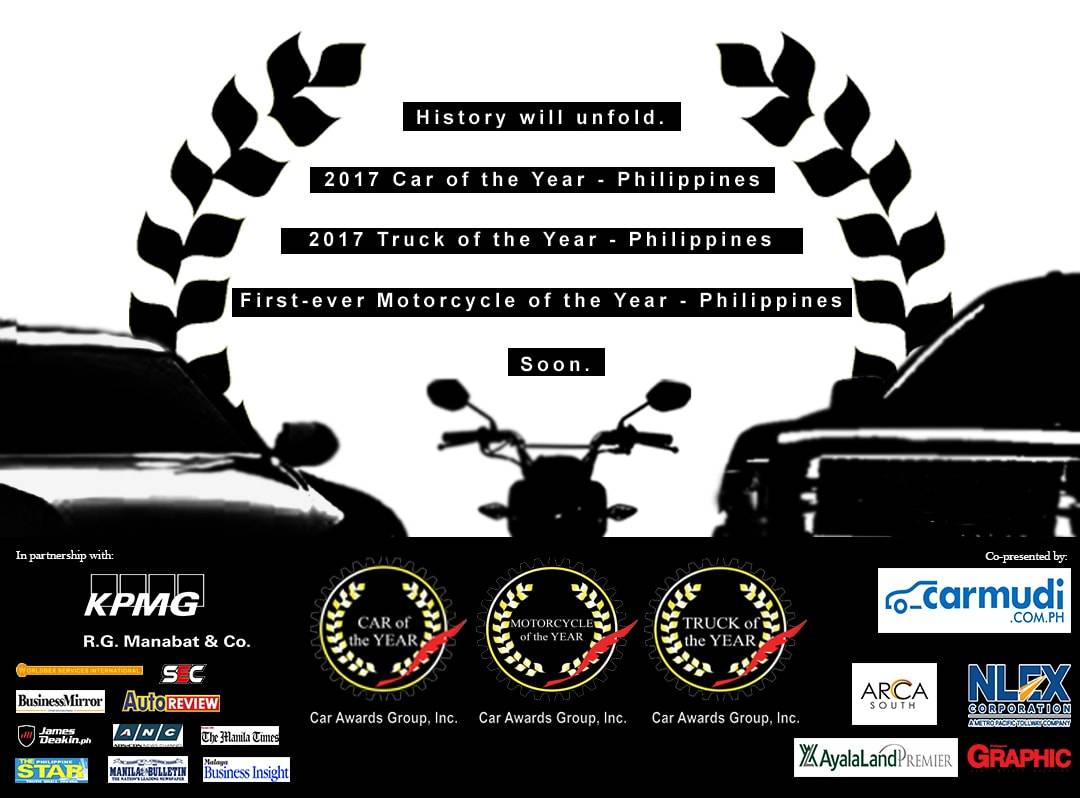 After 13 years of recognizing the best car and truck models on the Philippine automotive stage, Car Awards Group Inc. (CAGI) finally gives the spotlight to its two-wheel counterparts with the introduction of the first-ever Motorcycle of the Year-Philippines (MOTY-P) this 2017.
As the country's only organization to conduct instrumented tests to determine the best cars in the market, for them, it was about time to give due recognition to the ever-growing two-wheeled vehicles that ply Philippine roads every day.
Paving the road for the very first MOTY-P wasn't an easy task, but the organization knew that it deserves to be given the green light after establishing credibility and prestige in acknowledging the best in the ever-cutthroat field of four-wheels.
CAGI has etched six exhausting days in the calendar in a span of three months for the testing of all the new cars, pick-up trucks and motorcycles (three days for cars and trucks, three days for motorcycles) at Ayala Land Premier's newest development down in Taguig, Arca South.
Thus, after being scrutinized under the careful eye of the testers, 41 cars and trucks together with more than fifty motorcycles come down to the wire when winners get to be announced tonight, November 27, 2017 at C3 Place in Greenhills, San Juan City.
The event wouldn't be possible without the strong partnership with KPMG R.G. Manabat & Co. and presentor Carmudi Philippines, with the support of Ayala Land Premier, Arca South, NLEX Corporation, Worldbex Services International, Manila International Auto Show and SEC.
This is in collaboration with the Car Awards Group, Inc. and media partners: Business Mirror, Manila Bulletin, Philippines Graphic Magazine, Philippine Star, Cook Magazine, Malaya Business Insight, The Manila Times, JamesDeakin.ph, Carmudi.com.ph, Home Radio, DWIZ, Motortech.ph, ANC, TurbanRider.com, Motorsiklo Xklusibo, RidePh, Jap Media, Lifestyle on Wheels, Wheels Philippines, Makina, and Aliw Media Group.
CAGI has members from the following media entities: Business Mirror, Cebu Daily News, Daily Tribune, Malaya Business Insight, Manila Bulletin, Philippine Daily Inquirer, Philippine Star, The Manila Times, Bulgar, Mindanao Daily News, AQ Magazine, Autocar Philippines, C! Magazine, Carmudi Magazine Philippines, Motorcycle Magazine, Power Wheels Magazine, Speed Magazine, Top Gear Philippines, Wheels & Gears Magazine, 2nerMagazine.com, Ignition.ph, InterAksyon.com, Kotse.com, ManilaSpeak.com, MotionCars.com, Ride and Drive Phils., Speed by MP Turbo, SprocketPh.com, TessDrive.com, DZMM, Inside Motoring on DZRJ 810 AM, Mellow 94.7, Motoring sa DZME, The Motoring Page on Mellow 94.7 FM, ABS-CBN, Manila Street Kings, Real World Drive and Auto Review.