Chevrolet PH Names Dealer Grandmasters of the Year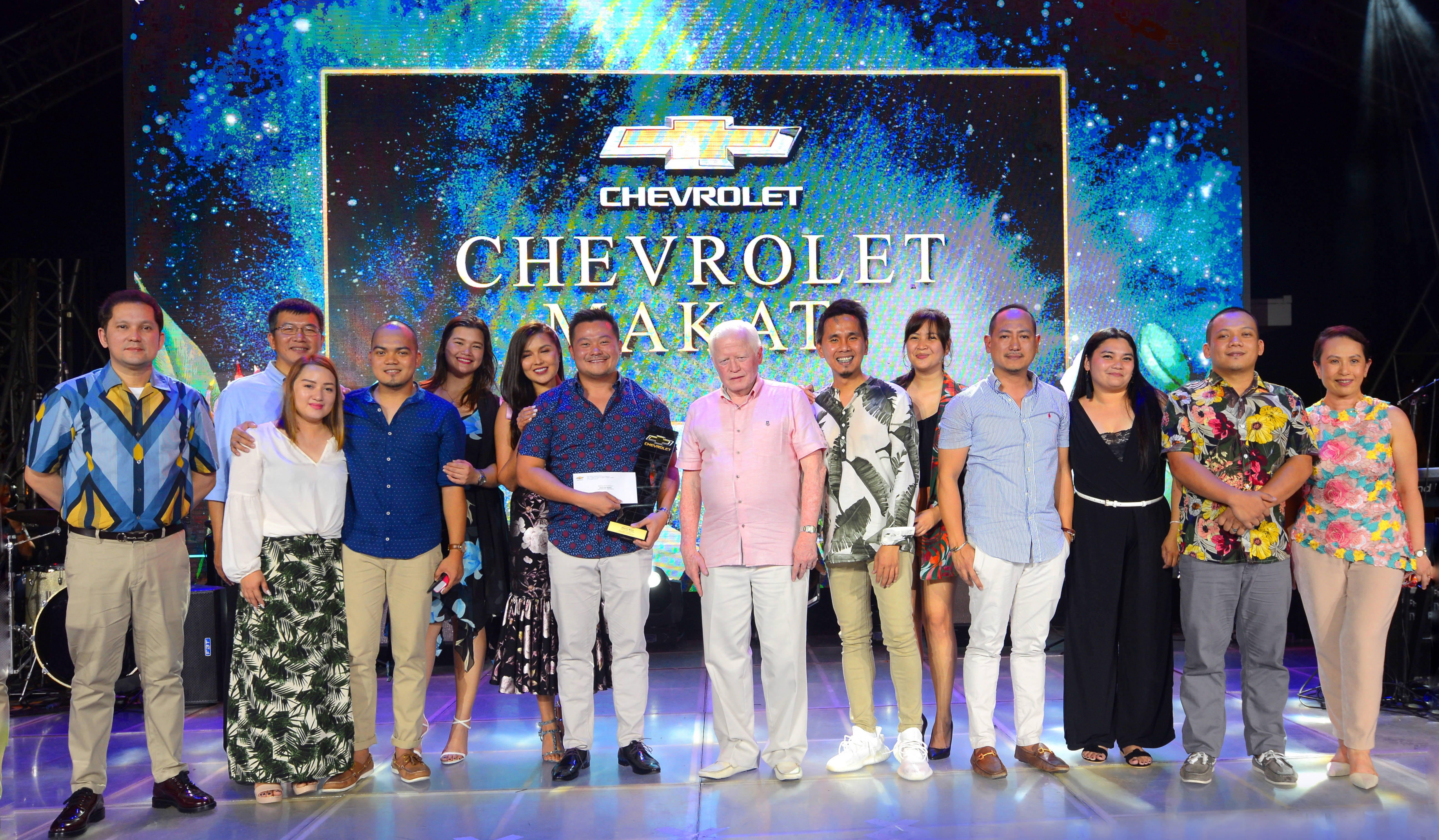 The Covenant Car Company, Inc. (TCCCI), the exclusive distributor of Chevrolet automobiles and parts in the Philippines, celebrated the hard work and excellence of Chevrolet dealers in the country at the 2018 Chevrolet Grandmasters held in Solaire Resort and Casino Poolside last May 24, 2019.
The Chevrolet Grandmasters is an annual event that recognizes the exemplary commitment of individuals and Chevrolet dealers in serving Chevrolet customers across sales, service, and aftersales.
"Ten years ago, TCCCI endeavored to re-ignite the passion for Chevrolet. And today, we recognize the remarkable achievement of the entire Chevrolet dealer network and acknowledge the exceptional work of our 2018 Grandmasters who continue to perform towards achieving this objective," said Atty. Alberto B. Arcilla, President and Chief Executive Officer of TCCCI during the event.
"In behalf of the men and women of TCCCI, General Motors, Chevrolet, and our dealer network, I congratulate all the 2018 Grandmasters who, during the most challenging year for the automotive industry, strived very hard to provide the best quality and diligent service to our clients," continues Atty. Arcilla.
Chevrolet, the most popular and highly regarded global automotive brand of General Motors, is exclusively distributed by TCCCI since 2009. In the past ten years, Chevrolet remains to be one of the top automotive brands in the country, offering the market with global Chevrolet products including the Chevrolet Suburban, the iconic Chevrolet Camaro and the legendary Chevrolet Corvette.
Vanchana Unakul, General Director for General Motors Southeast Asia Distributor Operations, who also graced the event, shared: "The Philippines is an important market for Chevrolet and General Motors is committed to continue supporting TCCCI and its dealer network in continuing the growth of Chevrolet in the Philippines."
Awards were given to Chevrolet stewards for their excellence in aftersales, sales, and customer relations. Winners of the 2018 Chevrolet Grandmasters took home cash prizes and bowtie pylon trophies.
Here is the full list of winners of the 2018 Chevrolet Grandmasters Stewardship Awards.
Service Technician of the Year
Grandmaster: Carlo R. Manalo of Chevrolet Greenhills – EDSA
1st Runner Up: Jovanie Mark B. Camara of Chevrolet Makati
2nd Runner Up: Alminio Q. Lagahit of Chevrolet Cebu Mandaue
Parts Consultant of the Year
Grandmaster: Jenelyn A. Dabuco of Chevrolet Cebu Mandaue
1st Runner Up: Rony Boy E. Santelices of Chevrolet Greenhills - EDSA
Service Advisor of the Year
Grandmaster: Omar C. Manalang of Chevrolet Tarlac
1st Runner Up: Jenalene A. Rodriguez of Chevrolet Pasig
2nd Runner Up: Candice Christine L. Aquino of Chevrolet North EDSA
Aftersales Manager of the Year
Grandmaster: Ramiro G. Valladarez of Chevrolet Greenhills - EDSA
1st Runner Up: Irene S. Sevilla of Chevrolet Makati
2nd Runner Up: Norman B. Satina of Chevrolet Cebu Mandaue
Customer Relations Officer of the Year
Ginally G. Estrellado of Chevrolet Batangas
Sales Administrator of the Year
Grandmaster: Jacqueline Jane S. Rojo of Chevrolet Makati
1st Runner Up: Rutchell Mae B. Sumaylo of Chevrolet Cagayan de Oro
2nd Runner Up: Tricia C. Uyammi of Chevrolet Isabela
Sales Consultant of the Year
Grandmaster: Loreto L. Baranda, Jr. of Chevrolet Makati
1st Runner Up: Maribel S. Pilapil of Chevrolet Batangas
2nd Runner Up: Bob Anthony C. Ello of Chevrolet Commonwealth
Group Retail Manager of the Year
Grandmaster: Ramilo B. Timpad of Chevrolet Cagayan de Oro
1st Runner Up: Rex L. Impuesto of Chevrolet Makati
General Sales Manager of the Year
Grandmaster: Stepfanie Marie F. Wong of Chevrolet Iloilo
1st Runner Up: Detmar H. Pfleider of Chevrolet Bacolod
2nd Runner Up: Roex R. Pestaño of Chevrolet Makati
Dealer Operator of the Year
William Irwin I. Tieng of Chevrolet Makati
Here is the full list of winners of the 2018 Chevrolet Grandmasters Departmental Awards.
Best in Dealer Facilities – Chevrolet Cebu Mandaue
Best in Marketing – Chevrolet Makati
Best in Customer Service – Purchase and Delivery Satisfaction: Chevrolet Makati
Best in Customer Service – Service Satisfaction Survey: Chevrolet Tarlac
Best in Service (Regional) – Chevrolet Cebu Mandaue
Best in Service (Metro Manila) – Chevrolet Greenhills - EDSA
Best in Parts (Regional) – Chevrolet Cebu Mandaue
Best in Parts (Metro Manila) – Chevrolet Pasig
Best in Sales (Regional) – Chevrolet Iloilo
Best in Sales (Metro Manila) – Chevrolet Makati
Dealer of the Year (Regional) – Chevrolet Iloilo
Dealer of the Year (Metro Manila) – Chevrolet Makati