Clima Mobility Introduces Filipino Made Electric Car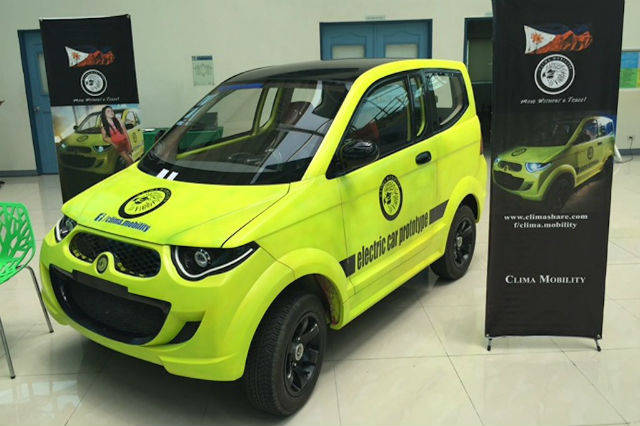 Clima Mobility, the latest member of Electric Vehicle Association of the Philippines (EVAP), has finally unveiled its very first product.
The Genius EV, Clima Mobility's flagship car, was built by Engineer Adonis Lagangan, founder of Clima Mobility. Without getting any help or funding from foreign companies, Lagangan worked overseas in order to bootstrap and fund his company. After several years of hard work, he was finally able to finish building Clima Mobility's first product.
The Genius EV is a fully electric car that runs on a liquid-cooled 72 volt 10 KW motor. The Genius EV, which can be classified as a segment A car, has a five-person seating capacity and a top speed of up to 64 kph. With just one single charge of the battery it can travel up to 72 kilometers, and in just four to five hours, its battery can be fully charged so you can start using it again.
The benefits of electric cars in the Philippines
Despite being underpowered compared to their gas-fueled counterparts, electric cars such as the Genius EV are advantageous when it comes to maintenance and fuel costs. Aside from fuel savings, electric cars do not require heavy maintenance as they do not have an exhaust pipe or gear box and do not rely on oil to keep the components working smoothly.
Lagangan stated that the Genius EV's intended primary use in the Philippines is for Local Government Units (LGUs) as patrol cars or service vehicles. It can also be modified and turned into an enclosed van so corporations can also use it as a delivery vehicle. Lagangan also mentioned that private individuals who are looking for an environmentally friendly car are also one of their target markets.
Lagangan plans on selling the Genius EV from PhP 450,000 to PhP 500,000. Currently, the car is available on a build-to-order basis in the country. The company is currently seeking funding in order to expand and improve their production capacity. They are also looking for partners and people who can provide technical assistance in order to improve their product.
PH hoping to be South East Asia's electric car hub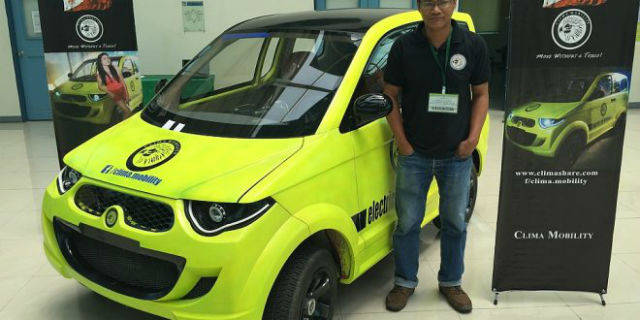 ©http://www.unbox.ph/
Rommel Juan, President of EVAP, mentioned last year that the Philippines has the potential to be the electric vehicle production hub in Southeast Asia. Currently, there are thousands of Filipinos employed in the production of electric vehicles and parts in the country. With the introduction of the Genius EV, this puts the Philippines a step closer to achieving this goal. If the demand for the Genius EV rises, production of electric vehicles in the country should also rise. For this to happen though, Clima Mobility must be able to reach and entice the masses into buying the Genius EV. And this will not be an easy feat.
There is still a long way to go for Clima Mobility and the electric vehicle industry in the Philippines. Motorists still have a lot of concerns such as the availability of charging stations in the country. Moreover, compared to their gas counterparts, the prices of electric vehicles are still a bit steep for consumers. These issues can easily be addressed if the government prioritizes and highlights the electric vehicle industry in the country's technological roadmap. Industrial policies that will give incentives to the production, research and development of electric cars should be made in order to help boost the country's capability in this field. As Juan said, the electric vehicle industry will need all the help in can get especially from the Philippine government.
Genius EV specs compared to rivals
| | | | |
| --- | --- | --- | --- |
| | Genius EV | G-Car | BYD e6 Crossover EV |
| Price (PhP) | 450,000 – 500,000 | 140,000 – 280,000 | [no data> |
| Battery | 6 pcs of 12v | 4 pcs of 12v | 61.4 kWh Fe battery pack |
| Top Speed | 64 kph | 40 kph | 140 kph |
| Range | 72 km | 60 km | 300km |
| Hours Full Charge | 4-5 | [no data> | 40 minutes |
Recommended articles for you:
Aurelio: First Filipino Made Supercar
Bangkarwayan: The Philippines' Solar Powered Bamboo Car
Car Articles From Zigwheels
News
Article Feature
Advisory Stories
Road Test