Despite Mounting Protests, DOTr to Push Through with PUV Modernization
On Monday, June 19, the Department of Transportation (DOTr) announced the official launch of its program to modernize public utility vehicles and improve the quality of the mass transport sector in the country.
©ibtimes.com
According to the DOTr, PUVs in the country are outdated and pose a danger to the public. Among the changes that the program intends to implement include fairer traffic rules and regulations, safe and comfortable transport, disciplined and competent drivers, and predictable travel time.
The DOTr will also push through with replacing transport units that have been operating for 15 years or more with environmentally friendly vehicles, a move that has been met with great opposition and protests from various transport groups.
New omnibus franchising guidelines
The program also includes a new set of guidelines for the operation of public transport franchises. Under the new omnibus franchising guidelines (OFG), local government units must develop a 'Local Transport Route Plan' to manage traffic measures and services that must be implemented on traffic routes under their jurisdiction based on passenger demand and existing traffic infrastructure.
The new OFG sets in motion the three-year rollout of the DOTr's PUV modernization program. Along with the signing of the OFG, the DOTr also lifted the ban on the issuance of new franchises, which has been in effect since 2004. However, applications for new franchises will only be approved once the local governments finish submitting their Local Transport Route Plan to the Land Transportation Franchising and Regulatory Board (LTFRB).
DOTr Secretary Arthur Tugade and Department of Interior and Local Government (DILG) acting chief Catalino Cuy signed the OFG in a ceremony yesterday at Camp Aguinaldo.
Big changes in store
The DOTr announced that big changes are in store for all PUVs, not just jeepneys. These changes include the requirement of more safety equipment in PUVs, the use of Euro 4 engines, curbside entry for UVs and Filcabs, and easier access for persons with disability (PWDs). Additional proposals include requiring PUVs to have closed-circuit television (CCTV) cameras, speed limiters, dashcams, satellite navigation system, Wi-Fi, and Automatic Fare Collection System (AFCS).
LTFRB chair Martin Delgra III said that they plan to work closely with local governments to build their Local Transport Route Plan to ensure these are based on current and estimated travel patterns while taking into consideration inter-modality and interconnection.
The PUV modernization program will also treat drivers as employees with regular salaries and benefits. DOTr hopes the move will eliminate much of the traffic problems caused by the current 'boundary system' practiced by jeepney operators, causing drivers to compete over passengers and violate traffic rules and organizations to maximize profit.
As government employees, PUV driver's will be required to undergo training and capacity-building programs to develop and deepen their knowledge and understanding of traffic rules.
Replacement of jeepneys 15 years old and above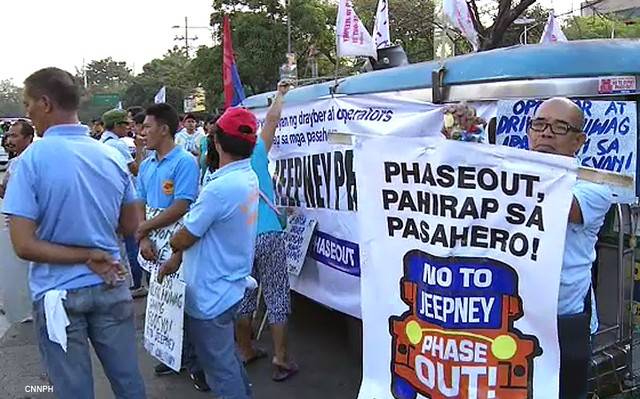 Last month, the DOTr—in coordination with different government agencies such as the Department of Finance (DOF) and Department of Trade and Industry (DTI)—approved a P1 billion loan program that aims to provide jeepney drivers and operators easy access to credit and help them modernize their vehicles faster.

The loan program is estimated to finance the replacement of an initial 650 traditional jeepneys with modern units, at a cost of about P1.4 million to P1.6 million per unit.

Coinciding with the announcement, transport groups PISTON and No to Jeepney Phaseout Coalition (NJPC) held a prayer vigil and protest caravan in front of the LTFRB in an attempt to defer the implementation of the PUV modernization program.