Ford starts manufacturing Bronco for 100,000-plus orders
Ford proudly announced that the Bronco is back in the USA.
After a 25 year hiatus, the 4x4 SUV rolled off the line at the Michigan Assembly Plant (MAP) which underwent a US$750 million (P36 billion) upgrade and added 2,700 jobs.
The all-new two-door and first-ever four-door Bronco models are now on the way to Ford dealerships in the US, and to outdoor enthusiasts, Ford said.
More than 125,000 orders for the Bronco have been placed, while more than 190,000 reservations in the US and Canada have been made, the Blue Oval said.
"We know fans have been waiting for the Bronco, and we're so excited to bring it back," Ford Chief Marketing Officer Suzy Deering said.
"And this Bronco is better than ever. We're staying authentic to Bronco's goes-over-any-terrain heritage and have leveraged the brand's Built Wild innovative design, durability and advanced off-road capability to get the most out of every adventure in the wild."
The most powerful engine under the Bronco's hood is a 2.7-liter twin turbo V6, which generates 310hp and is mated to a 10-speed auto.
The SUV's body-on-frame construction uses a twin A-arm independent suspension in front, and a five-link coilover suspension and a solid axle out back.
There's an optional High-Performance Off-Road Stability Suspension (HOSS), which replaces the aforementioned suspension system with position-sensitive Bilstein shocks, as well as multiple compression and rebound zones, at all four corners.
The front sway bar features a hydraulic disconnect feature to increase articulation when crawling. An optional package, called "Sasquatch," includes 35-inch tires, the largest of any production vehicle.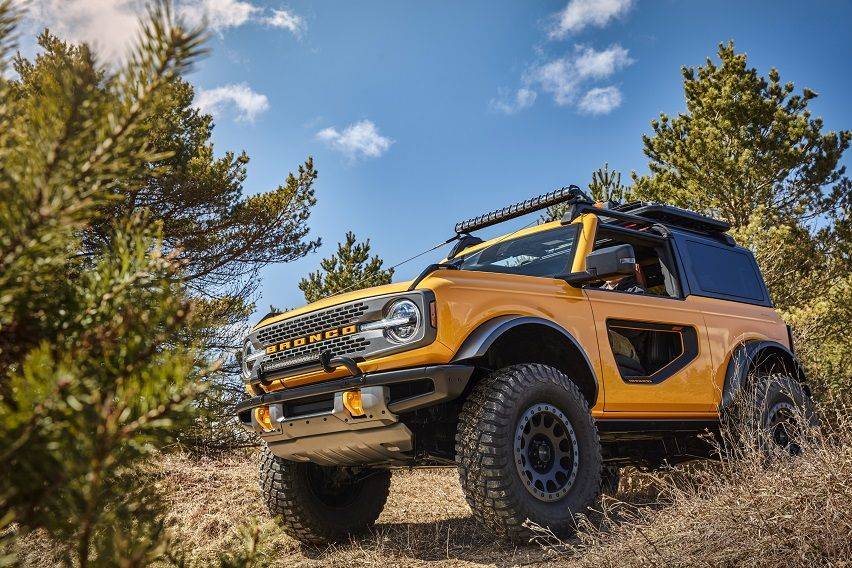 In 1965, the Michigan Truck Plant, now the MAP, began production of the original Ford Bronco. Bronco continued through five generations and ended production on June 12, 1996. In that 31-year span, Ford produced more than 1.1 million Broncos.
"We have the most skilled workforce in America working in a plant that's state-of-the-art," VP for manufacturing and labor affairs at Ford John Savona said.
"It's an unbeatable combination designed to deliver our customers a high-quality, ready-for-anything, all-new Bronco," he added.
Photos from Ford
Also read:
Ford brings back Bronco as a sub-brand
The Ford Maverick wants to capture crossover fans