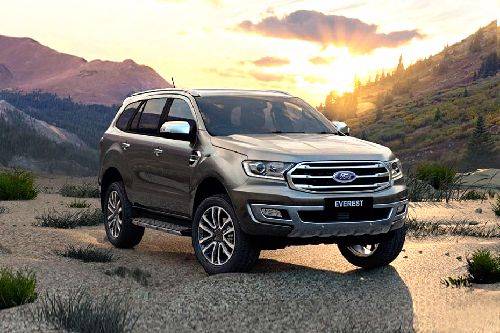 Ford Everest
DP: ₱347,600
EMI (₱29,816 x 60 Months)
SRP : ₱1.738 - 2.299 Million
Ford Everest 2022 Price Philippines
Ford Everest price in Philippines starts at ₱1.738 Million for base variant 2.2L Trend 4x2 AT and goes upto ₱2.299 Million for top variant 2.0L Bi-Turbo Titanium Plus 4x4 AT. Checkout 2022 Everest price list, variants, EMI's and available promos.
Ford Everest 2.2L Trend 4x2 AT

₱1.738 Million

Best Offer

DP ₱57,000

EMI (₱37,813 x 60 Months)

View Promo

2198 cc, 158 hp, automatic, Diesel

More Offer

Ford Everest 2.0L Turbo Sport 4x2 AT

₱1.928 Million

Best Offer

DP ₱113,000

EMI (₱40,612 x 60 Months)

View Promo

1996 cc, 178 hp, automatic, Diesel

More Offer

Ford Everest 2.0L Turbo Titanium 4x2

₱1.995 Million

Best Offer

DP ₱149,000

EMI (₱41,067 x 60 Months)

View Promo

1996 cc, 178 hp, automatic, Diesel

More Offer

Ford Everest 2.0L Bi-Turbo Titanium Plus 4x4 AT

₱2.299 Million

Best Offer

DP ₱168,000

EMI (₱47,309 x 60 Months)

View Promo

1996 cc, automatic, Diesel

More Offer
Ford Everest Price Philippines
Big Saving!!
Save upto 82% ! Find the best deals on used Ford Everest in Philippines
Everest Owner Reviews
Based on
15 Customer Reviews
Ford Everest Reviews
A Promising four-wheeler!

Ford has been one of the most promising car brands here in the Philippines. Planning to buy a car and never could go without considering the models offered by Ford. I have most recently purchased the Everest by Ford. It not only drives with excellence through rough roads but also proves to be a great tourer for its well-balanced dynamics and constant speed on the highways. It is a great deal to stick with for enjoying the best construction of the body and a great powertrain to drive with. I feel really happy and satisfied with my purchase.

Joseph Thursday Jun 23, 2022 04:14:08

Better than the Fortuner

The Toyota Fortuner is a very hyped up car. It is good, for sure, but it is not the best, certainly. I had a used Fortuner in the past, and now have a new Ford Everest. I could draw a good comparison between the two. It makes 158 horsepower from its 2.2L engine, but the American engine is surely better than the Fortuner. I also happen to love the seating comfort and the spaciousness. The features for the safety and entertainment are very impressive and I am sure everyone will love it.

Antonio Saturday Feb 19, 2022 04:07:52

A magnificent SUV

I've been driving the Ford Everest for over a year. And I'm still astounded by the level of performance it still provides. The ride quality is magnificent and the power of the engine is truly impeccable. I am astounded since I have driven this SUV on every type of road imaginable during this time period and it has never let me down. I must conclude that the automobile not only appears dominant but also operates in the same manner. I anticipated the car to be large because it was an SUV, but I didn't expect it to have so much legroom and headroom for adults to ride comfortably. It is a true delight for the drivers to go on long-distance journeys It is a high-quality vehicle that one should definitely consider purchasing. I would recommend it to all the avid riders.

jhaerix Monday Jan 10, 2022 16:19:12

Looks classy and really feels like a premium vehicle

Ford makes very reliable and sturdy cars that have great build quality and attention to detail. The Everest from Ford is no different as it is also a very solid vehicle that looks very classy almost royal and drives that way too. If you are going on a trip this is probably the best vehicle you can take. It drives so smooth you will actually have to pay attention to not fall asleep while driving. The overall performance and power output of this car are really good and you can drive smoothly and fast and medium speeds all the way. Love this car and would highly recommend it to others as well.

Dranreb Tuesday Nov 30, 2021 18:45:40

Powerful and good build quality

The Ford Everest is a great SUV in terms of durability and performance. The bi-turbo diesel engine churns out enormous amount of power for all your requirements. This SUV feels great to drive on the highway as it is very well-balanced and has very little body roll too. The high seating position offers a good view of the road ahead which makes manoeuvring very easy. The steering is surprisingly quick for an SUV of this size. You can even embark on off-road adventures if you have the Ford Everest because it has a high ground clearance which helps you glide over rough patches with ease.

Emar Monday Sep 13, 2021 19:40:24
Ford Everest News
Ford releases next-gen Everest
Ford has officially unveiled the next-generation Everest that is said to be hinged on the requirements of customers. According to...
Ford reveals next-gen Everest
Following the introduction of the next-generation Ford Ranger last month, the Blue Oval brand has shared photos of its sports...
Automotive News
Ford Cars
Ford Cars

Ford Everest Alternatives
Find Second Hand Cars By City
Compare Ford Everest with Alternatives
Second Hand Cars Similar to Ford Everest
33 Used Cars Available

Starts @ ₱650,000

61 Used Cars Available

Starts @ ₱998,000

55 Used Cars Available

Starts @ ₱750,000

22 Used Cars Available

Starts @ ₱980,000

3 Used Cars Available

Starts @ ₱1.148 Million
Second Hand Ford Cars
Second Hand Ford Cars
58 Used Cars Available

Starts @ ₱488,000

12 Used Cars Available

Starts @ ₱530,000

13 Used Cars Available

Starts @ ₱450,000

25 Used Cars Available

Starts @ ₱980,000

2 Used Cars Available

Starts @ ₱200,000
Second Hand Ford Everest by Budget
Under P500,000
Under P1,000,000
Under P2,000,000
Used Ford Everest Under P500,000
129,000 KM, Diesel, XLT 2.5 4x2AT

115,000 KM, Diesel, Titanium 2.2L 4x2 AT with Premium Package (Optional)

178,000 KM, Diesel, 2.5L XLT MT

99 KM, Diesel, 2.2L Trend 4x2 AT

188,000 KM, Diesel, LIMITED 2.5 4x2 AT