Four reasons to buy a Suzuki car this February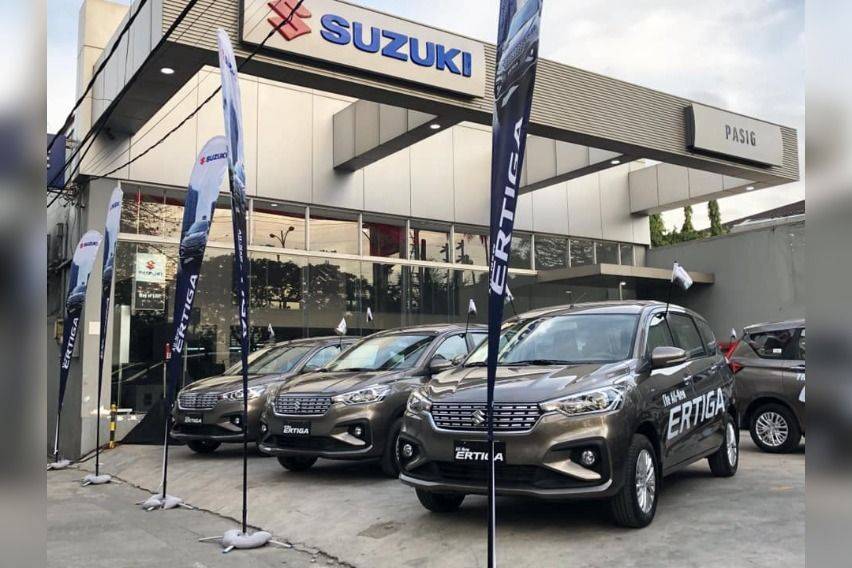 The local automotive arm of Japanese brand Suzuki is giving you not one, not two but four enticing deals this month to make sure you enjoy the Suzuki Way of Life.
To show its love for the love month, Suzuki Philippines Incorporated (SPH), offers four ways to help buyers acquire the models in their lineup with the Dzire To Excel, Shall We Drive, All-Out Blow Out, and Happy New Wheels promos.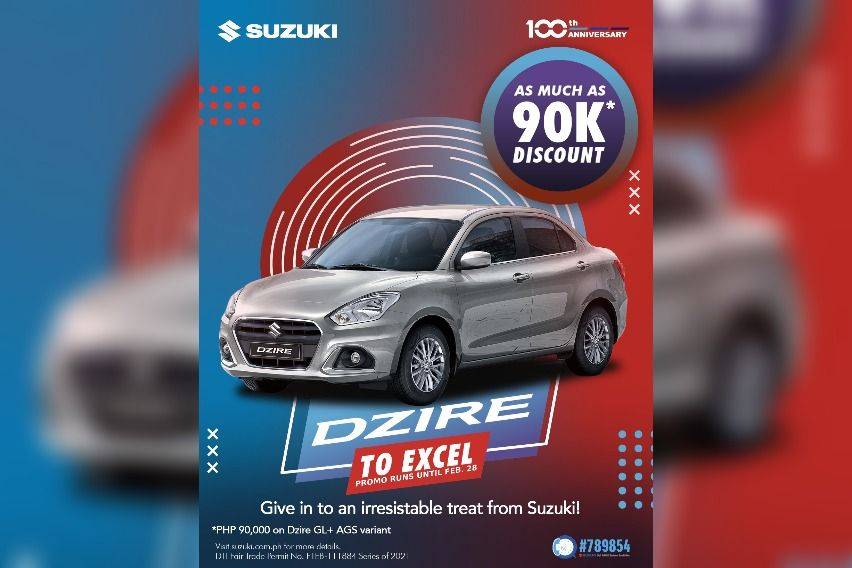 Dzire to Excel
For this promo, SPH is retailing the Suzuki Dzire with either an all-in low down payment of as low as P28,000 or cash discounts reaching P90,000 which could translate to paying P325.00 a day for five years.
The promo is applicable to any variant of Suzuki Dzire, including the recently unveiled New Dzire, valid until February 28.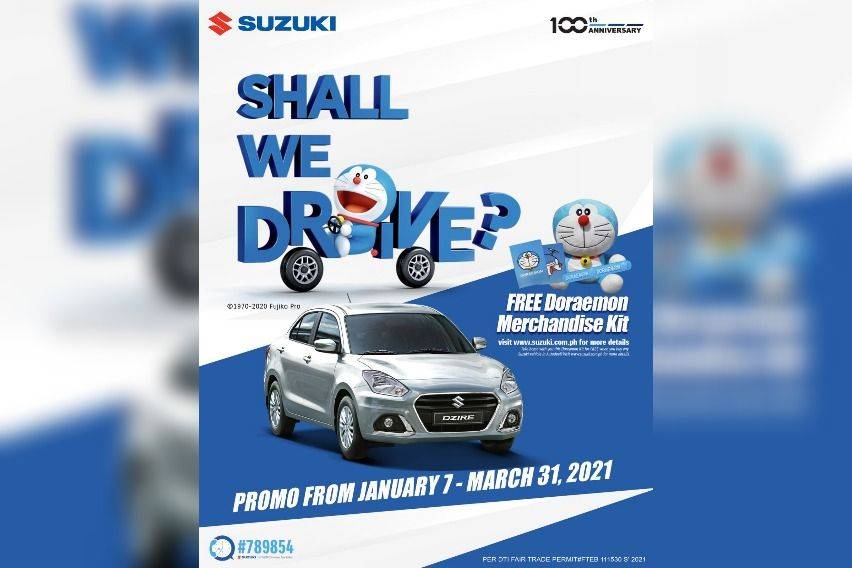 Shall We Drive Promo
Meanwhile, the automaker makes the Suzuki Dzire even more worthwhile in the Shall we Drive promo, Dzire buyers you are entitled to a Free Doraemon Merchandise Kit, which will surely remind one the joy back in the day of watching well-loved cartoon character on the television screen!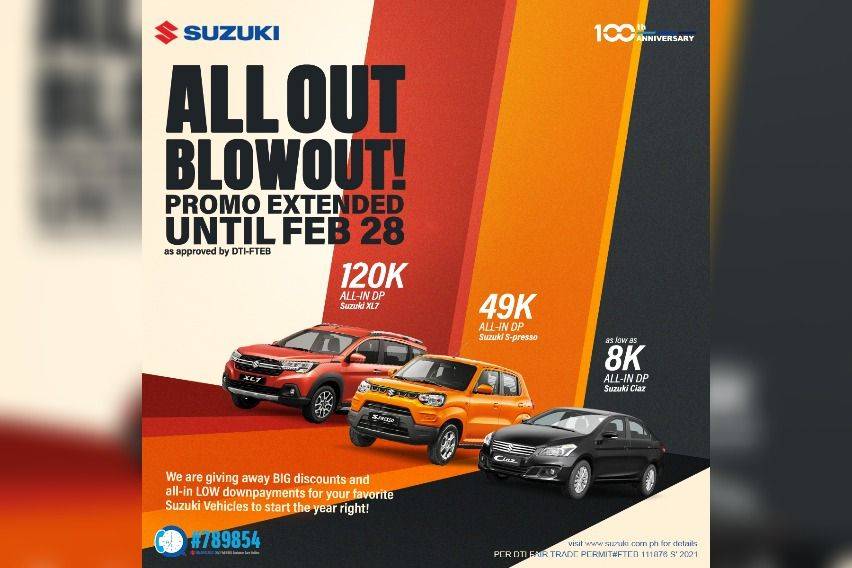 Extended All-Out Blow Out and Happy New Wheels
Lastly, SPH noted that the "due to public demand," the All-Out Blow Out and Happy New Wheels promos have been extended until end of this month.
Customers targeting the Ciaz , All-New S-presso or All-New XL7 are in for sizable discounts can enjoy the All-Out Blow Out promo while for those aiming for the seven-seater Ertiga can avail the Happy New Wheels promo.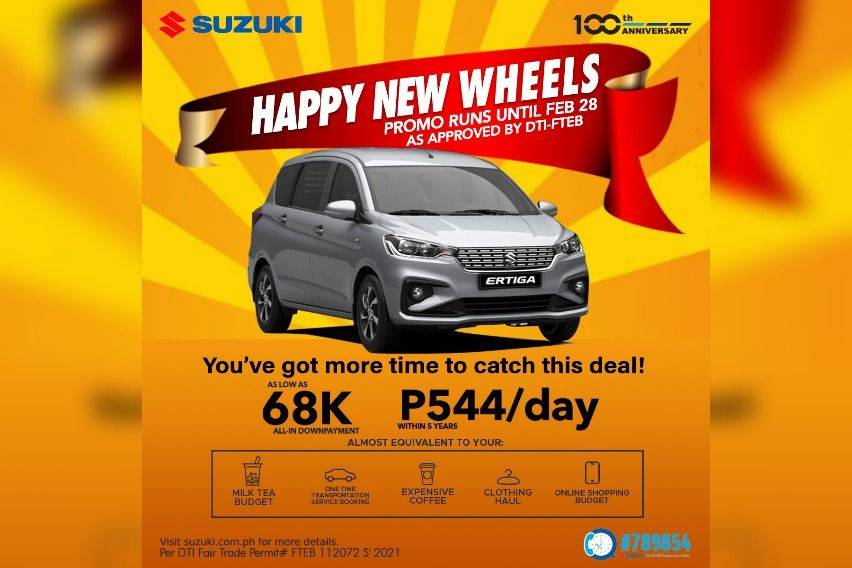 In a statement, SPH said it is bringing long-time and new customers together to enjoy new milestones this year.
"Starting your year right prepares you to achieve more milestones in your career, reach new heights for your goals, and experience life with a good outlook. SPH believes that through these offerings, Suzuki customers both old and new are brought in a step closer in owning their desired Suzuki vehicle," they noted.
"In a time when industries are working hand in hand with the community in rebuilding society, strides such as these offerings are testament to SPH's realization of championing the Suzuki way of life through making mobility within reach to the Philippine market. This is a realization that Suzuki Philippines is humbled to participate in that is why they are as excited as you are to see this opportunity for you to own that vehicle which will surely make your life easier and more convenient as you upgrade your lifestyle the way it should be."
Photos from Suzuki Philippines Corporation
Also read:
Suzuki PH to hold annual Auto Festival online this year
Suzuki PH holds premier virtual opening for Marikina showroom