Hyundai PH Inaugurates World-Class Training, Education Hub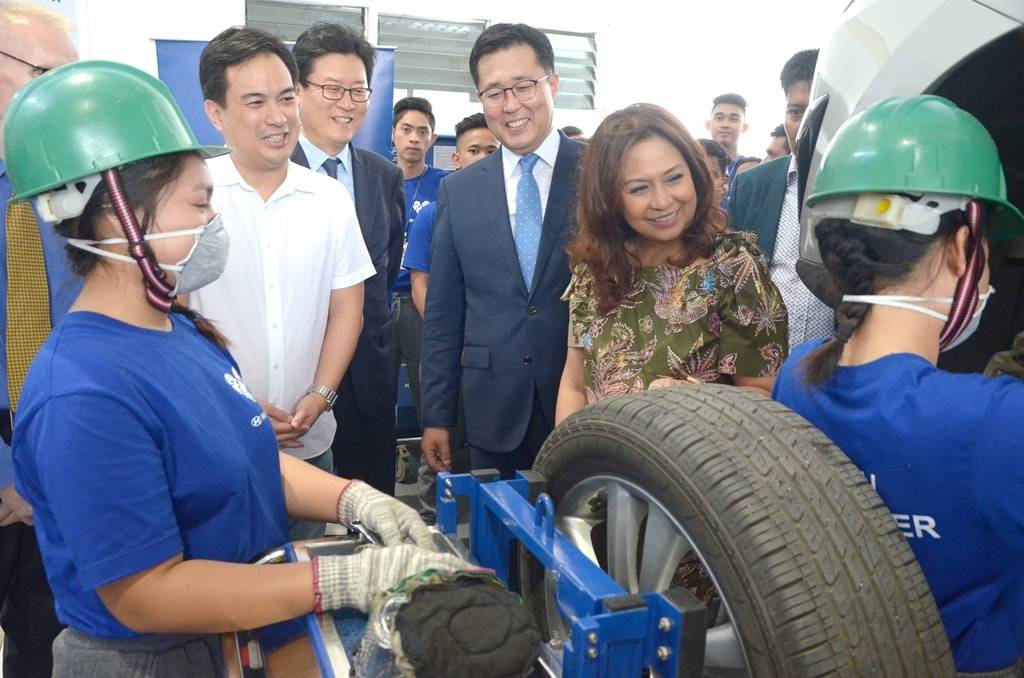 Hyundai Asia Resources, Inc.
(HARI), the official Philippine distributor of
Hyundai vehicles
, inaugurated the
Hyundai Dream Centre Philippines
(HDCP), a world-class
training and education hub
for underprivileged Filipino youth on Tuesday, April 10, 2018 at the
Hyundai Logistics Center
(HLC) in Calamba, Laguna. The HDCP is the fruit of the partnership between HARI,
Hyundai Motor Group
(HMG), and global humanitarian organization
Plan International
. It aims to elevate the level of vocational-technical skills in the Philippine automotive industry by providing bright, young Filipinos with
training scholarships
on
vehicle repair and maintenance
. Hyundai has established Dream Centres in collaboration with local vocational schools over the past five years in Ghana, Indonesia, Cambodia, and Vietnam. This is the first time Hyundai has partnered with a distributor to design and implement the training courses for a Dream Centre.
The launch event was attended by representatives and board members from the three partner institutions, officials from the national, provincial, and local government, as well as by the
first batch
of HDCP scholars. The program commenced with a short backgrounder on the Hyundai Dream Centre program, followed by the unveiling of the Centre's marker by HARI President and CEO
Maria Fe Perez-Agudo
, Hyundai Motor Company Asia-Pacific Regional Headquarters Head
Yong Suk Lee
, and Plan International Deputy Country Director for Operations
Patrick Kirwan
. In her opening message, Agudo said, "When you dream alone, chances are you will stay dreaming. But when you dream a dream together and pursue it, then that dream becomes a reality. Built on the pillars of commitment, inclusiveness, and human capital, the big idea comes alive before our very own eyes--Hyundai Dream Centre Philippines!" After the three officials delivered their remarks, representatives from the government congratulated Hyundai and Plan International for the successful launch. On behalf of Laguna Governor
Ramil Hernandez
, Provincial Public Employment Service Office Manager
Mary Jane Corcuera
expressed support for the Centre, as well as for Hyundai's future undertakings in the province.
Mylene Somera
, Supervising Specialist for the Technical Education and Skills Development Authority (TESDA) Women's Center, commended HARI for its "culture of service excellence," and expressed TESDA's willingness to work with Hyundai in providing equal opportunities to women. Finally, Calamba Mayor
Justin Marc Chipeco
thanked Hyundai and Plan International for choosing Calamba to be part of their development programs and exhorted the HDCP scholars to make the most of their scholarships. Also in attendance to congratulate Hyundai and Plan International was Department of Labor and Employment (DOLE) Assistant Secretary for Legal and International Affairs
Joji V. Aragon
.
HDCP scholars capped off the program by creating a colorful mural of handprints, representing their dreams for the future and their contributions to the program as members of the pioneering batch. HDCP partners and guests responded with the symbolic release of butterflies into the HLC campus, signifying Hyundai and Plan International's objective to provide Filipinos with the tools they need to seek out new careers and opportunities. The Mandaluyong Children's Choir enlivened the program with rousing renditions of songs about shared dreams. "HDCP symbolizes not just our commitment to contribute to human capital development in the automotive industry, but our dream of improving the lives of Filipinos as well. We are especially proud that our partners could meet the first batch of scholars and witness their progress firsthand," concluded Ms. Agudo.
Hyundai Car Articles From Zigwheels
News
Article Feature
Road Test