Hyundai PH offers OKS deals on commercial vehicles for the Lunar New Year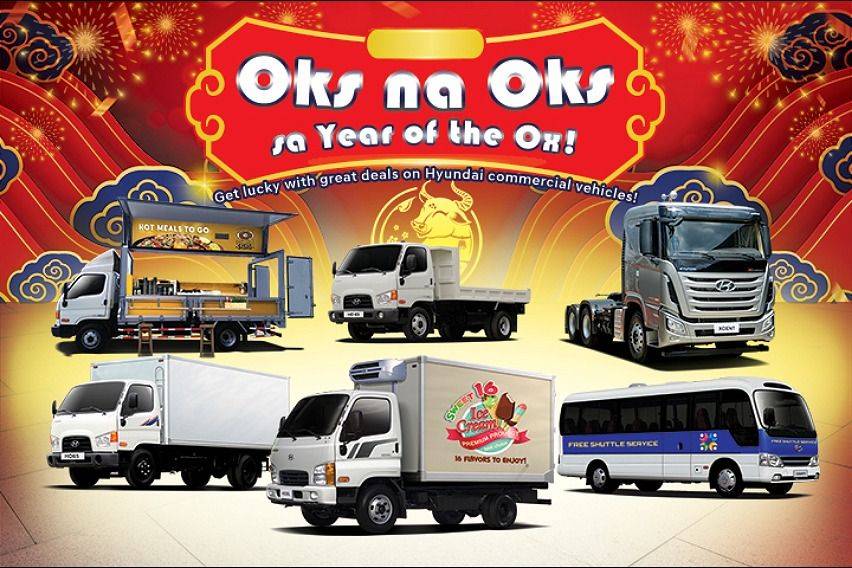 The local distributor for the Korean vehicle marque Hyundai wants business owners to further exercise the Ox's characteristics for success to ensure prosperity for the Lunar New Year by offering trucks and buses with easy-to-acquire deals.
Through the Oks na Oks sa Year of the Ox promo, Hyundai Asia Resources, Inc. (HARI) is giving stellar savings on its trucks and buses to jump start the good luck for this month, until the middle of March.
Buyers of HD65/65X cab and chassis and HD36L Maxculado cab and chassis can enjoy discounts of P140,000 and P280,000 respectively, while the premium County is being offered with a P200,000 cash discount.
Further, the Xcient dump truck and tractor (6- and 10-wheeler; cab and chassis) is being retailed with as much as P480,000 price cut.
Although a light truck, the Hyundai HD36L Maxculado is created with a high-capacity chassis ladder frame that features heavier gauge steel to withstand a good deal of heavy lifting.
The 2.5-liter diesel engine matched to a six-speed transmission fitted in the Hyundai HD36L Maxculado can put out high numbers; around 255-Nm and more than 128-horsepower churn with the least fuel consumption. The said powertrain delivers 53 percent more pulling power compared to its predecessor.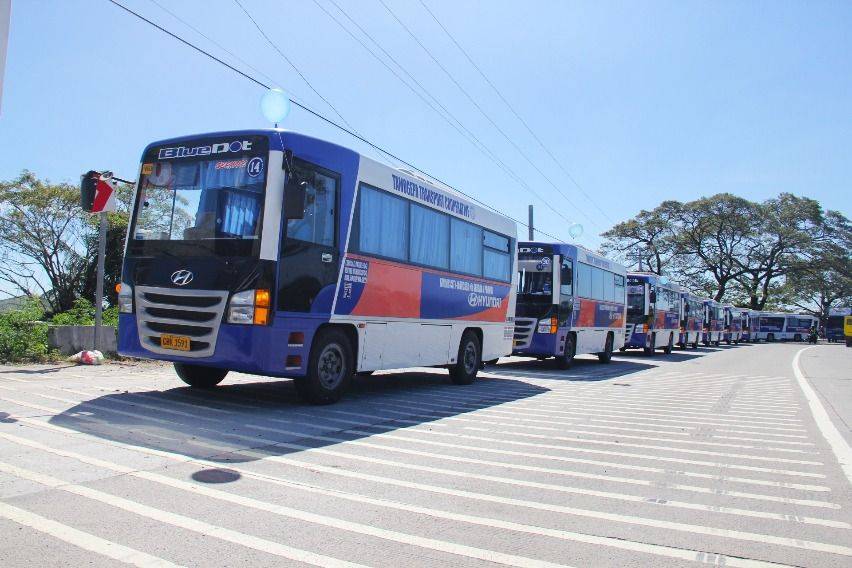 Now stretching 3600 mm long with an extended wheelbase and longer cargo bed that can accommodate an 11-foot rear deck, the Hyundai HD36L Maxculado has an extended volume capacity— thanks to its longer shuttle rear body.
The Hyundai HD65/65X has an assuring strength from its body down its engine. Powered by Euro-4 D4GA direct-injection diesel engine with turbocharger mated to a five-speed manual transmission system, the vehicle can deliver maximum output of around 148 hp and higher than 578 Nm.
For its foundation, this vehicle wears heat-treated, web-strengthened, ultra-rigid super frame for reassuring safety.
Servicing and maintenance also comes easy with the HD65/65X as it has 50-degree tilting cab feature that gives mechanics quick and easy access to the engine compartment.
With the design and looks that speak volumes of its capability, the Hyundai Xcient is built for the heavy lifting and hauling.
The huge front grille and bold lines show a commanding presence. Such aesthetics is complemented by the use of Hyundai's signature high-strength steel which contributes to structural integrity and durability of the vehicle. The front and rear multi-leaf suspension system appends the power that can be delivered by the Powertech engine (D6HA and D6CC for Xcient cargo trucks and Xcient 4x2 and 6x2 tractor heads).
The D6HA delivers a maximum power output of some 375 hp and 1,569 Nm torque, while the D6CC churns out maximum power of around 404 hp and maximum torque of above 1,843 Nm pulling power.
Designed to cater for mass transport, the Hyundai County mini-bus was built to last with the body now wearing greater rust-resistance ability with the Hyundai standard seven-dip electrodeposition primer (EDP), or electrostatic immersion process, plus a stringent chassis durability test.
Another safety proponent is the Load-Sensing Proportioning Valve (LSPV), wherein the vehicle adjusts brake pressure based on weight distribution of passenger load, as well as 9+10 brake booster for even safer braking.
While it is tough on safety, the Hyundai County provides comfort and convenience, with its host of thoughtful amenities, such as the wing-out type door for easy ingress and egress, semi-cloth upholstered seats for firm yet gentle support, deluxe cargo space to stow extra luggage, and overhead shelves.
Those who would want to learn more about the promo, which will be offered until March 15, may also request for a quote at Hyundai e-B2B: easy Booking to Buying.
Photos from Hyundai Asia Resources Inc.
Also read:
MIAS WIRED: Hyundai PH highlights commercial line to help 'heroes of new normal'
Enjoy attractive deals on commercial vehicles with Hyundai PH New Year's ReSolutions
Hyundai PH earns Best in Aftersales Ops title for 3rd consecutive year