Isuzu VT02 Concept at PIMS 2018 is the Upcoming Isuzu Traviz
The Euro 4 Mitsubishi L300 has only been around for a month yet it already has competition coming in in the form of the upcoming Isuzu Traviz. The Isuzu Traviz first appeared on our shores in October 2018 at the Philippine International Motor Show (PIMS) as the Isuzu VT02 Concept in the form of an Asian utility vehicle. More importantly, Isuzu Philippines (IPC) Sales Division Head Joseph Bautista told CARMUDI PHILIPPINES then that it also plans to enter the production form of the vehicle in the national government's Public Utility Vehicle Modernization Program (PUVMP). "Yes, we're looking into bringing the VT02 over for the PUV Modernization Program," Bautista told CARMUDI PHILIPPINES. "It can be for either the Class 1 or Class or even Class 3 and 4 of the modernization program."
Following its PIMS debut, nothing was heard from IPC about the VT02 Concept--that is, until IPC sent an invitation in mid-October "to take a peek" at its "newest truck" in the upcoming Isuzu Traviz. A teaser photo of its headlight was soon shared on social media and that's when we deduced that the Traviz is the Philippine-market name for the VT02 Concept--or what is essentially the Isuzu Traga in Indonesia, where it's manufactured and only launched in April 2018, and due to its right-hand-drive configuration, explains the dark tint on the vehicle at PIMS. According to Isuzu, the Traviz/Traga utilizes a frame that's based on the previous-gen D-MAX and a cabin that's based on its N series of medium-duty trucks, otherwise known as Isuzu's Elf trucks locally. In Indonesia, the Traga is sold with a Euro 2-spec 2.5-liter 4JA1 diesel engine which, locally, was used to power the now-dead Isuzu Crosswind. IPC though remains quiet as to what the Euro 4-spec'd Philippine-market Traviz will run. IPC is also mum if the Traviz will still be imported from Indonesia or if it'll be assembled locally. With the discontinuation of the Crosswind's local assembly at the end of 2017, IPC though could very well assemble it here. Perhaps the clue lies in what one of IPC's dealers told us; that the price of the Traviz is "very, very close" to the price of one of its competitors in the Hyundai H-100 which, depending on the form, ranges from PHP945,000 for the barebone cab-and-chassis to PHP1.38 million for the air-conditioned Class 1 PUV. It looks like we'll have to wait until November 12 to find out.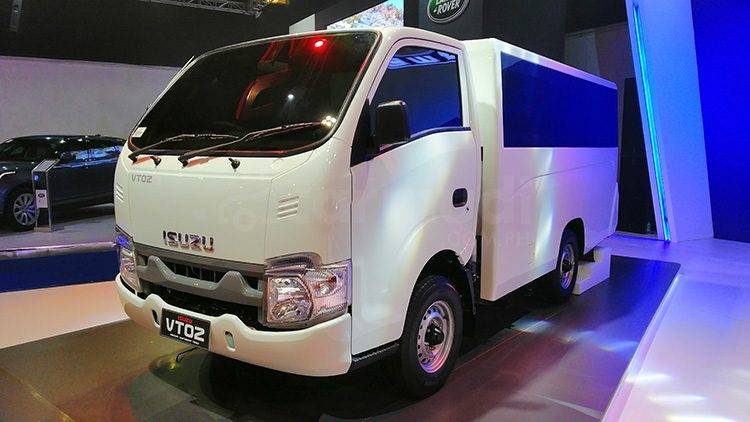 © Patrick Everett Tadeo for CARMUDI PHILIPPINES
With additional reporting by Ruben Manahan IV
Read All
Featured Articles