Latest ŠKODA Student Concept Car is Scala's Spider Version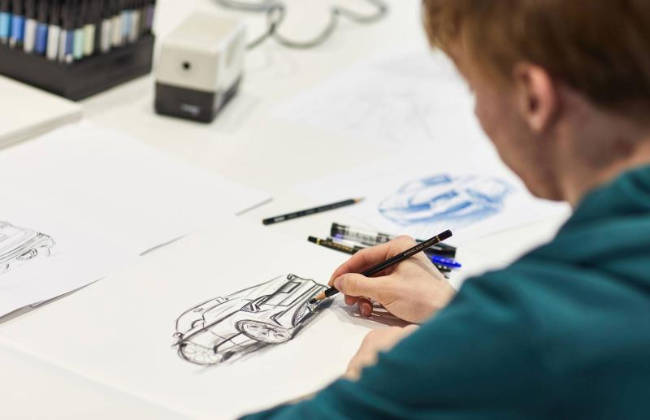 The countdown is on, as 20 students from ŠKODA Academy will unveil their seventh ŠKODA concept car this June 2020. Their ambitious project for this year is to design and build an open-top Spider version of the new compact model ŠKODA Scala. Using the high standard of training that were given to them at the ŠKODA vocational school, their workshop will be in the the ŠKODA Design department in Mladá Boleslav.

The ŠKODA vocational school has been giving up-and-coming talented apprentices to work on their concept cars with great commitment and creativity. They will undergo training and support from experienced ŠKODA employees from the technical development department, design and production, and also engineers working at the company's headquarters in Mladá Boleslav.

For their seventh Student concept car, the students will work on the new compact model Scala, which was released at the end of the 2018. Building on the vehicle's design aesthetics, they want to make the vehicle's dynamic "clean lines and emotive shapes" sharper and more eye-catching.

The ŠKODA Design department in Mladá Boleslav will play a prominent role when the students unveil their concept car in June 2020. The company's head designer, Oliver Stefani and his team, will be there to support the students and help them when they create their own drawings of the next Student Car.

"Despite the increasing use of computers and simulations, drawing is still an essential part of automotive designers' work. With every stroke, an idea turns into something real. A sketch is the first of many steps on the long and exciting path to a new car,' explains Oliver Stefani, Head of ŠKODA Design.

It has always been the Czech car manufacture's tradition to build a Student Car since 2014. The company, which was founded in 1895 in Mladá Boleslav, Czech Republic gave students from the ŠKODA vocational school the once-in-a-lifetime experience of  planning, designing, and building a concept vehicle on their own with the help of ŠKODA's designers and builders.

"We are all delighted to be part of this project. As a student, where else do you get the chance to put your own ideas and vision into designing a car and then actually build it yourself? Drawing our first sketches was lots of fun, and we learned a lot from Oliver Stefani and his team," says Vojtěch Špitálský.

You can learn more about their students' works by  visiting the ŠKODA Storyboard, which offers stories of four students involved in previous projects. It also gives readers an overview of all previous ŠKODA student concept cars created by its students.

Also Read: