MINI's 10 Millionth Car Rolls Off Production Line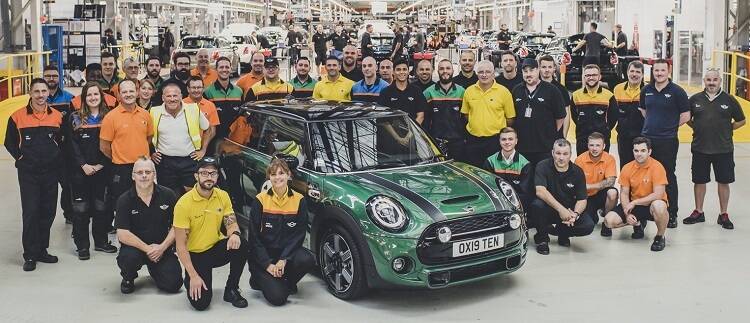 As MINI celebrates its 60th anniversary, the British car brand achieves another milestone as its 10 millionth car rolls off the assembly line. To mark this incredible feat, MINI made sure the car is a memorable one.
Built at MINI Plant Oxford, the MINI 60 Years Anniversary Edition limited-edition model is based on the two-door Cooper S, and uses the same 192-hp turbocharged 2.0-liter four-cylinder engine. It also receives specific anniversary edition features such as brown leather upholstery with green accents, unique 17-inch alloy wheels, and a host of 60th anniversary badging.
Though the car hasn't been sold to any buyer, it's not headed to any museum anytime soon, either. It was recently part of a 61-car convoy that made the 135-km trip from the Oxford factory to Bristol to take part in the MINI Meet that took place yesterday, August 11.
The 60 cars that accompanied the limited-edition unit represented every year of production for the MIni brand, with 60 personal stories to complement them. MINI gathered the cars and the stories from owners all over the UK to showcase how the brand has played an important part in so many people's lives.
At the head of the pack was a white Morris MINI-Minor, the first MINI ever built.
MINI brought all the cars together at its Oxford Plant to commemorate the momentous occasion. While there, the cars were prepped for the lengthy trip to Bristol.
©bmwgroup.com