Motorcycle Taxis to Suspend Ops Following MM Lockdown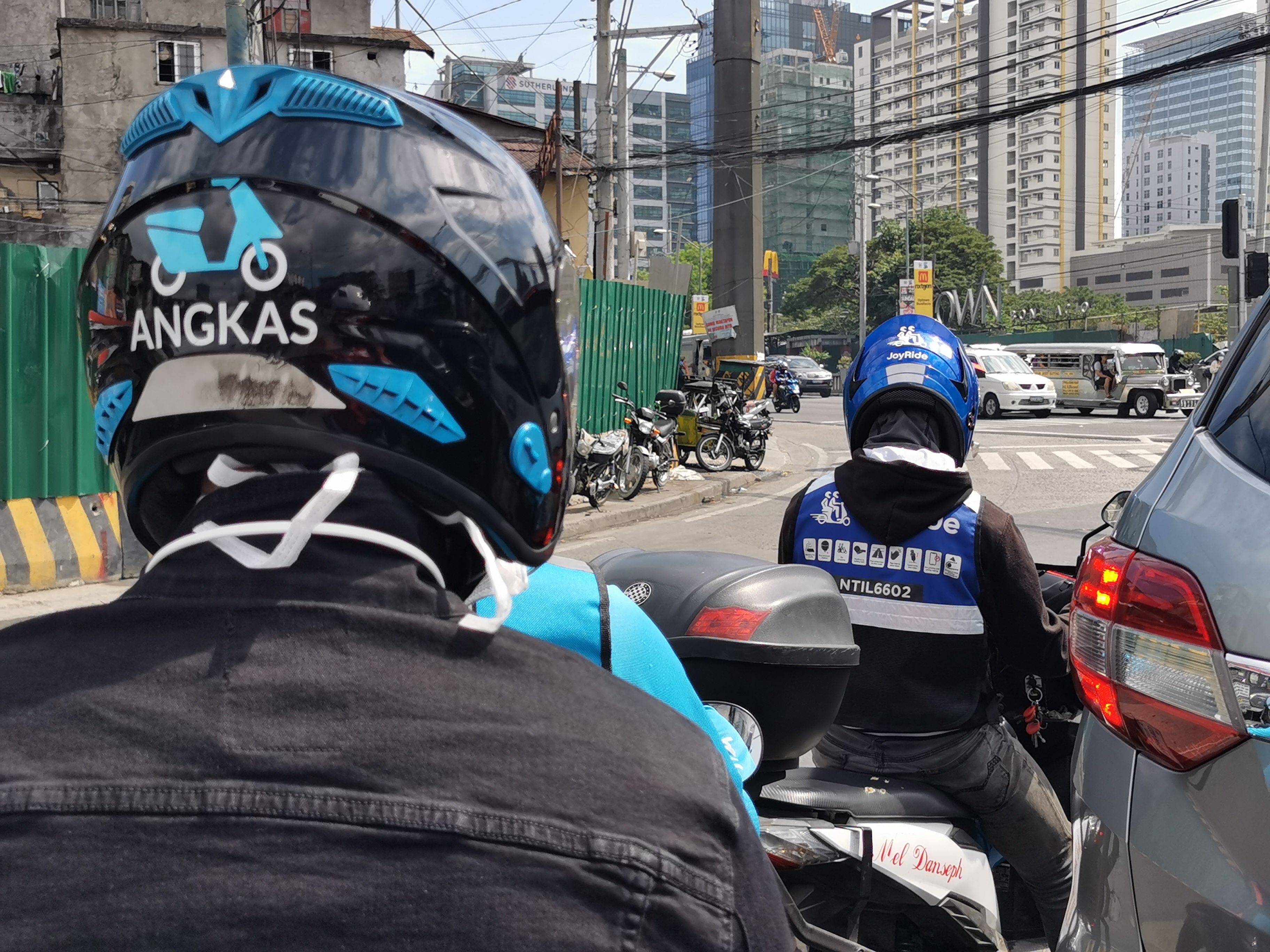 Motorcycle taxi mobile apps companies have suspended their ride hailing services over the weekend as mitigation efforts against the dreaded coronavirus disease (COVID-19). This as the Department of Transportation (DOTr) has announced guidelines on social distancing, following the earlier order of President Rodrigo Duterte to place the National Capital Region (NCR) under community quarantine to stop the spread of the pandemic. In their respective statements Saturday evening, both Angkas and Joyride announced that they will suspend their respective services until further notice. However, they also announced that while their motorcycle taxi service will be out, the two companies will both continue their delivery service. Below are the separate announcements from the two motorcycle taxi mobile apps.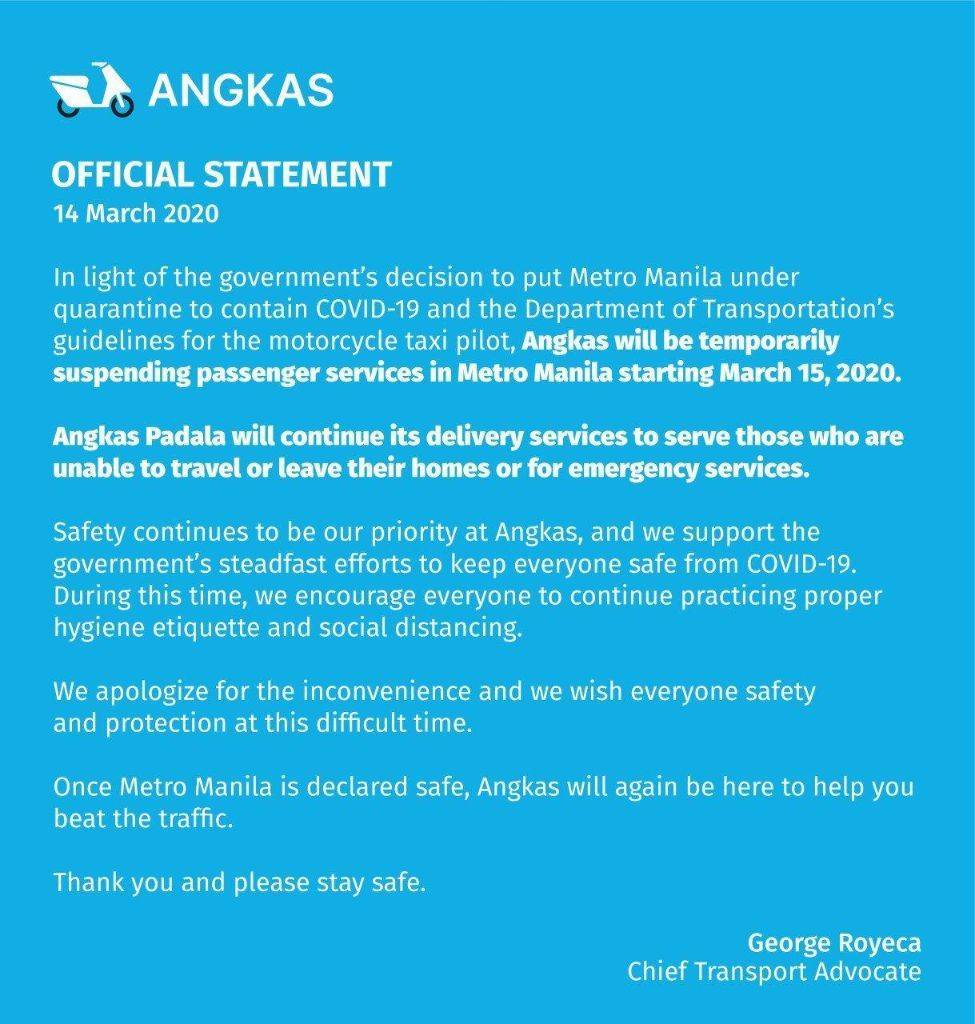 Statement from Angkas

On the other hand, here is from Joyride.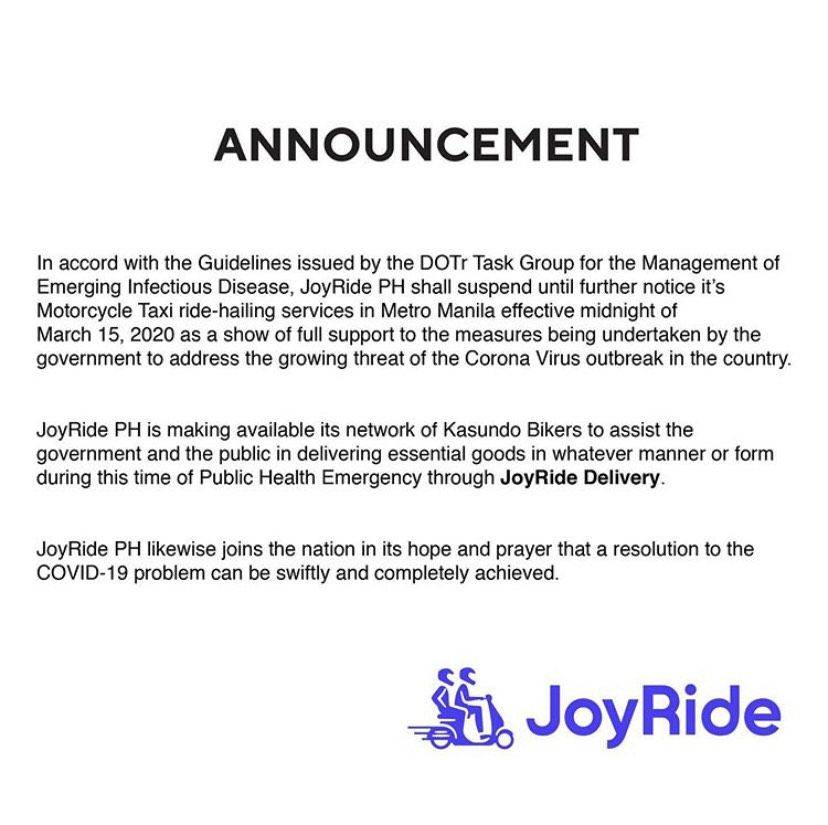 Statement from Joyride

Meanwhile, both assured the public that they will continue their service as soon as Manila is declared safe. Aside from motorcycle taxis, other transport companies as well as taxis are also ordered to transport not more than four (4) passengers. Multiple bookings for a single trip provided by the TNVS will be temporarily suspended, it added. Earlier, Grab announced that they will suspend ride sharing in Metro Manila. Moreover, the DOTr advised the UV Express to not haul more than six (6) passengers; while old units of Public Utility Jeepneys (PUJs) should carry not more than half of their regular capacity; and as for Omnibus Franchising Guidelines (OFG) compliant units (Class 2 and 3), they should not have more than half of the seating capacity, without standing passengers; Public Utility Busses (PUBs), meanwhile, should not have more than 25 passengers, which includes the driver and conductor, and without any standing passenger. The guideline further states that terminal operators will not allow any person to enter their premises if that person is showing any COVID-19 symptoms. For all PUVs entering and exiting Metro Manila, drivers and conductors will have to request passengers to present one (1) valid ID (which indicates the address of work place, and residence) to comply with the Department of Interior and Local Government (DILG) and Philippine National Police (PNP) procedures and protocols at all entry/exit points. Meanwhile, Point-to-Point (P2P) buses from the Ninoy Aquino International Airport (NAIA) to Clark International Airport and Sangley Airport will be allowed to operate as scheduled. The DOTr also pointed out, that the policy will be subjected to daily review and revision, as necessary.
Also read: