Pilipinas Shell Introduces Shell Rimula Light Duty Range of Motor Oils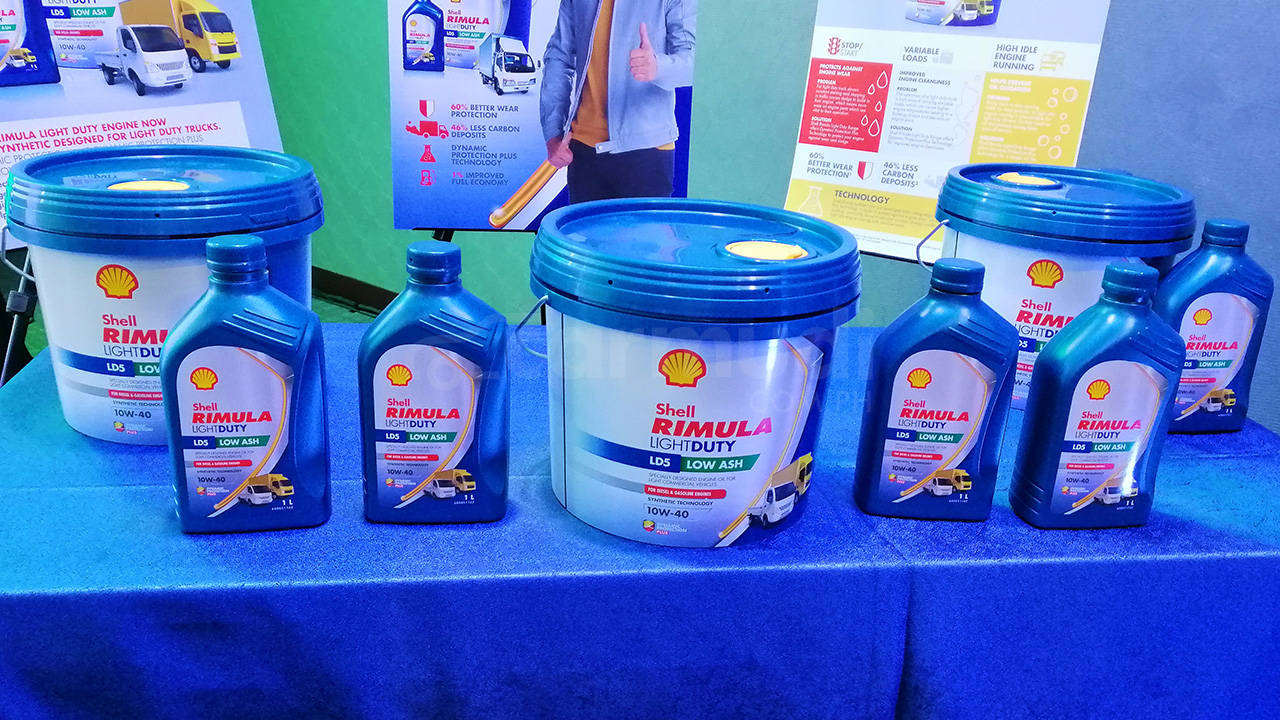 Pilipinas Shell has put the demanding world of logistics and e-commerce in a new 'light' with the launch of the Shell Rimula Light Duty Range, the newest addition to the company's line of premium lubricants.
Introduced during the PhilBus Truck Expo held last July 25 in Pasay CIty, Shell Rimula Light Duty is an engine oil variant that is suited for commercial light-duty vehicles, such as pickups and light-duty trucks.
Light-duty vehicles are small, weigh less, and consume less fuel compared to heavy-duty trucks and jeeps. With the lesser maintenance it requires, light-duty trucks are becoming the fastest-growing commercial transport option and are heavily used in logistics operations, particularly in support of e-commerce ventures.
Light-duty's role in logistics in the age of e-commerce was discussed at length during a panel discussion held during the launch event. The panelists during the discussion were: Jesli Gloria, Transportify Senior Manager for Sales Operations; Martin Cu, Ninja Van Philippines Country Head; George Royeca, Angkas Head of Regulatory and Public Affairs; DJ Javier, Technical Manager for PH Lubes of Pilipinas Shell; and Al Silva, Product Application Specialist of Shell Global Lubricants.
During the panel discussion, it was revealed that online platforms such as Shopee and Lazada have pushed the Philippines' e-commerce industry to grow exponentially in the last couple of years. The movement is predicted to skyrocket the Philippines' e-commerce gross merchandise value (GMV) to USD10 billion by 2025 as reported by Bloomberg Intelligence. This increasing customer demand and supply entails the need for more functional logistics solutions.
"The rise of e-commerce globally has resulted in a similar growth in logistics operations as a crucial element that ensures products bought from online platforms are delivered to their buyers quickly and in excellent condition," Shell Lubricants Marketing Manager Anthony Wee revealed. "This is where light-duty vehicles come in--they provide that crucial service of delivering products to their buyers."
Wee also disclosed that certain conditions in driving light-duty trucks must be addressed, such as the constant stopping and starting which cause sludge to build up and causes more wear on engine parts. As they operate around the busiest urban areas, the light-duty vehicles go through a slow movement, resulting in what is called 'high engine idle.' And with the high demand of online businesses, light-duty trucks are oftentimes forced to overload to maximize time and revenue.
"Today's light-duty truckers need a product they can rely on. Shell Rimula Light Duty was designed to address the needs of the light-duty truckers," Shell Rimula Brand Manager Recca Menchavez noted.
The Shell Rimula Light Duty Range is powered by Dynamic Protection Plus Technology, which protects light-duty trucks in three ways: when an engine gets stuck in traffic, the technology protects against engine wear and tear caused by constant stopping and starting with 60-percent better wear protection. Shell Light Duty also has anti-oxidation components that prolong oil life.
Dispersants in the additive package also help break down soot and deposit build-up for vehicles carrying variable loads. Shell's Dynamic Protection Plus Technology improves engine cleanliness, emitting 46-percent less carbon deposits.
"We are positive that these products will shed a whole new outlook to the business of logistics. But more importantly, we want this to be our driver's partner-in-crime," Wee stressed. He also noted that, "Because of this, the new range of products will come at an affordable price point."
The Shell Rimula Light Duty Range of motor oils is set to be available by August of this year.