Purpose-driven: Hyundai puts spotlight on Staria MPV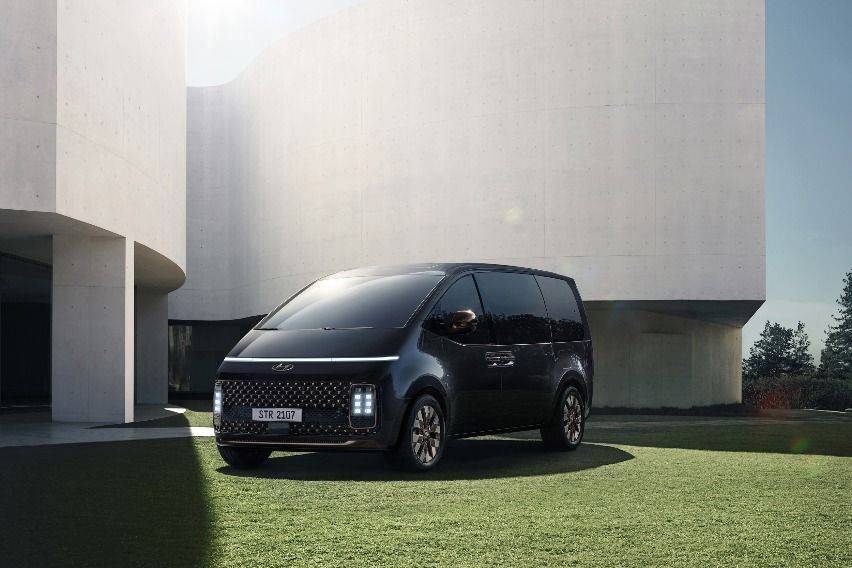 Hyundai Motor Company has just revealed its latest offering, the Staria, as the start of its Purpose-Built Vehicles (PBVs) segment.
Launched via digital world premiere, the Staria's debut also bolsters the Korean automaker's transformation as a Smart Mobility Solution Provider.
The newly launched lineup, Hyundai stated, "embodies the company's 'inside-out' design methodology that emphasizes interior spaciousness and usability." It is also the response to the changing needs of consumers offering them "purposeful, innovative features and redefining in-car travel experiences in line with the company's vision of 'Progress for Humanity.'"
Executive Vice President and Global Chief Marketing Officer Thomas Schemera expressed excitement over the latest vehicle offering.
"We are thrilled to introduce Staria, which represents our latest effort to spearhead the evolution of mobility, and to address emerging lifestyle needs as we adapt to new ways of living," Schemera was quoted as saying.
"Staria is a step forward in connecting us more closely with our environments so that we can get more out of our everyday lives and do more for ourselves in transit."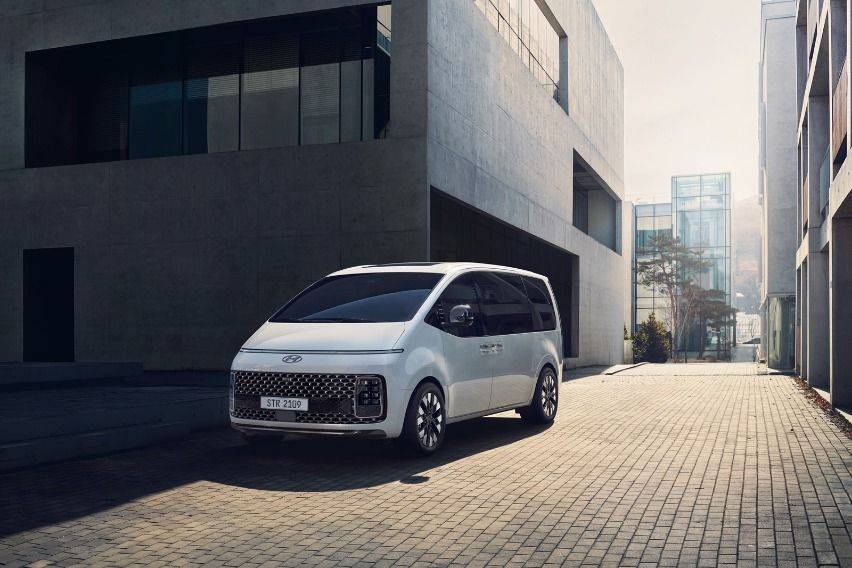 To be available in select markets by the second half of 2021, the Hyundai Staria will be offered in two- to 11-seat configurations and in two variants: Staria and Staria Premium.
The exterior of the Hyundai Staria was inspired from the curve of light illuminating the Earth's horizon at sunrise when viewed from space.
The Staria's front fascia is highlighted by the horizontal daytime running lights (DRLs) and a positioning lamp, complemented by a bold, wide and uniquely designed radiator grille. The Staria Premium wears a tinted brass chrome treatment, applied to the Hyundai emblem, grille, headlamp bezels, front and rear bumpers, wheels, side mirrors and door handles.
This model is set to have eight exterior colors such as the following:
Abyss Black Pearl,
Creamy White,
Graphite Gray Metallic,
Moonlight Blue Pearl,
Shimmering Silver Metallic,
Dynamic Yellow,
Olivine Gray Metallic, and
Gaia Brown Pearl.
Meanwhile, the interiors are designed "cruise-ship"-like in terms of comfort and convenience, complemented by lowered beltlines and panoramic side windows that improve overall visibility and create a feeling of openness (taken from Korean "hanok" architecture).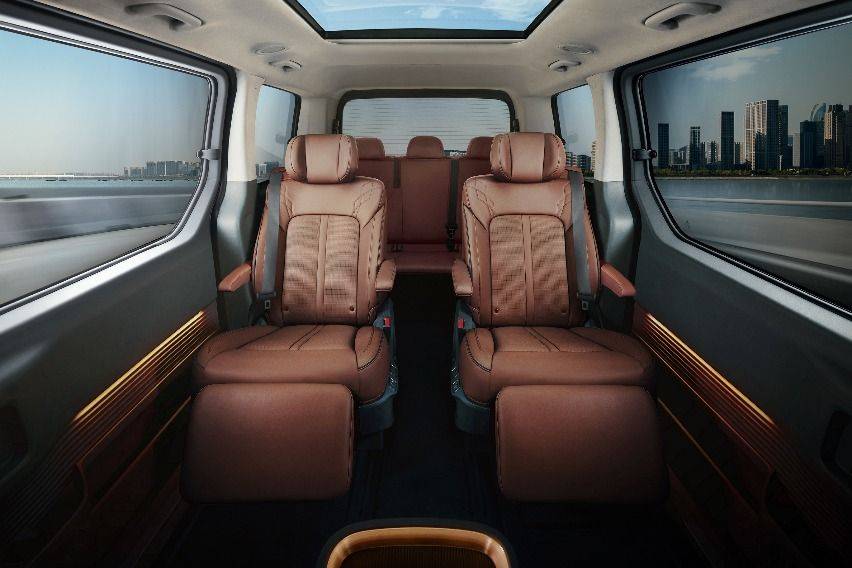 The driver seat has a 10.25-inch front display screen, touch-based center fascia and a button-type electronic shift lever. The digital cluster is located on top of the dashboard.
For the seven-seater Staria Premium, its second row has Premium Relaxation Seats, which recline electronically and have sliding capabilities. HMC noted that the "one-touch relaxation mode makes the seats recline automatically to a posture that comfortably disperses the passenger's weight and improves overall body balance."
Meanwhile, the nine-seater Premium model's individual seats in the second row can swivel 180 degrees to face passengers in the third row, making the Staria an ideal corporate vehicle, mobile office, or personal mobility for the family.
Its interior will be available in the following hues:
Black,
Black and Beige two-tone,
Black and Blue two-tone,
Gray and Brown two-tone (Premium variant), and
Gray and Light Gray two-tone (Premium variant).
Hyundai Staria offers good numbers for an MPV: a vehicle with 3,273mm wheelbase that stands 5,253mm long, 1,997mm wide, and 1,990 mm tall.
Avaialble also in two- to three-seater options, the Hyundai Staria offers a maximum cargo space of almost 5,000 liters.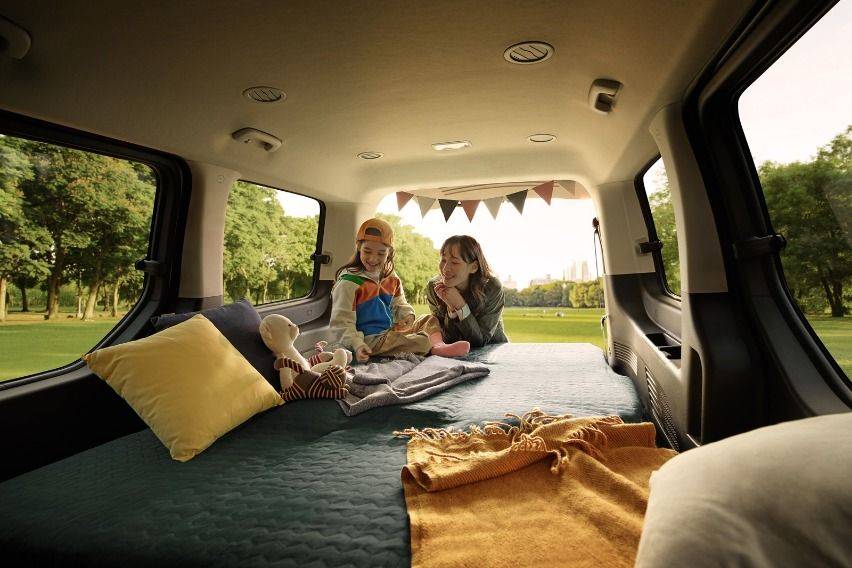 Customers will have the option to pick between two powertrain options for the Hyundai Staria: the diesel-powered 2.2-liter VGT engine and the gasoline-powered Smartstream G6DIII 3.5-liter MPI engine.
The diesel engine—matched to either a six-speed manual or eight-speed automatic transmission—provides 175hp and 431Nm. On the other hand, the gasoline-engine, which is paired to an eight-speed automatic transmission, is able to provide 268hp and 331 Nm of pulling power.
For its safety features, Staria customers is equipped with six airbags. Aside from that, it is also fitted with Forward Collision Avoidance Assist (FCA), Blind-Spot Collision-Avoidance Assist (BCA), Wireless Module Seat Belt Reminder (WM-SBR), Safe Exit Assist (SEA), Rear Occupant Alert (ROA).
Its infotainment system is equipped with a wide-angle rearview camera and has the technology that enables front occupants to communicate with rear passengers using a unique speaker function that allows all occupants to clearly hear one another.
Will Hyundai Asia Resources Inc. (HARI) bring this sleek MPV here? Only time will tell.
Photos from Hyundai Asia Resources Inc.
Also read:
Hyundai Motor Group Discloses 5-Year Growth Plan
INFOGRAPHIC: History of Hyundai