SPOTTED: Tugade Takes Grab, MRT, LRT-1 to Inspect Public Transport Systems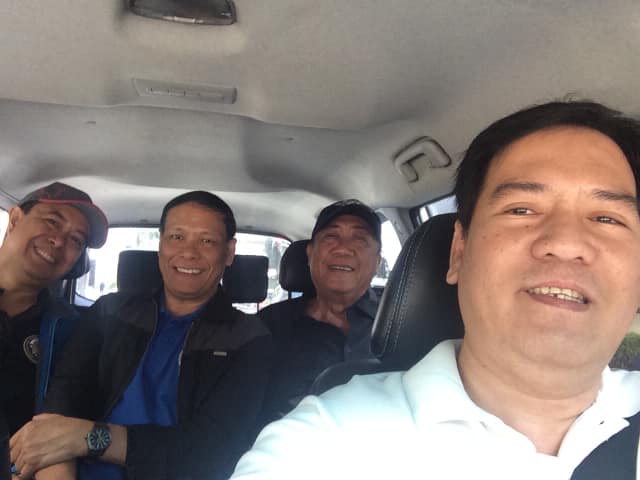 A Facebook post from Grab driver Sherwin Balolong confirms the buzz on social media last Friday, 31 October, that Department of Transportation (DOTr) Secretary Arthur Tugade took public transportation and made unannounced inspections in various transport terminals and offices.
As further narrated by DOTr Assistant Secretary Goddes Hope Libiran on her own Facebook page, Balolong belatedly realized that his passenger was no less than the Secretary of the Department of Transportation. He exclaimed, "Ay grabe, sir, na-starstruck ako. Nagkaka-goosebumps ako! Wait lang, sir! Ay grabe, sir! Wait, sir, hindi ako makapaniwala."
The Grab driver also wanted to treat Secretary Tugade and his companions to a free ride, but the Secretary refused and insisted, saying, "Ay, hindi pwede! Dapat magbayad kami. Kapag hindi mo tinanggap ang bayad, magagalit ako."
The seven-minute Grab ride from Greenbelt to the Ayala Station of MRT-3 was actually part of a series of unannounced inspections made by Secretary Tugade and his lean DOTr team that Friday morning.
He started the day early, and took a Point-to-Point (P2P) Bus ride from Alabang to Greenbelt. After that, he took that particular Grab ride to MRT-3 Ayala station, where he first dropped by at the LTO License Renewal Office, then rode the train going all the way to North Avenue. He then went straight to the MRT-3 depot to inspect the ongoing rail welding assembly. An interesting sidelight of that inspection was when he noticed one of the welders, Richard Lebantino, had a set of broken teeth. Secretary Tugade immediately coordinated with Sumitomo representatives to arrange for a dental assistance package for Lebantino, as an early Christmas gift.
After the rail welding inspection, Secretary Tugade took the MRT-3 train again from North Avenue to Taft Avenue station, then transferred to the LRT-1 and took the ride going to Baclaran, then proceeded to the PITX to complete his own one-day commuter challenge.
In the course of the rides, the Secretary was keenly observing and noting the deficiencies and areas which need improvement such as ticketing booths, ventilation, signages, station passageways and escalators/elevators, and obstructions. He was animatedly engaging passengers and solicited comments and suggestions from them on how best to improve the facilities and services. He was also giving out instructions to the DOTr team who accompanied him, and required that action be immediately coordinated with, and undertaken by the concerned line agency.
All this he did in a day, after coming from a grueling trip to the Caraga region to visit three sea ports Thursday, and after presiding over the operational dry run of Sangley Airport in Cavite, complete with a round trip ferry ride on Wednesday.
More importantly, he did this series of activities without any fanfare, without media, but with a genuine desire to be grounded, and be one with the commuters.
From Facebook.com/Sherwin.Balolong