TEST DRIVE: 2018 Honda Accord 2.4 S Navi - Fit to a Tee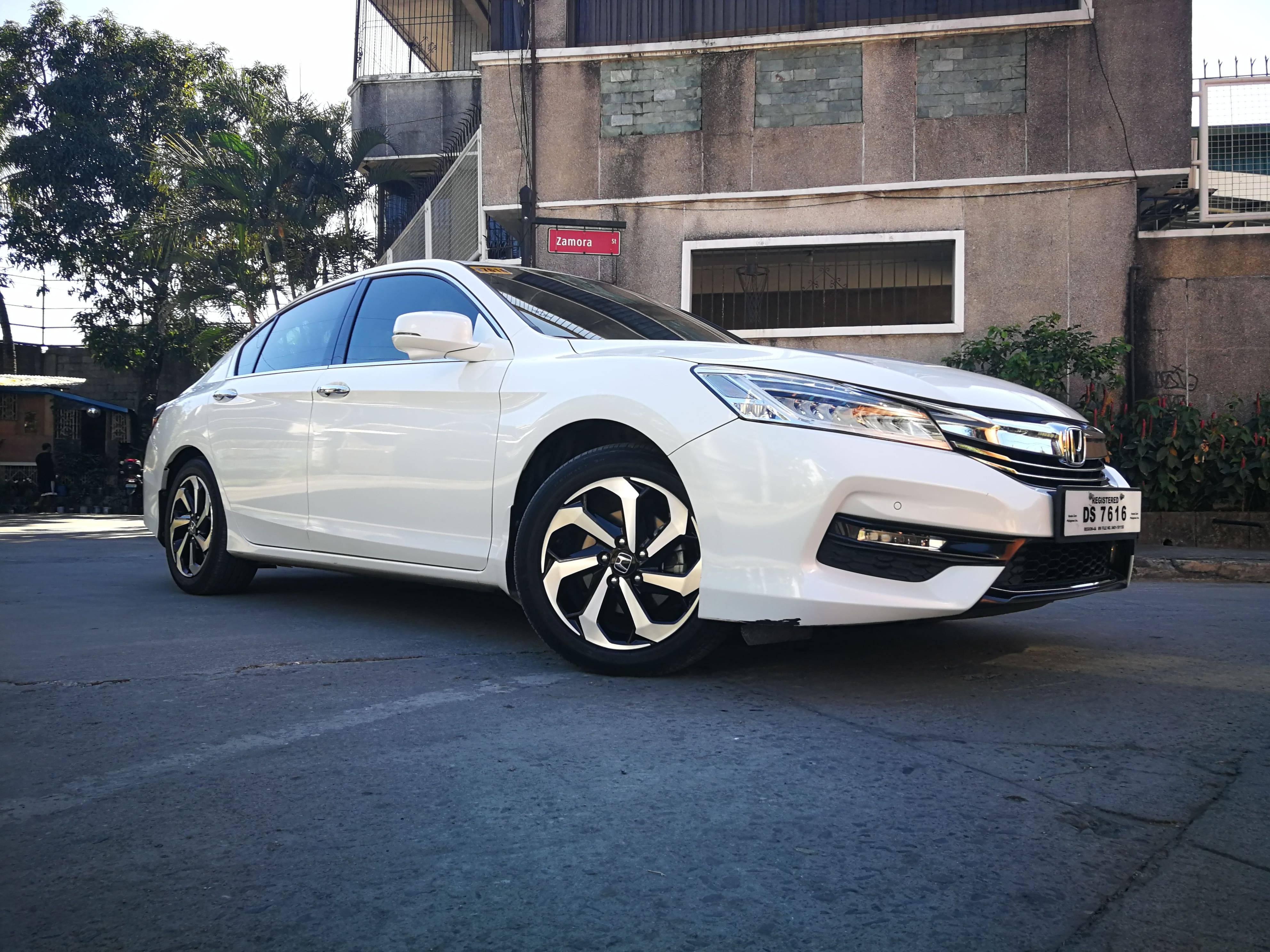 Most of the time, you will have to compromise. In preference, it is either you go for comfort over fashion or the other way around. But when picking an executive full-size sedan, you can never go wrong with the Honda Accord.
The Honda Accord 2.4 S Navi is packed with features, you will never run out of fun and enjoyment with every ride.
Cars are like clothes: wear the improper type for a specific event or overdo it and you'll stick out like a sore thumb; wear the right one that also matches one's body type and you'll stand out.
The first thing you'll enjoy with the Honda Accord 2.4 S Navi is that it's an eye candy. Much similar to designs made by the Karl Lagerfeld, whose vision in the fashion industry where highly recognized, the design is nothing short of spectacular that will help easily recognize the brand even if you hide the badge.
The wide, boxy body has an aggressive yet composed stance. Throw in the redesigned front and rear fascia, the sharp parallelograms for its headlamps and the tail lamps that were given much detail and size plus the not-too-glaring chrome garnishes and you have a head-turner already.
While its exterior brings noise, the interiors are a different story.
It seems that Honda believes in the adage 'if it ain't broke, don't fix it' as it retains the design of its predecessor.
Much to be highlighted in the Honda Accord 2.4 S Navi are its faux wood, black leather, and black piano key design in the interior that makes the roomy interior of the vehicle very homely.
Speaking of homes, once you are at home, you want everything to be as comfortable as possible with everything you need is within reach. The Honda Accord 2.4 S Navi has that as it has a driver-centric design: steering wheels have ample remote control buttons but does not look cluttered that will help driver focus their eyes on the road, rather than navigating the multitude of buttons.
Also, the digital meters, infotainment system, and instrument cluster makes it easier to read the numbers, most especially if you want to see what your car is capable of.
Well, space was never an issue with a Honda Accord, and they have kept on improving its leg and head room. However, this bad boy with its long wheelbase has a lowered stance, posing a problem when driving over humps and ramps that would scrape the chin or underside of the vehicle. Try taking it in on reverse and you would be scratching the exhaust. So if there are bumps that are similar to what BGC had before they redesigned it, be prepared for nicks and bruises for your car, or worse.
However the ride height is perfect to easily hop in or get out of the vehicle so, it has its perks too.
The 2.4 liter i-VTEC engine mated to five-speed automatic with paddle shifters (which could deliver 173 hp and 226 Nm of torque) are meant to make the Honda Accord 24 S Navi more fun for the driver. It has more than enough power and never gave out shift shocks, making it more like driving on a Playstation console game, but has little lag at the press of the pedal.
Tech wise, it has more than enough. It has full LED headlamps with an auto on/off and leveling adjuster, ABS with EBD and VSA, hillstart assist, reverse cam, lane watch camera, as well as front, side, and side curtain airbags for safety.
The only number it falls short on are its cup holders: there are only three on the Honda Accord.  A few more would be nice so the the occupants would never run out of drinks while out on a drive.
All in all,the Honda Accord 2.4 S Navi offers more than just the usual ride. Its sub-PHP1 million price tag--PHP 1.938 million, to be exact--makes it a steal and fit to a tee for big shots and hotshots who want nothing short of spectacular.
Pros
+ Sufficient leg and headroom
+ Tech-heavy
+ Safety-driven
+ Comfortable drive and ride
+ Elegant interior design
Cons
- Dishes little lag
- Price tag
- Lowered stance and long wheelbase could easily scrape underchassis, chin