Top 3 Most Affordable Station Wagons for Families
The station wagon has been taking a lot of negative slack these days. These cars seem to represent an "I'm-an-old-parent-who-drives-kids-all-day-long" kind of image, which is unfair, since it's bred to be a family car first and foremost.
It's true that these cars won't dazzle you with heart-pounding excitement, but they're reliable -- and they get the job done. They're like dependable friends who stand by you even when you mess things up and get fully intoxicated. And they'll check to see if you arrive safely home.
If you think they don't offer much, then think again. Station wagons almost have similar cargo volume, seating capacity, and sometimes even the capabilities that a typical SUV offers.


Their center of gravity is low, so handling is better than an SUV.


Fuel efficiency is good since they're aerodynamically lighter and sleeker.


Their low lift-over height makes loading heavy groceries and cargo so much easier.


And they're quite rare -- something many SUV owners won't fully experience.


That's why we think these vehicles deserve more respect than they've been getting these days. Since SUVs have been over-saturating the streets already, it's about time we give these wagons a chance to shine as well. Here are the top three most affordable station wagons that deserve to be on the road today*:
3. Subaru Levorg - ₱ 1,748,000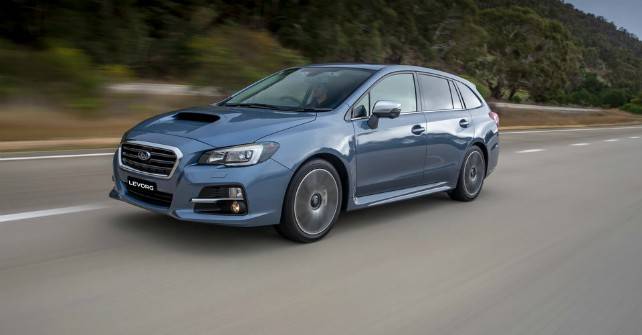 The Subaru Levorg is one of the best options you can take if you find the Subaru Outback -- another great station wagon as well -- quite huge for your family. It's also way cheaper. A typical Subaru Outback costs almost P2.3 million, while you can get a Levorg for P1.7 million, instead.
While the name sounds like the next nemesis of  "The Terminator", it's actually a blend of 'Legacy', 'Revolution', and 'Touring all rolled into one. This is a special tribute to Legacy as Subaru's flagship vehicle.
The Levorg is 90 percent fourth generation Subaru WRX in design, and uses the same turbocharged engine of the sporty WRX. This makes it looks more stylish, aggressive and sportier compared to a typical station wagon.
Rear seats fold 60/40, and extend to 1,446 liters if you fold them flat. Practicality is seen everywhere, with the cabin space offering bottle holders in all doors, cup holders in the front and back seats, and even front seat back pockets to place your reading materials and gadgets.
Note that this car's suspension is geared for hard driving. So it might be a bit uncomfortable at first if you're used to gentle and relaxed driving. Still, the handling is good, and its 5-star safety features are impressive as well.
Subaru recently announced this year that it will add a less powerful engine option for Levorg. Presently, it uses a 1.6L Lineartronic Continuously Variable Transmission (LCVT) that can generate 170 hp @ 4,800 rpm and 250 Nm @ 4,800 rpm of torque.
2. Peugeot 308 Station Wagon Allure 2017 - ₱ 1,690,000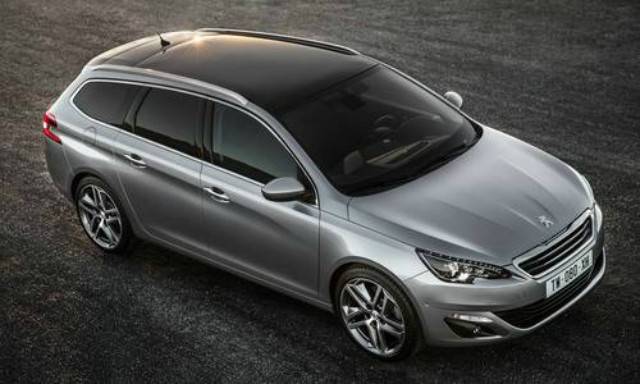 Peugeot has already carved a name for itself in the five-door station wagon market, so it comes to no surprise that it decided to create a wagon version of its hatchback, the Peugeot 308 SW.
Fuel-efficient, uber handsome, and spacious, this five-seater has a well-thought out boot that will come in handy for a huge family. The seats automatically flatten and fold flat when you pull the handles in the boot. Plus, there's also a boot floor that offers space underneath, just in case you run out of space to place your camping gear.
The 308 SW Allure also offers ample passenger space, but the rear legroom is a bit disappointing if you're tall. If your height's six feet or more, then the likelihood of your knees brushing the car's front seat becomes all the more likely.
Interior-wise, the front passenger seats lack holders and storage for drinks. Still, the Alcantara seats are very comfortable and quite luxurious, with adjustable lumbar support to prevent backaches when driving. And the cabin is quiet as well -- enough to let you forget minor transgressions, such as where to place your soda and fries when you do a binge drive through a fast-food joint.
Safety-wise, the Peugeot SW was awarded by Euro NCAP five stars for safety, thanks to the standard safety kit that comes with it.
This car has a comfortable suspension that can absorb potholes and bumps very well. Its 1.6L engine offers 120 hp @ 3,500 rpm of power, and 300 Nm @ 1,750 rpm of torque.
1. Volkswagen Golf GTS 2.0 TDI Business Edition 2017 - ₱ 1,350,000
    Volkswagen Golf GTS 2.0 TDI Business Edition+ 2017 - ₱ 1,450,000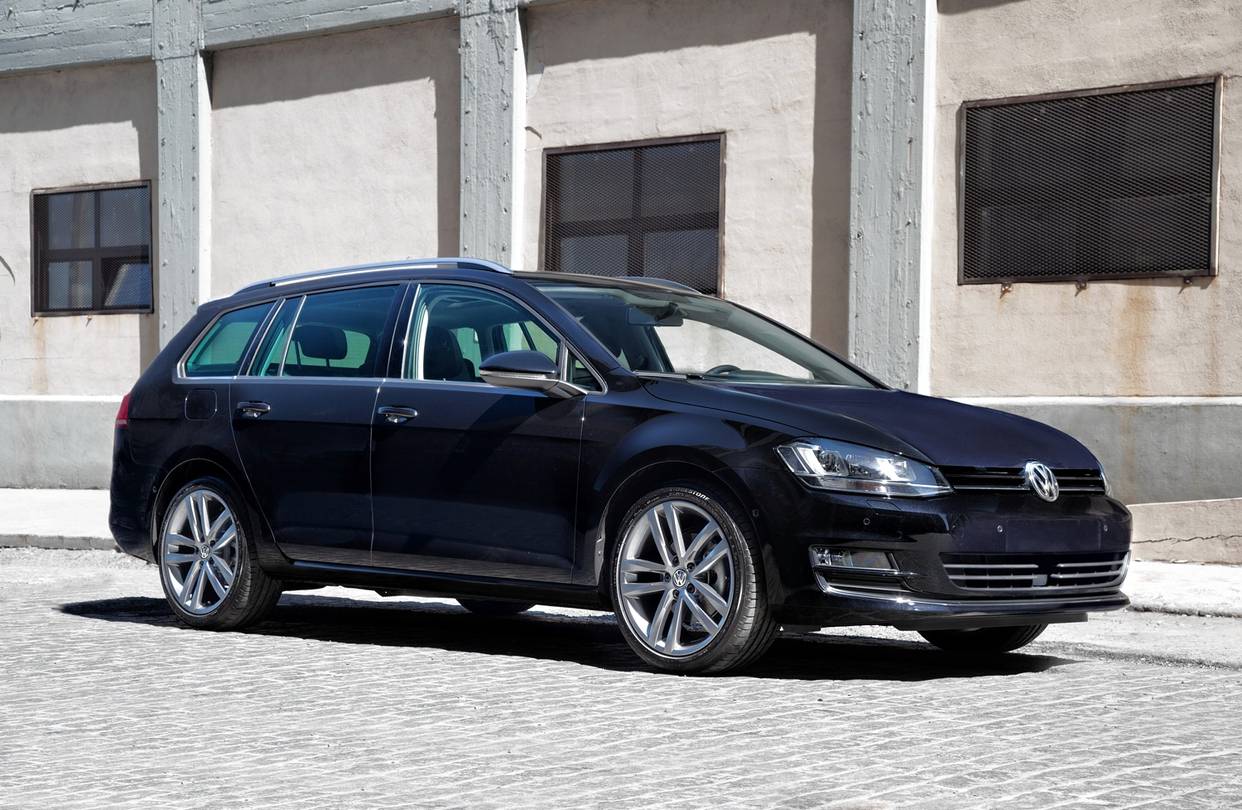 Recently introduced this year, the Volkswagen Golf GTS is a good combination of Golf's nimbleness and agility PLUS the spaciousness and versatility of a station wagon.
Indeed, this car is spacious. It offers an additional 225L to the rear seats, and 350L when the rear seats are folded down. And don't forget that the boot floor offers additional space underneath the vehicle.
This car utilizes its cabin like a luxurious, well-oiled machine. It cleverly lines up the cabin with smart storage spaces and classy touches, like leatherette seats, lined door pockets and glove boxes. There are two cup holders, an open storage nook under the center stack and many power outlets to use for long drives.
It also has good side bolstering to keep you firmly rooted on your seat when you're driving fast. The front seats are highly supportive, and offers lumbar adjustment for a more comfortable ride.
We have to admit that the exterior is a bit bland in style. The DSG can be quite snatchy when driven in low speeds, but offers smoother shifts once it gets going. And another thing: sticky brakes might make stop-start traffic challenging as well.
One of this car's strengths is safety.  Its LATCH car-seat system received the second-highest in ease of use from the IIHS. And if you add in a stable and controlled performance, then you'll realize it's a versatile car you can use for all occasions.
This car's strong, turbocharged 2.0L 4-cylinder engine can churn out 150 hp and 340 Nm of torque, and is paired with a 6-speed DSG transmission.

----


---
*Note that we're defining station wagons here in its most technical sense.  People often mistake station wagons for MPVs or minivans which are different, since they're actually higher compared to station wagons.