Vespa looks back at milestones for 75th anniversary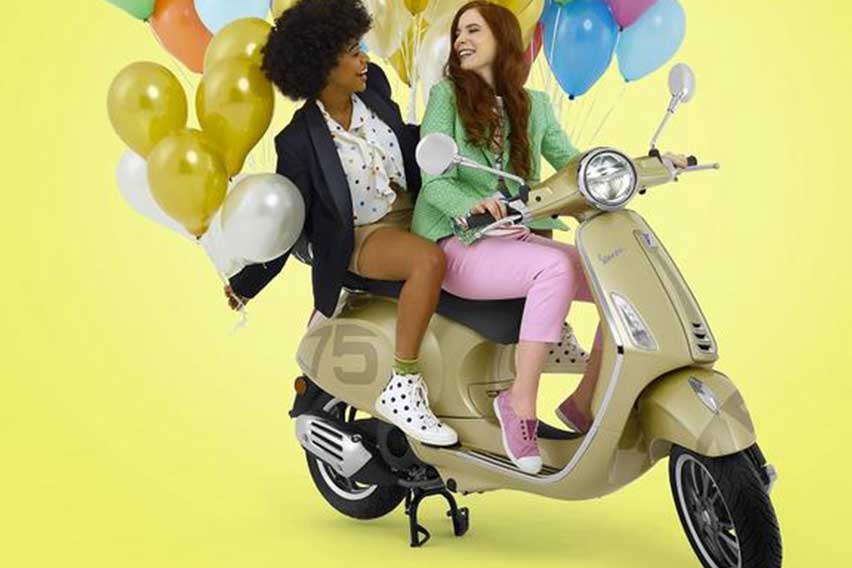 Iconic scooter manufacturer Vespa Piaggio celebrated its 75th anniversary on April 23, 2021. It also reached a production milestone of 19 million units with a GTS 300 in 75th Anniversary Special Edition befittingly commemorating the 19 million mark.
With more than seven decades in the business, Vespa did not only outlive its rivals but also became one of Italy's best-selling products. That said, it's a company rich in history capable of reinventing itself while remaining faithful to its original values.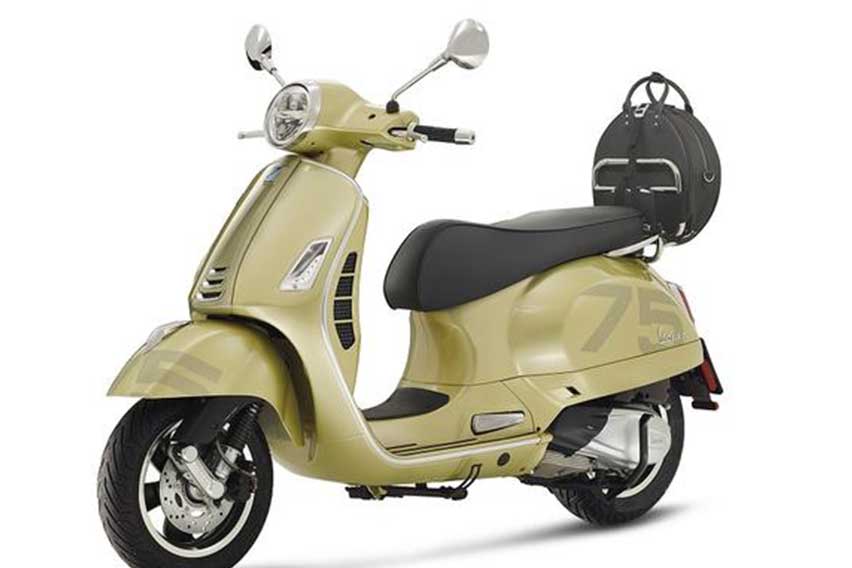 Here's a quick look at what Vespa has achieved through the years.
On April 23, 1946, Piaggio (founded in 1884) files the patent for "a motorcycle featuring a rational elemental and organic complex combined with frame and fenders and an engine hood covering all mechanical parts." The Vespa is born. The motorized scooter with a 98cc, 2T single-cylinder engine is built in the Pontedera plant, in Tuscany.
1948 – The Vespa 125cc model is introduced.
1949 – The "Unione Italiana Vespa Riders," incorporating 30 clubs, is formed and holds its first convention.
1950 – Vespa begins production in German under a license agreement with Hoffman-Werke.
1951 – Vespa begins production in the United Kingdom under license to Douglas of Bristol and in France with ACMA of Paris.
1952 – The Vespa Club Europa is born in Milan to bring the clubs in Italy, France, Germany, Switzerland, Holland, and Belgium together. Worldwide Vespa Club membership surpasses 50,000. There are more than 10,000 Vespa service stations around the world.
1953 – Vespa 125 is immortalized in the film Roman Holiday by William Wyler with Gregory Peck and Audrey Hepburn.
1955 – Vespa GS is the most elegant scooter ever built and marks a turning point for Vespa which, for the first time, exceeds the 100kph, adopts a four-speed gearbox for the first time, and mounts 10-inch wheel rims.
1964 – The Vespino is born — Vespa in the 50cc engine capacity.
1965 – Vespa sales surpass 3.5 million.
1968 – The "Chi Vespa mangia le mele" campaign (Those who Vespa eat the apples) revolutionizes the advertising world.
1968 – Vespa Primavera is one of the longest-lasting Vespa models and the vehicle of new generations all over Europe.
1976 – Vespa Primavera 125 – ET3 is the first scooter with electronic ignition.
1978 – Vespa PX is born in the three-cylinder "classic" 125, 150, and 200cc versions. It would be the most sold model in Vespa history with more than 30 million units.
1980 – Four Vespa PX units participate in the Paris-Dakar, the most epic and grueling race in the world. Incredibly, ridden by Marc Simonot, one of them would go on to finish the race.
1984 – Vespa PK 125 Automatica is the first Vespa with an automatic transmission.
1988 – Vespa sales surpass 10 million.
1992 – Giorgio Bettinelli, writer and journalist, leaves Rome on a Vespa and reaches Saigon in March 1993. He would go on to accomplish several other feats: in 1994-95, also on a Vespa, he covered the 36,000 km from Alaska to Tierra del Fuego. In 1995-96 he traveled from Melbourne to Cape Town — over 52,000 km in 12 months. In 1997 he started out from Chile, reaching Tasmania after three years and eight months, having traveled 144,000 km on his Vespa and crossed 90 countries across the Americas, Siberia, Europe, Africa, Asia, and Oceania. All in all, Bettinelli has traveled 250,000 km on a Vespa.
1996 – The new Vespa generation is born with the ET4 125cc model. For the first time, Vespa adopts a 4T engine and automatic transmission.
1996 – The number of Vespas sold surpasses 15 million.
1997 – Vespa ET2 (50cc) is launched.
1998 – Restyling and front disc brake for Vespa PX, the most sold scooter model in the world (over two million units from the time it was launched).
2000 – Vespa returns to the American market.
2003 – The return of the Vespone, Vespa GT 125, and Vespa GT 200 are born.
2005 – Vespa LX marks the return to Vespa's most classic lines.
2006 – Vespa celebrates 60 years with the spectacular Vespa 60° special series that brings back the colors and style of the early Vespas.
2008 – Vespa 300 GTS Super is the highest performance and sportiest model in history.
2011 – Vespa 946 is a highly exclusive model dedicated to aesthetic and technological perfection, the name of which recalls the year that the scooter symbolic of Italian elegance was born — 1946.
2013 – The legendary Vespa Primavera returns, produced in the 50, 125, and 150cc engine sizes, it renews the legendary Vespino.
2018 – Vespa Elettrica is born, a modern work of art with a technological heart, destined to change the mobility segment. Completely silent and easy to ride, and produced entirely in Pontedera, it represents the revolutionary and contemporary soul of a brand that has always been ahead of its time, consistently at the cutting edge, while remaining faithful to its values in terms of style and technology.
2021 – Vespa reaches 19 million units produced and celebrates 75 years with the Vespa 75th special series that dresses the GTS and Primavera families in new elegance.
The special Vespa 75th series will be available for the Vespa Primavera (in 50, 125, and 150cc engine sizes) and for the Vespa GTS (in 125 and 300cc engine sizes).
Ren Punsalan from Vespa Philippines confirmed that both the 75th series Primavera and GTS will arrive in Philippine dealerships, although in limited quantities. Likewise, Josel Gorgolon from Vespa Santa Rosa-Motori Moderni, said that customers have already shown interest in the anniversary edition models, which would probably hit local dealerships in the last quarter of 2021.
Photos from Vespa
Also read:
Upbeat Vespa Primavera Sean Wotherspoon edition now in PH
Vespa releases 946 Christian Dior
Read All
Featured Articles
Featured Vespa Motorcycles